About
32Red Poker has been around since 2003 and is owned by 32Red PLC, which are listed on The Alternative Investment Market (AIM) in London.
Their gambling license is from Gibraltar and they are verified by eCORGA to ensure their card shuffling engine is working correctly.
32Red Poker is using the Microgaming Poker Network, which makes them a part of a bigger network of poker sites and players. This ensures a high amount of available poker comrades to play with.
Since they have been around for so long and are also owned by a company that is publicly listed. One can take these factors as a strong signal of seriousness and trustworthiness. Therefore, I had no hesitations to continue and register myself and play on 32Red Poker.
Registration
In order to start playing on 32Red Poker you will have to start with downloading their poker application or pursue with their web client. Either way, your account registration is done inside respective application during the installation.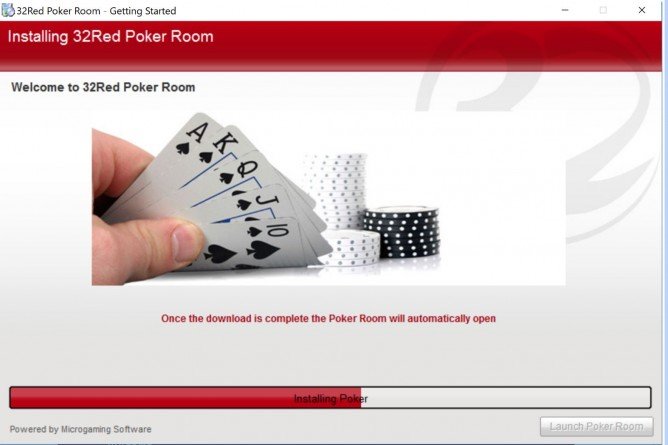 If you choose to install the desktop client it will take 5-10 minutes to install everything, so if you are short on time you would be advised to register via the web client instead.
I choose the desktop client and after the installation was done I went over to the deposit section and was presented with a dire selection of depositing options.
As always, I went for the NETELLER option and shoved in the minimum $10. Everything went smooth and my money was instantly credited to my account.
Bonuses
32Red Poker have a pretty neat welcome bonus system.
You are eligible to a bonus up to $1000 regardless of the amount you deposit.
The only thing you have to worry about it generating as much Redbacks (loyalty points) as possible during the coming 30 days after your first deposit.
The minimum required is 10,000 Redbacks, which will give you $32 after the 30 days. If you are to receive the full $1,000 bonus you need to generate 320,000 Redbacks within 30 days, in all honesty, an almost impossible task (if you are not one of the big dogs).
As usual, you earn Redbacks by playing a lot of real money hands as the Redbacks are generated based on your contributed rake.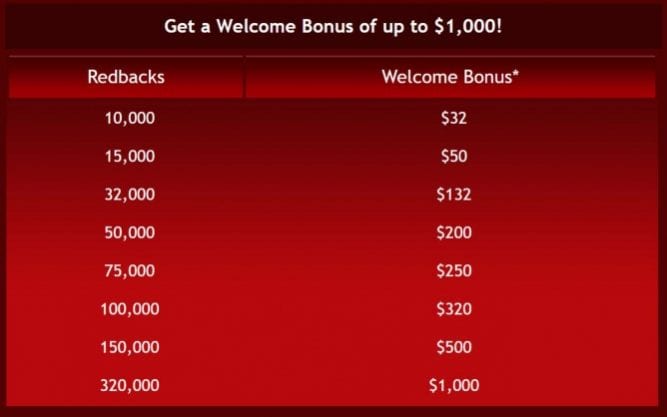 You will also receive access to six $1,000 freerolls, available only for new players. These are held every Wednesday. So, if you want to maximize this offer set off some time each Wednesday in the coming 6 weeks.
You will also be invited to 6 new player turbo tournaments, each with a guaranteed prize pool of €500. These run every Wednesday at 21:00 (UK time) and cost €1 to enter. Entry is restricted to new accounts registered within a 6 week period.
So, for a merely $10 deposit you will have the the chance to earn a welcome bonus of somewhere between $32 and $1000 and receive 6 totally free tournament tickets and 6 for €1 a piece.
Overall, I'd have to say that 32Red Poker deliveries quite good regarding the bonuses.
Rake
32Red Poker works with a 5% rake for all tables, but with a cap that varies depending on the number of players dealt in and the stakes being played.
The rakeback system is easy to understand. 30% of your generated rake is paid back to use in real-money games or as tournament buy-ins.
You will earn Redbacks, or Loyalty Points, at a rate of 30 Redbacks for every $1 you generate in rake. Redbacks can then be converted into real-money chips at a rate of 100 Redbacks = $1
Gameplay
Let's just start by saying that the 32Red Poker application is old, it just doesn't feel old and slow but it also looks like something the cat dragged in.
There is no mobile support, but they do offer a playable browser option which enables play regardless of what operating system you are using.
But, if you have the choice, go for the windows software version rather than the browser application since it is faster, smoother and offers more functionalities.
So, if you have a desktop computer and doesn't care too much about style and fancy functions you will do fine. You really don't need too much functionalities to play poker and the 32Red Poker client will do the job just fine. It's like that you don't need the latest BMW 5-series in order to go from point A to point B. An Toyota Corolla from 1992 will do the job just as fine.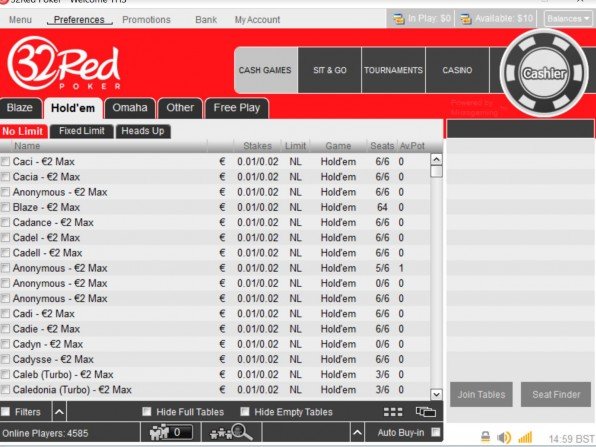 32Red Poker offer the normal selection of game types you would expect: Cash Games, Sit & Go and Tournaments.
In Cash Games they have something called Blaze, which is a faster version of Hold'em. When playing Blaze you will be dealt a new hand at a new table instantly after you finish a hand or fold.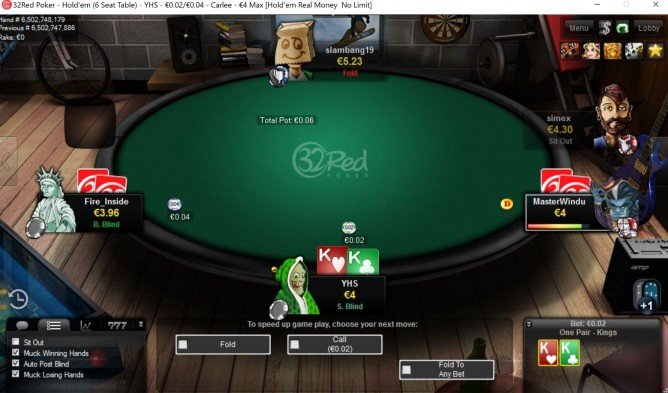 At the table view you have some nice features that all together makes for a great experience.
You see the amount of rake you generated in during the table session in the top left corner
You can see your hand history statistics in the bottom left corner
You can see what hand you have in the bottom right corner
You can one-click to join another similar table
But, I do miss the ability to use the keyboard buttons to call, fold etc.
One cool feature available is anonymous play. With the popularity of poker tracking software, you can now avoid being tracked by poker sharks that analyze every little bit of your play. Just join an anonymous table and no one will know who you are and what your play style is. Except the NSA, they know everything.
Since 32Red Poker is a part of a bigger poker network there are tons of available tournaments each day, to keep up you can follow 32Red Poker Twitter where they post many times per day.
Support
One thing that strikes me the most when researching 32Red Poker was the amount of information available on their website. There wasn't anything I wanted to know that wasn't answered. And even if there were, you have the possibility to contact them on phone, email, live chat or even snail mail.
I am actually really impressed with the amount of relevant information they have put there. It shows that they have been around for quite some time and know what information that should be easily available.
Bid kudos for their support!
Worldwide availability
32Red claims it is up to each individual to follow any local laws regarding online poker play before registering.
But, be aware that Red32 Poker reserves the right to close your account if you cannot prove your residency outside of the restricted territories.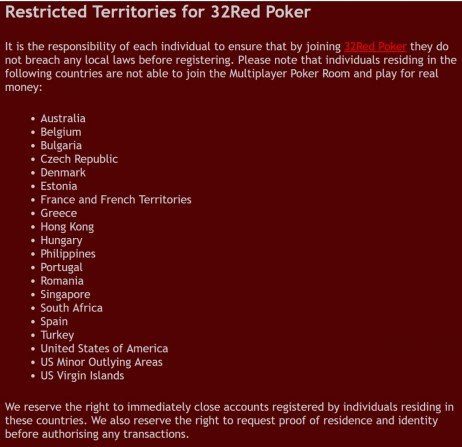 So, should you play on 32Red Poker?
I would definitely say:
YES!
Even though the software is a little bit outdated it works fine and without hiccups. 32Red Poker is a well established brand and they clearly know how to run a poker business.
Registration and depositing is child's play, and so are some of the competition. You will find a lot of casino players from other 32Red brands willing to try their luck in poker, ready to be eaten by poker sharks like us.