How I did this 888 Poker Review
Deposited USD 50 with NETELLER
Played 20,699 micro cash games
Used the poker strategy tough by Jonathan Little
Recorded the hand history with PokerTracker
Played all the game variants
About 888 Poker
Let's being with getting to know 888 Poker a bit more.
888 Poker, operated by 888 Holdings plc, they opened up their doors in 2002 (back then as Pacific Poker), offering players traditional poker games such as Texas Hold'em, Omaha, and Seven-Card Stud.
888 Holdings plc is listed on the London Stock Exchange (ticker: 888). So, if you are into stocks as well as poker, investing in 888 is an option for you. But keep in mind that poker only counts for 22% of the total revenue of 888 Holdings Plc. The primary source (60%) of income comes from 888's casino operations.
We will have reasons to revisit the fact that the majority of the earnings from 888 comes from their casino operations in my section about player quality.
Are they trustworthy?
888 Poker has been reviewed and certified by eCorga under their "Card Shuffling Review." That means that their Random Number Generator (RNG) has been review and verified by an external party.
I emailed them about this to gain further knowledge and here is a snippet of their reply.
About their RNG.
In 2013, 888 Poker won the EGR Operator Awards for best poker operator of the year. The criteria for doing so are summed up in this sentence:
"The poker operator of the year award will be given to the operator that has operated the most successful real-money poker offering over the past year."
But, they have not won the award since then.
In summary, 888 Poker is a part of a big, publicly listed company, so you should have no worries about it being rigged or that they will suddenly disappear with your money.
Depositing and withdrawing money
Depositing money into your 888 Poker account is very easy.
You have over 40 different ways of doing so, for example, VISA/MasterCard, PayPal, and NETELLER.
Not all of them will be available for you though. Depending on which country you live in you will be presented with different options. You will find all the available options for you in the 888 Poker software on the cashier menu.
When depositing money, you will accumulate a positive "Member Transaction Balance" for that specific payment method. This means that whichever deposit option you choose will also be available as a withdrawal option as long as your "Member Transaction Balance" is positive for that option.
More details on this can be found in their withdrawal policy.
In that policy, we find another thing worth highlighting regarding the withdrawal limits and identification requirements.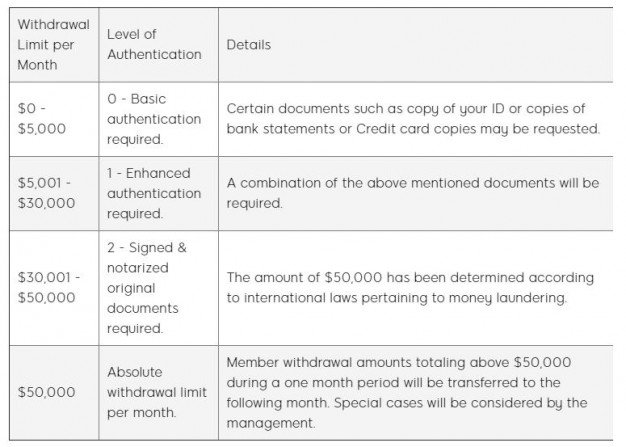 ID requirements for different withdrawal limits.
As you can see the more, you withdraw per month the more information about your identity you must provide.
What about exchange rates?
There is a lot of heated discussions about the exchange rates set by 888 Poker.
Let's dive into that and find out what's going on.
Accordingly, to 888 Poker the exchange rates are set by their bank.
If needed, 888poker will apply an exchange rate to your deposit according to the daily exchange rate used by our bank.
Is this exchange rate good or bad?
There is a lot of discussions about the exchange rates being bad. You will be subject to their exchange rates when you deposit or withdraw in any other currency than the US dollar.
You should, therefore, only deposit and withdraw in US dollars and let other parties, like your local bank, do the exchange by using their rates (which generally are much better for you).
For this to work you must verify that your 888 Poker account default currency is US dollars. When you register your account, it will be set in your country's currency automatically. So, beware of this and contact their support to make sure your default currency is in US dollars.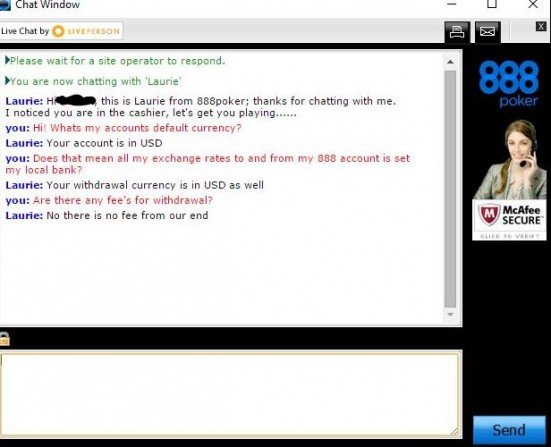 888 live chat.
For the case study of 888 Poker, I created a new account and deposited 50 US dollars. I did this using my NETELLER account, which default currency is USD. By making my deposit like this, I avoided all the troubles with exchange rates.
The deposit was instant and without any fees.
Keeping your account "dormant"
When (if) you read the terms and conditions for your 888 account you will come across this section:
"Should you fail to use your account for six months your account will be considered a "dormant account." The six-month period will run from the date of your last login to your account. In the case of a dormant account, the Company will levy a monthly administration fee at a rate of 10% of the balance in the account on the date that it became dormant."
Hang on a minute!
Will 888 start taking my money if I don't use my account for six months?
Yes!
When you don't use your account for six months, they will take out a "monthly administration fee" of 10 % each month until you run out of money or until you log in to your account again.
So, if you plan a nice long vacation and have money in your account, then make sure you login ones every six months or withdraw all your funds before you leave. Also, note that you won't receive any interest money from 888 Poker.
Bonuses
888 Poker operates with two bonuses for new players.
$88 free with no deposit needed

This bonus sounds too good to be true, right?
Will 888 Poker will hand over $88 for free to your freshly registered account?
The answer is that they might very well do just that.
But it comes under a few conditions.
You won't receive the full amount at once. What you will receive immediately is $2 in real money and $6 worth in tournament tickets.

The rest will be given out in small increments of $8 depending on how much bonus points you accumulate within the time limit of 90 days to claim this bonus. That means that you will have to generate 10 x 250 = 2 500 bonus point in the first 90 days of registering your account order to receive the full $88 bonus. And $22 of those $88 is real cash; the rest is tournament tickets.
So yes, there are some conditions to this bonus which makes it pretty hard to receive the full $88. But at least you will get $8 entirely for free with no conditions what so ever.
And that is a pretty sweet deal for anyone who wants to start playing poker with real money without depositing.
When I registered my account, I immediately received the $2 real money bonus as well as the six tournaments tickets for $1 each. Unfortunately, I didn't use all of the tournament tickets before they expired. So be quick!
But, the no deposit bonus is an easy and excellent way to start playing real money poker without making a deposit.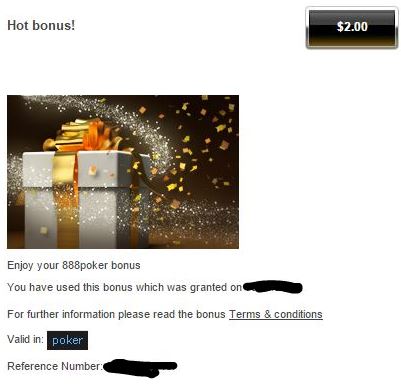 Double your money + free tournament tickets on your first deposit

When you make your first deposit, you are awarded a bonus that will double your money and give you free tournament tickets.
The tournament tickets will be credited to your account immediately upon depositing, and the money bonus will be paid out in $10 increments based on the number of bonus points you generate.
Below is a snippet of the most critical parts of the terms and conditions for this bonus.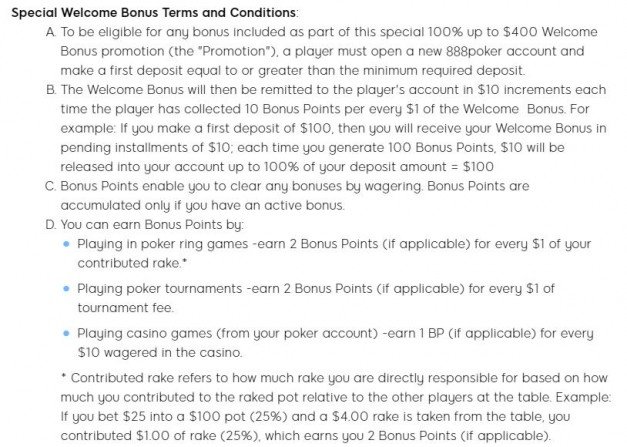 I deposited $50 and immediately received eight free tournament tickets as well as five $10 pending bonuses. For each bonus, I can follow the bonus points required to receive the bonus which is a nice and helpful feature.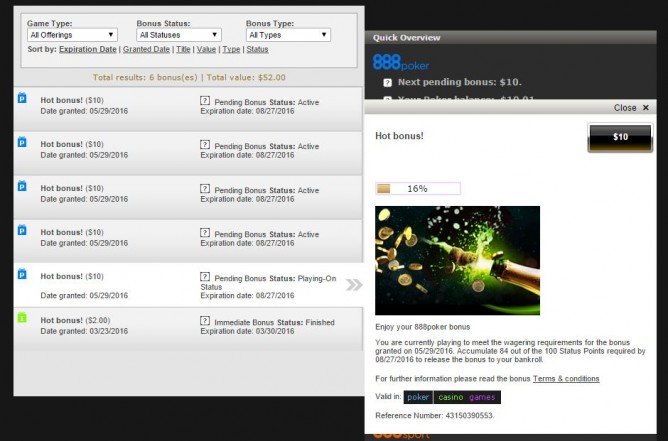 Here is as a screenshot of the free tournament tickets I received.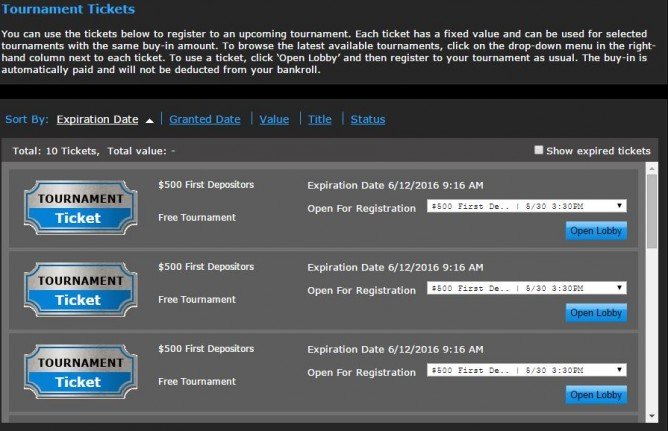 Withdrawal rules on bonuses
If you play well and make good bank on your real money bonuses, they may only be withdrawn after you have generated 2.5 bonus points for every $1 received. This means you will have to play quite a lot before you can withdraw it.
Gameplay
How is the gaming experience at 888 Poker?
That's what you will learn in this part of the review.
Design
When you first log in you will be presented with an, in my opinion, excellent layout. You can easily choose from 3 different levels of cash games, sit & go's and tournaments. This makes it easy for a beginner to start playing in no time.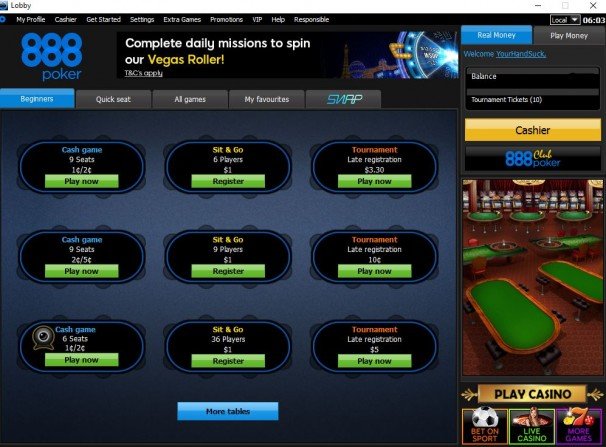 If you want to be more specific and choose more carefully what type of game you want to play head over to the "All games" you will see everything that is going on.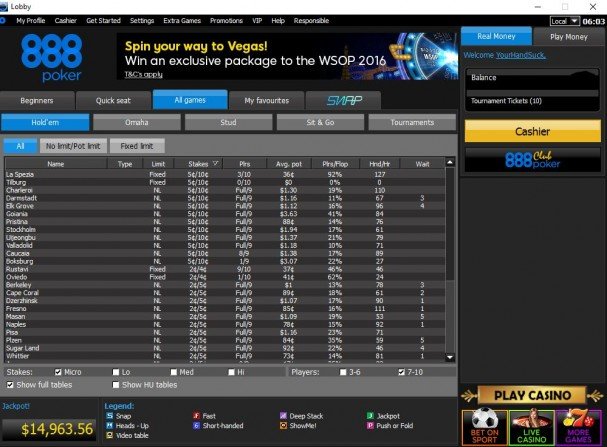 Here you can make all kinds of selections to find the game or tournament that is right for you.
When you have found the right table for you and you sat down this is what the actual gameplay will look like.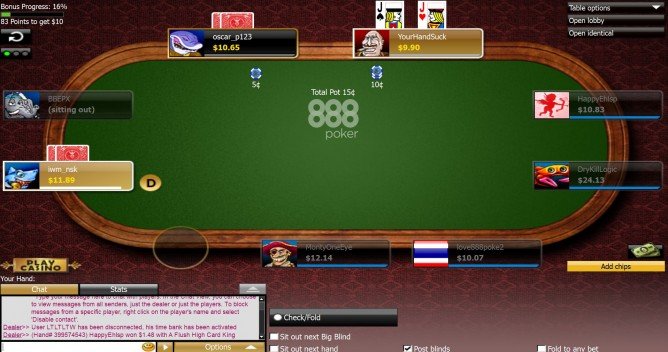 This is a standard table design, and you have the information and options that you would expect. But, if you look to the top left corner, you will your progress towards receiving your next bonus.
Rake
Rake is always something you should consider when choosing your poker site.
But what is rake?
Rake is the primary revenue stream for poker sites. It is a percentage taken from the pot. Benoit Lafontaine has written an excellent explanation of how it is calculated on Quora.com.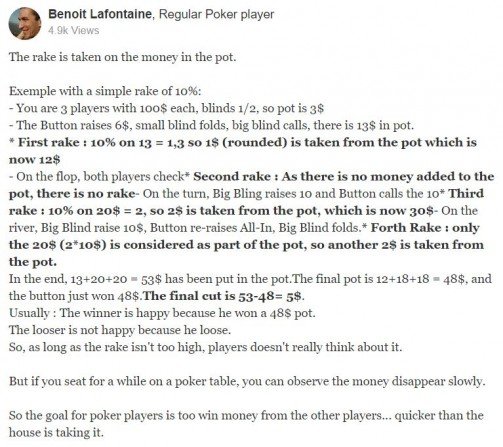 What is the rake at 888 Poker?
It is usually 5% but varies depending on what kind of game and limits you play. But you should note that 5% is pretty standard so 888 Poker does not stand out in either direction in this matter.
Traffic and quality of players
If you examine how many active players 888 Poker had on an average the last seven days you will find that 888 Poker is the second most popular poker site, only beaten by PokerStars.
That means that there is usually no shortage of players to compete against.
To determine the quality of the players, we must first determine what a lousy player is. If we can agree that a poker fish usually is a recreational player with limited experience, then the quality of players on 888 Poker is pretty low.
Why?
Because 888 Poker is marketing themselves to new and recreational players. This together with the many reports online that 888 Poker being a "Fishtank".
Also, as I mentioned in the beginning 888 is mainly a casino which means many casino players will try their luck on the poker tables once in a while.
So, if you believe yourself to be quite the poker player you should start playing on 888 Poker for some easy money.
Platforms
888 Poker offers you to play on a variety of different platforms on either desktop or mobile. With all these options they make it pretty darn impossible not to be able to enjoy a game of poker.
The desktop user has these options: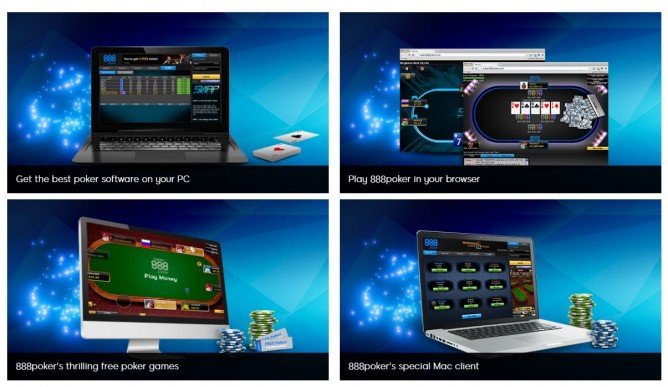 As a mobile user, you have the options to play on iPhone, Android, iPad, and Web app.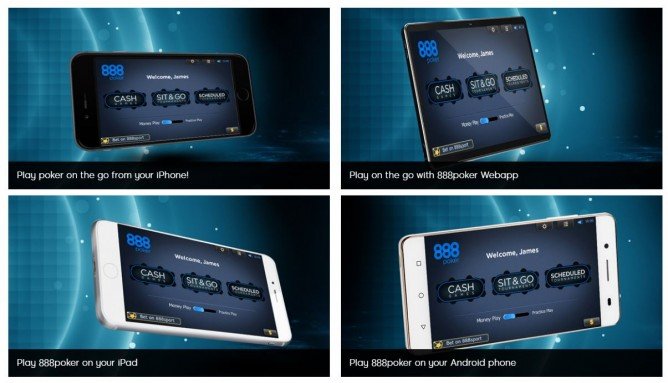 My Case Study
Now, we will look into how easy/hard it is to make money playing poker on 888. Since they get a lot of their revenue from casino players, one would assume a lot of those low skilled poker players are easy targets. Well, if you also believed that I would say you were right.
I played 20,699 cash games at No Limit Hold'em $0.02/0.05, 6 player max. I did this by multi-tabling four tables and this made me average around 300 hands per hour. The strategy I used is the one tough by Jonathan Little in his book "Strategies for Beating Small Stakes Poker Cash Games." I am by no means a professional poker player. I am an amateur player, playing mostly for fun and thus that is my benchmark.
I tracked all my games using PokerTracker and turned my initial deposit of $50 into $600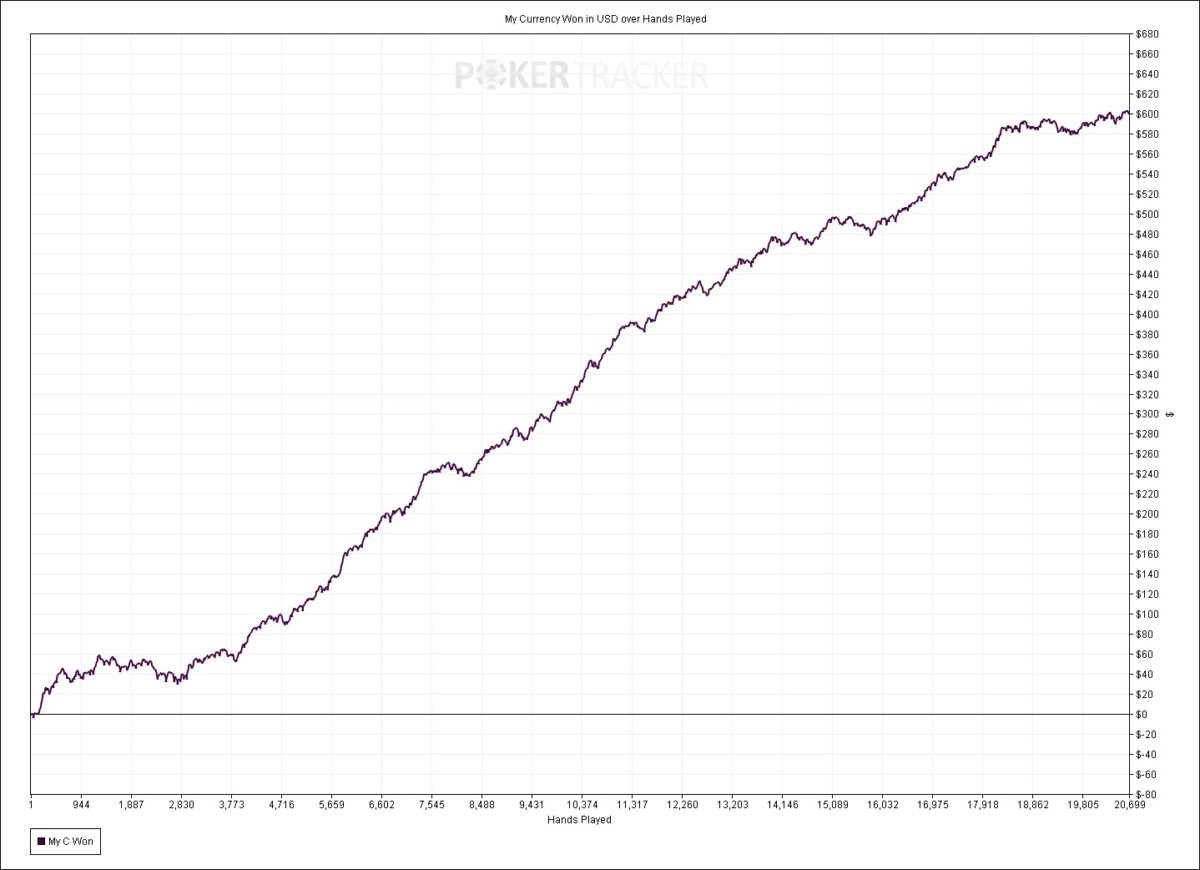 Hands: 20,699 Won: $600
This shows that by using a sound poker strategy, it is possible to make money playing poker on 888.
Support
888 Poker can easily be contacted by online chat, phone or email. Their main help page is a big FAQ which is quite extensive and gives a lot of useful information.
The online chat is only available through the desktop app and here but it requires you to have an account. The same is true to email support which won't be answered unless your email is registered to an account.
A funny thing I noticed is that the chat was unavailable (early in the morning) unless I was just about to deposit more money. Then the cheerful Grace appeared and wanted to have a small talk about my bonuses.
What do other Reviews say about 888 Poker?
Although I did my research before writing this review, you should have a look at what other people has to say about 888 Poker.
Luckily for you, there is no shortage of online reviews for 888 Poker. A simple Google search for "888 poker review" gives you 238,000 results.
By analyzing those results, you will find that the reviews can be organized in two different types, user reviews and affiliate reviews.
User reviews
The user reviews are made by everyday people who write comments on public review sites or forums. These reviews are unfortunately for 888 Poker not too pretty.
The users on TrustPilot give 888 Poker 1.2/5 from 350 reviews.
The main issues reported were:
Buggy software
Long payment times
Bad exchange rates
Terrible support
Rigged gameplay (see the introduction to find out why you can trust 888 Poker)
Although this seems quite depressing, you should keep in mind that there are a few positive user reviews too.
Reddit has a few threads about 888 Poker which is positive.
Affiliate reviews
These reviews are mainly (not all) written by website owners with the sole purpose to gain affiliate revenue from 888 Pokers affiliate program. This means that the reviews are biased and might not be trustworthy.
But what about this review then? Doesn't this qualify as one of those?
Well, yes and no. This review is supported by affiliate links, but I have put in a lot of effort and research in making it trustworthy bringing up both good and bad sides of 888 Poker.
I hope you do feel the same after reading it.
Your experience
I am now overly excited to hear about your experience of 888 Poker.
Is it your favorite poker site?
Do you play there regularly?
Does it stink?
Whatever you think of it, write a comment!