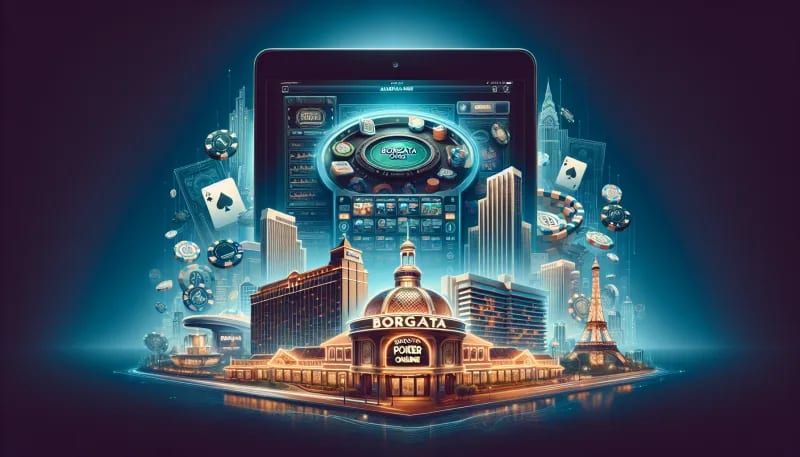 Introduction and History
You know how every great story starts with a bit of legend? Well, Borgata Poker Online isn't exactly the stuff of folklore, but it's got its own saga in the fast-evolving world of US online poker. Launched in 2013, it was like New Jersey saying, "Hey, Vegas isn't the only place where dreams come true!" They teamed up with the Borgata Hotel and Casino in Atlantic City, infusing a bit of that boardwalk empire flair into the digital shuffle and deal.
But why stop at the Jersey shores? In 2021, Borgata Poker decided that Pennsylvanians shouldn't have to cross state lines to bluff and raise. So, they made a grand entrance into the Keystone State, rolling out the virtual green felt there too.
Ah, yes, Borgata Poker is part of the Party Poker US Network, which is just a fancy way of saying they're in cahoots with Party Poker and playMGM for a bigger pool of players. Who doesn't love a hotpot of poker enthusiasts, right? It's a melting pot of poker faces, each one betting they're the next rounder.
Owned by MGM, you'd think there'd be a little Hollywood glitz, but really, it's just good ol' poker fun. Both New Jersey and Pennsylvania put their stamp of approval on it, with licenses shinier than a royal flush.
And hey, are we sure this operation is tighter than a pre-flop all-in with pocket aces? I mean, the New Jersey Division of Gaming Enforcement and the Pennsylvania Gaming Control Board seem to give it the nod, so that has to count for something, right?
But let's not get ahead of ourselves. Before you consider going all-in on this digital poker haven, let's shift our poker faces to the nitty-gritty. The next chapter of our tale? Registration and Software. Because what's a poker room if you can't get through the door? Or worse, if the door looks fancy but leads to a broom closet? Stay tuned, as we dissect the skeleton of Borgata's digital operations in the next part—if it's not as smooth as a river card ace, I'm folding.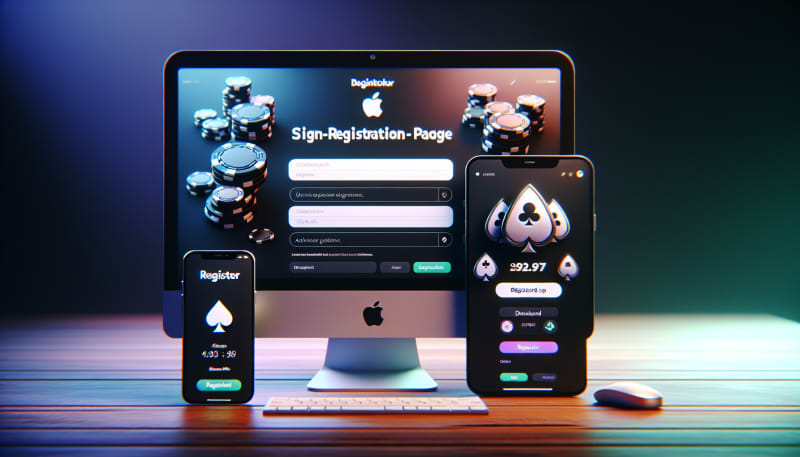 Registration and Software
So, you've just breezed through the 'Introduction and History' and you're itching to get those cards in the virtual air, right? Well, hold your horses, because we've got to talk about Registration and Software next. Surprisingly—or not—Borgata Poker's registration process mirrors the simplicity found at Party Poker or playMGM. Picture this: clickety-click and you're in! Who ever said bureaucracy can't be breezy?
Now, let's gab about the software. Ever find yourself staring at a loading screen, drumming your fingers, while the software takes its sweet time? Not here. Borgata's dedicated desktop download is the poker equivalent of that one friend who's always punctually waiting for you five minutes early. Oh, you're one of those 'on-the-go' types? Fear not, the Borgata Poker gods have blessed Android and iOS users with a mobile platform. Play anywhere, anytime – just maybe not at your niece's piano recital.
Is the software robust? Will it handle my multi-tabling madness without breaking a sweat? Well, in my experience, it's as stable as a chess grandmaster's pulse during a tournament. That's tech-speak for 'you're probably not going to be yelling at your screen'. It's streamlined, sure, but not like a dolphin cutting through water; more like a shark that's smelled blood – the blood of a juicy pot waiting to be won.
So, now that you're all set with a registered account and sturdy software, what's next? Do you dive into the shark tank or wade in the shallow end? Doesn't matter, really, because in the following section, we're going to talk about Game Selection. And trust me, it's like walking into a candy store. But are the shelves stocked with your favorites? You'll see.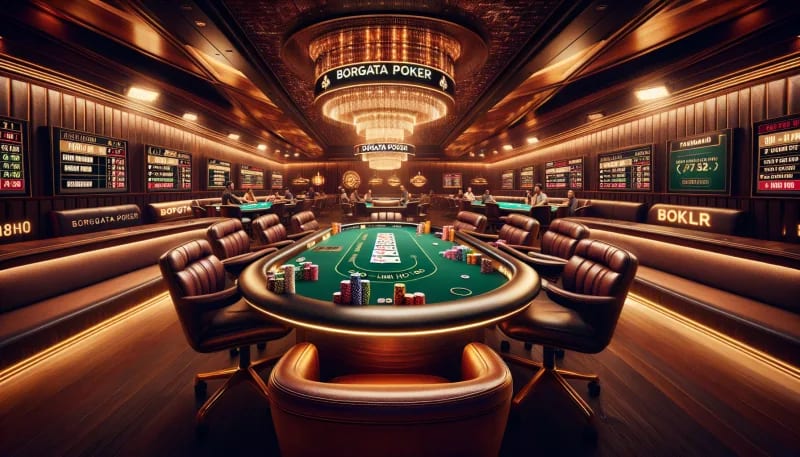 Game Selection
So, you survived the registration gauntlet and software slalom? Phew. Now, you might ask, "What's next?" Borgata Poker's buffet of games, my friend. But is it a Michelin-star feast or just your run-of-the-mill all-you-can-eat? Let's dig in.
Cash Games? Check. The bread and butter of any poker diet, with No-Limit Hold'em tables that are as ubiquitous as bad beats. You'll find your usual $0.01/$0.02 games for the hobbyists and levels that climb all the way up for the "I just felt like burning some cash" crowd.
Sit and Go's? Absolutely. Quick and dirty, like that last-minute date before your ex decided you were too into poker. They're the perfect bite-sized snack between those marathon cash game sessions or while you're waiting for your buddy to text you back. Will they ever?
Now, for the MTTs – the grand banquets where dreams are made (and often crushed). Borgata Poker doesn't skimp on variety here. Just be prepared for a roller coaster ride that could last longer than your last relationship.
Ah, and then there's Fast-Forward Poker – because who has the time to wait for decent cards these days? Am I right or am I right? It's poker at breakneck speed, and yes, it's as chaotic as playing twister with your in-laws.
Omaha and Seven Card Stud are also on the menu, for those who like their poker with a twist. Variety is the spice of life, or so they say. But can too many choices be distracting? Perhaps you'll ponder this while multi-tabling six different games.
These games come in all shapes and sizes (and buy-ins) to fit your wallet or your daredevil spirit. Bold enough to jump into the high stakes? You daredevil, you.
Just remember, when you move on to chasing those "Bonuses and Promotions" – because, of course, free money is the best money – don't forget the golden rule I live by: a good game selection beats a flashy bonus every time. But hey, who says you can't enjoy both?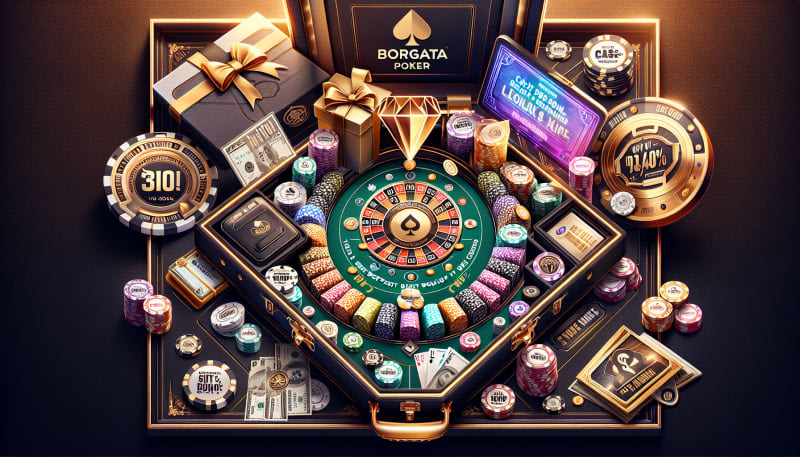 Bonuses and Promotions
After perusing the vast array of games Borgata Poker offers, you might wonder, "What's in it for me, besides my undeniable charm at the poker table?" Well, skeptics and optimists alike, let me dish out the scoop on Borgata's bonuses and promos.
Let's kick off with the welcome wagon: Borgata Poker entices you with a $10 No Deposit Bonus. No catch. You sign up, and boom, there's a crisp virtual tenner in your account. What can I say? Free money talks.
Once you've waltzed in, if you toss in mere 1 iRP (iRewards Point), Borgata sweetens the deal with another $10 in cash. Are they being too generous? I don't know, but it's a nice change from scouring the couch for extra quarters.
Now, if you're going all in and making a serious deposit, they will match it 100% up to $600. Claiming it is as simple as clicking a button. But really, can doubling your bankroll ever be that straightforward? Guess there's only one way to find out.
Don't let the fun stop there. Daily 'Spin the Wheel' – why not? It's like playing a mini-game within your poker pursuit. Each spin could spell goodies galore. Or not. It's the thrill of the draw, my friends.
Weekly Sit & Go leaderboards tempt you with more. You got the guts and the skills to climb to the top? Prove it and grab your share of the prize pool. Yes, it's as competitive as a squirrel in nut-gathering season, but that's half the fun.
And then there's 'The Grind'. If you're playing hard and staying loyal, you deserve a bit back, right? Their rakeback and loyalty program nods vigorously in agreement.
So, have I piqued your interest or just made you more wary? Either way, if you're ready to dive in, next up in this saga, we have 'Tournaments and Freerolls'. Do the rewards get better, or does Lady Luck have a twisted sense of humor? Stay tuned.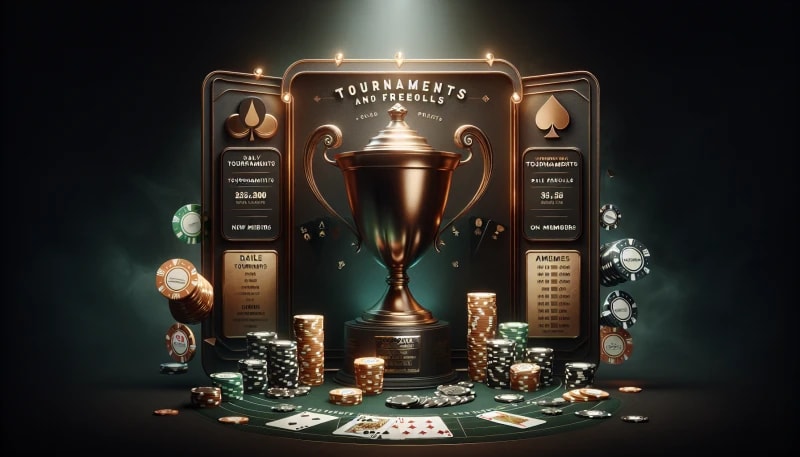 Tournaments and Freerolls
So, you snagged a swanky bonus from the 'Bonuses and Promotions' section, didn't you? I bet you're itching to multiply that free cash. Well, gear up, because the tournament section on this site is the big leagues, where your newfound bankroll can go from rags to riches or—let's keep it real—possibly back to rags.
But hold on, let's talk about the daily grind first. The Daily $10,000 is like the bread and butter—consistently there, and reliably delicious. You know it's good when you can fight for a piece of ten grand every. Single. Day. And let's not ignore the weekly spectacles: Mega Tuesday and Mega Thursday. These are like your favorite TV shows, but instead of binge-watching, you're binge-bluffing for a fat stack.
Then there's the PartyPoker US Network $250K Guaranteed. This big boy's like the high school prom—everyone wants to go, but not everyone can end up as prom king or queen. The best part? You could leave with more than just a fancy photo and a hangover—you could walk away with enough cash to make Scrooge McDuck's vault look like a piggy bank.
What about those of us who can't afford to gamble with more than just pocket change? Enter, stage left: freerolls. Thought birthdays were the only things that came free once a year? Think again! The New Member Invitational is a freeroll that's as welcoming as grandma's hugs—because you don't need grandma's inheritance to play.
And before you ask, "What's the catch?"—I'll confess. These freerolls are the hook, line, and sinker to get you in the door. But hey, if you can parlay free chips into real dough, who's complaining?
Now, assuming you've turned your bonuses and freeroll winnings into a small fortune (or at least something that doesn't make your wallet weep), you'll want to cash out, right? That's exactly when the "Deposit and Withdrawal Options" come into play. It's good to know whether you'll be filling out bank slips or if it's going to be another "Sorry, your princess is in another castle" moment. Stay tuned for that, and let's hope your poker face is as good as your understanding of fine print.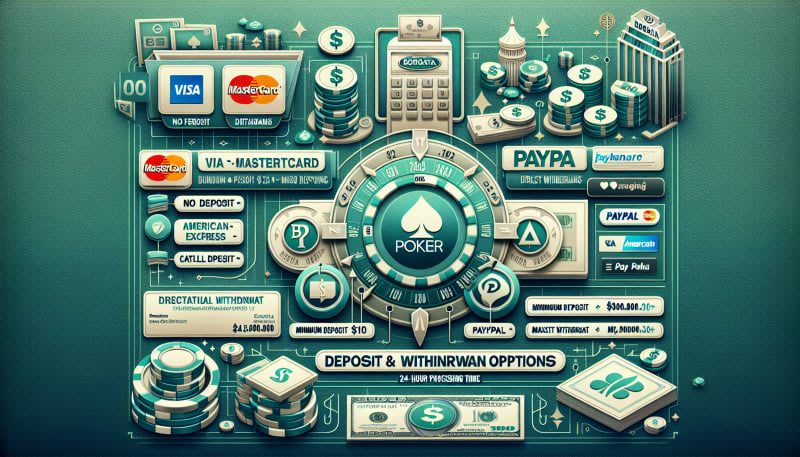 Deposit and Withdrawal Options
So, you've just crushed it in the last tournament (or maybe got crushed, but who's keeping score?), and you're ready to either double down or cash out. The question is: How painful will it be to move money in and out of Borgata Poker?
Let's be real, no one likes to wait for their money. Borgata Poker feels your pain. Their deposit and withdrawal methods include big names like VIP Preferred, Visa, MasterCard, and AmEx. Yes, you can totally flash that fancy plastic. Or, if you're more digitally inclined, PayPal and PayNearMe have got you covered. Plus, there's always the direct deposit option if you're anywhere near The Borgata in Atlantic City. Because who doesn't want to experience the charm of the boardwalk after a big win?
Now, here comes the kicker: there are no fees on withdrawals. Can I get a round of applause for Borgata Poker? Seriously though, they must make their money somehow, right? Rest assured, they're not shortchanging you on the service.
Minimum deposit is a mere $10, which is less than the cost of a decent meal at most Atlantic City establishments. The minimum withdrawal is $20, which honestly, is probably what you'd tip the valet. But here's something to make you smirk: the maximum withdrawal limit is over $10,000. That's enough to make any poker face crack a smile.
Finally, let's talk speed. With a processing time of 24 hours, you won't have to wait long. But still, 24 hours can feel like forever when you've got bills to pay or a hot new poker table to join. Come on, Borgata, can't we get that instant gratification?
With your pockets full (or ready to be refilled), you'll soon be needing some top-notch assistance, won't you? Stay tuned for the lowdown on Customer Support because, who knows, you might end up being besties with Borgata's support staff.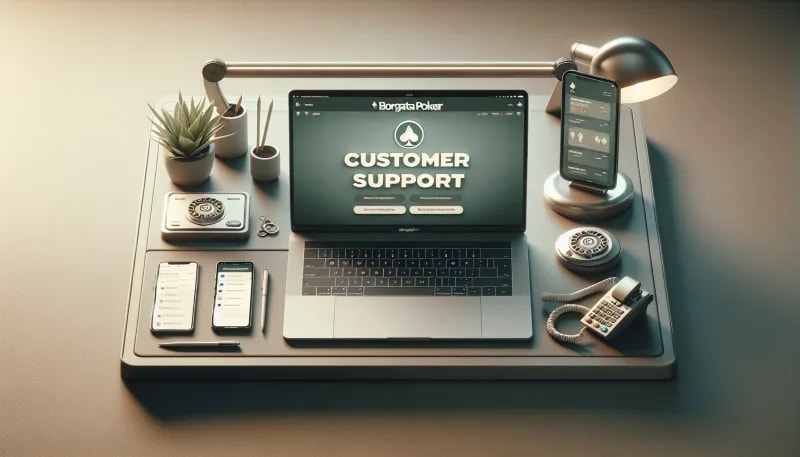 Customer Support
Now, after figuring out where to shove your hard-earned cash via their deposit and withdrawal options, you might wonder, what happens if something goes wrong? Enter stage left: Customer Support at Borgata Poker. They say help is just a live chat, phone call, or email away. And let's be real, that's reassuring when your chips are down.
But here's the kicker, ever tried reaching support exactly when you need them? Oh, it can be a bit of a gamble. There are whispers, some louder than others, critiquing the accessibility of these support paths. Is the live chat actually live? Or does it moonlight as a "Leave a message, and we'll get back to you...eventually" service?
Don't get me wrong, I've interacted with their support team, and when I did hit the jackpot and get through, they were effortlessly helpful, a veritable flush of competence. Efficient and responsive, like a dealer with good hand speed. It's almost as if they've got a royal flush hidden up their sleeves when it comes to solving issues. But hitting that sweet spot, ah, that's where the real skill—or should I say luck—comes in.
Imagine if getting help from Borgata Poker was as straightforward as pocket aces. Why can't it always be that simple? Yet, here we are, sometimes feeling like we've just missed the flop. However, I keep my poker face on, optimistic that next time I'll hit the service straight on the river.
And remember, after you've checked your support options, you'd best be eyeing the security and fair play assurances of the house. Because what good is top-notch customer care if you're not playing in a secure and fair environment? Am I right or am I right? Now, let's shuffle up and deal with the ins and outs of Borgata's commitment to security—may the odds be ever in your favor.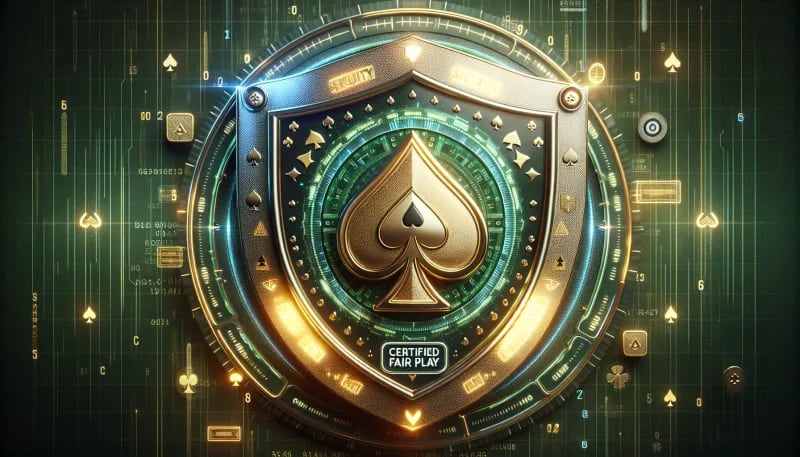 Security and Fair Play
Transitioning from the warm embrace of Borgata Poker's customer support, you might wonder, How well does the virtual felt protect me and ensure a fair shuffle? I delved into the depths of their security and took a gander at what makes their wheels turn without a hitch.
First things first, yes, the site is fully regulated. I know thinking about regulations isn't as exciting as a royal flush on the river, but hey, they keep the game honest. And isn't that what we're all here for? Plus, in the realm of online poker, regulations are like a security blanket. They keep the boogeymen at bay.
Now, let's talk about the cyber elephants in the room: hackers and cheaters. Borgata Poker wrapped their platform in SSL encryption. That's like putting a padlock on your virtual chips and personal info. Imagine trying to snoop around with a blindfold and earplugs on—good luck with that, hackers!
But what about the cards? Stacked decks are an old magician's trick, but not all of us wear top hats and capes. Enter the random number generators (RNGs). Certified for fairness by third-party agencies, these RNGs are like the neutral dealers of the internet, except they can't grow a mustache or crack a joke. How do these agencies certify them? Are they poker wizards? Well, they're not playing magic tricks, that's for sure. It's math and science, and thank heavens for that — because I checked, and my crystal ball is definitely busted.
So, as you glide seamlessly from this fortress of fairness to the next topic — User Experience and Accessibility — remember, a secured and impartial game is the ace up Borgata Poker's sleeve. It may not be as showy as a Vegas marquee, but it's the unsung hero that keeps your gameplay as straight as a... well, straight flush.
User Experience and Accessibility
Following the assurance of security and fair play, let's pivot to something that's truly close to our hearts: how it feels to use the site. I mean, does it sing to us a sonnet of seamless clicks, or does it feel like we're navigating a labyrinth with a broken compass? Thankfully, praise be, the platform understands the need for a user-friendly interface. Gone are the days of digital spelunking through cluttered pages.
So, you've got this sleek interface, right? But here's the kicker: There's no dedicated mobile app for poker. Come on now, really? In a world where we've got an app for everything down to monitoring the crispiness of our toast, we somehow missed the boat on a poker app? The platform plays it cool with casino games and slots for the mobile gamers, which is great—if you're into that sort of thing. But hey, what about us card sharks on the go?
Accessibility is a big deal, people. We want to play a quick hand while in line for our morning coffee or during those lengthy commutes. Is that too much to ask? Sure, the mobile site works across various devices, which is nice and all. But it's kind of like being handed a fork when you need a spoon. It works, but it's not quite right.
And I can't help but wonder, will my tablet feel the same fondness for the site's stable performance, or will it play hard to get? I'm a bit skeptical, but only because I've been burned before by crashing browsers at the worst possible moments—like when I'm about to go all-in with a royal flush in my virtual grip.
In the spirit of keeping things short and sweet, let's move along. But remember, a poker player's journey is a sacred quest for the perfect hand and, well, a reliable platform to play it on.
Up next, the Overall Rating. Will our dear platform emerge as the royal flush of online casinos, or will it fold under pressure? Stay tuned.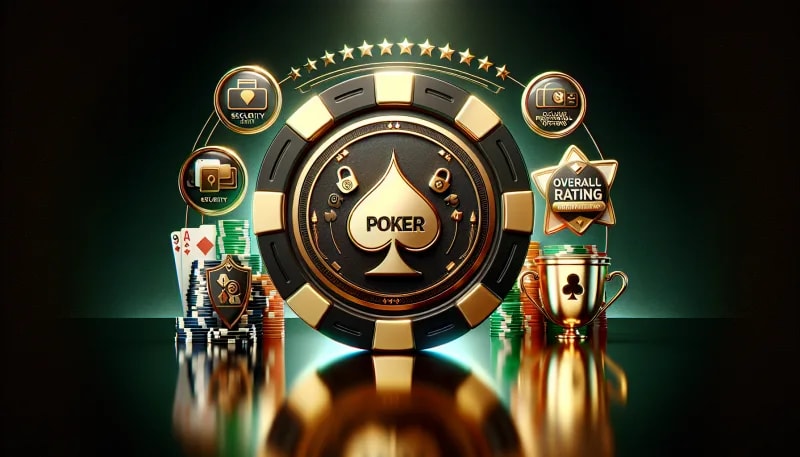 Overall Rating
Now, let's get to the meat of the matter. If you're on the hunt for a poker playground, Borgata Poker checks a lot of boxes, doesn't it? Game variety? Covered. Security? Like Fort Knox! And let's not forget those promotional offers—because who doesn't love a good deal?
But wait, there's more. We're not just talking about a few random card games here and there. Borgata Poker is rubbing elbows with the big leagues. Ever heard of the World Poker Tour? Of course, you have. And Borgata Poker is where WPT Online events come to life, right in the comfort of your New Jersey or Pennsylvania living room. Fancy, huh?
Now, I know what you're thinking. "Could this be any more impressive?" In the interconnected world of poker networks, Borgata is like that well-connected friend who seems to know everyone. Networking has its perks, and here, it means more players, bigger prize pools, and the kind of cutthroat competition that'll make your heart race.
But let's not get carried away on the hype train just yet. I mean, every rose has its thorns, right? Sure, Borgata Poker is riding high on the poker scene, but even the fanciest of shindigs have their hiccups.
Still, it's hard to argue with a solid performance. When it comes to poker in the Garden State and the Keystone State, Borgata Poker is throwing a party, and you're all invited. Just make sure to bring your A-game—and maybe a four-leaf clover, for good measure.
What do you say, are you ready to shuffle up and deal with the big fish? Or will you fold under the pressure of greatness? Well, that's a story for another time; after all, there's no next part.