An old winner in a new bottle? Not really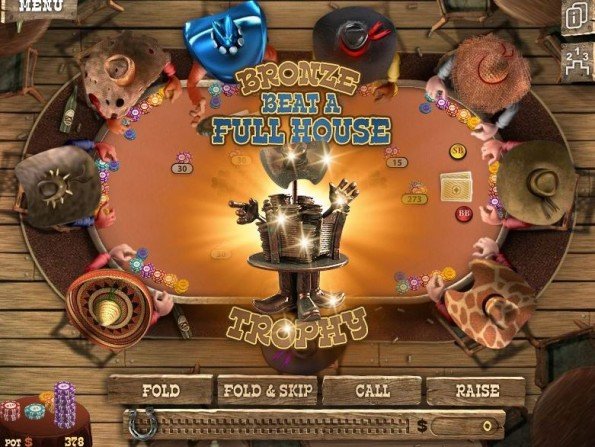 Actual gameplay from Governor of Poker 2.
The game may seem similar to the old game, The Governor of Poker.
But don't be fooled since this game is still quite different from the original.
The game is still based in Texas as you play a lot of different game styles to win over stuff.
The game is set up right where the old Governor of Poker game left off but don't worry; you don't have to play the old game to enjoy the new one.
The story goes like this, a new government has been set up and has now banned all poker games in the state, and it is up to you to save the game of poker.
So while the wafer-thin plot does not change much from the previous game, what are the changes that have been made for this version of the game?
The game has you play poker to win over the town, so you start winning the small games, when you have a sizeable amount you get to buy houses, streets and collect rent, then you finally try to own Texas and free the game of poker from the evil hands of the government.
Offline is king
One great feature is that this game can be played offline as you try and beat the cowboys out in the west.
The game has been completely overhauled with HD graphics now taking over rather than the average SD graphics which were part of the first game.
Apart from this, there are a lot of trophies to be won when playing the game; there are cash prizes as well as you move from one town to another trying to win all the lost places in the state and take on tougher opponents.
Another feature is that there is a great customization option present in the game, this means that you can customize your character and make it look different, and there are great hat shops all across Texas which means you can make it wear a 10-gallon hat if you want your character to.
Gaming hours and hours of fun
The game does not skimp on the amount of gameplay on offer.
This game has 80 challenges which you need to clear to win the big bucks; there are 27 fantastic HD salons to play the games based on 19 different, amazing cities.
As talked about regarding buying properties, there are 5 substantial industrial assets which are present that you need to end up owning.
That means there is a lot of gameplay which will keep you busy for hours.
Your character travels in various modes of transport, keeping the fun and quirky quotient of the game running.

Governor of Poker 2 from YoudaGames.
You can travel by trains or boats or coaches as you move from one city to another and there too you can play a lot of poker games to keep you going.
Each city has a lot of tournaments for you to clear and win the cash amounts, you will experience the best of what poker has to offer with lots of calls, checks, all ins and folds similar to a full on a real poker game, that is a guarantee!
There are also shootout tournaments and sit and go tournaments to keep things fresh and exciting.
Correct, the game does have a few problems when running on the various platforms which it is run on but there are glitches in almost all software so that should not be taken that seriously.
The game though is more or less based on the earlier Governor of Poker, yet this game is way different, with crisper HD graphics, a better poker engine and a more extended set of challenges that made it hard for people to win easily and keeps you trying hard to win the cash.
Governor of Poker 2 is one of the best casual poker games out there, it bypasses the mundane nature of most poker games and keeps things fresh and fun thanks to its brilliant setting and graphics.