Getting started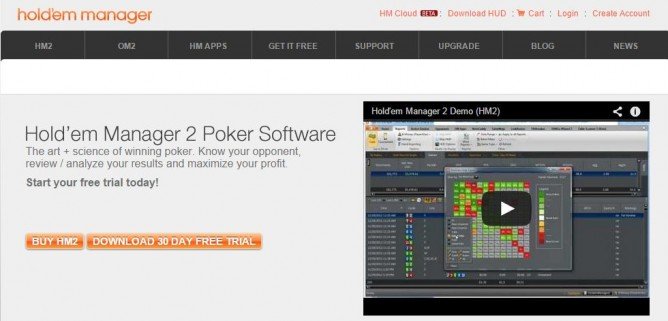 After downloading the software from the correct website, from the Holdemmanager.com website, all you have to do is double-click on the execution file.
The software installs on its own; you don't have to do much.
One great feature of this software is the ability for it to import databases; and hands history from any other poker client you may have installed.
There are specific programs which the software does not support; however, the manual imports of hand histories are pretty easy to put in.
The installation is pretty simple, in case you do have a few issues; there are many videos available which can guide you in the installation of the program.
The analysis is one of the major PLUSES for Hold'em Manager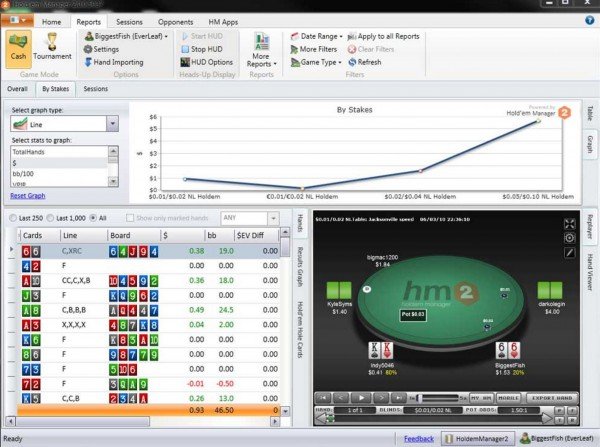 One of the most significant advantages of Hold'em Manager is the number of reports and the analysis; provided by the software.
Initially, it might seem a little daunting seeing so many numbers and facts being thrown at you; but this is the perfect way for you to learn about your playing style and to pick up tips.
The level of detail in the reports is amazing.
Reports aren't just provided for your style of play but also the many opponents you face when playing poker.
While you may scoff at analysis reports, this is one of the best ways to improve your gameplay.
The software records every single game you play, once it is activated.
The more you play with the software, the better the tracking is; and this helps you get better insights into your playing style.
This broader analysis ensures you learn more and thus can act on to make your game better.
The level of detail present is outstanding.
The software can recall almost any instant of gameplay that you might have done.
Do you want to check how well you played in April?
Hold'em Manager allows you to do that, if you want to go deeper, the software enables you that as well.
This kind of detailing is one reason why people want to use this software; more than some others that are available.
Too many reports and charts?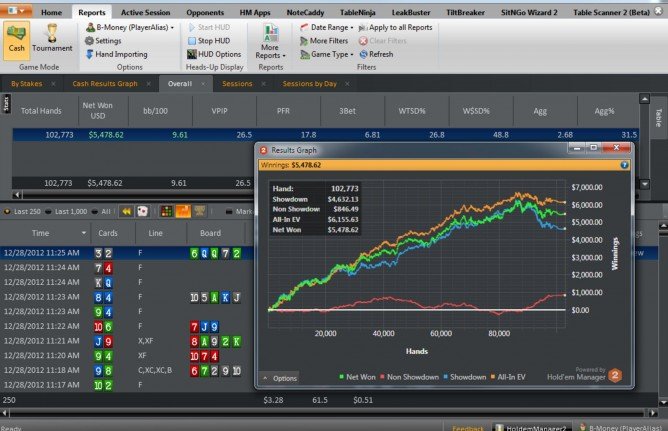 One thing that Hold'em Manager excels in is the sheer number of reports and graphs the software provides to users.
This deep analysis is something the professionals would love, but it might not be the option for those who are looking for something easier to understand.
The graphs and charts are pretty well explained; so anyone who does spend some time with these would pick up over a period.
Trends of your playing style are also available, the same for the opponents as well.
Spending a few days with this software and you would become a pro at reading these charts.
The graph feature is one of the standout things from the software.
You can pretty much pull up a chart for anything and see how well things have progressed; this helps you find more tendencies and learn about your overall gameplay.
This graph is entirely customizable, which is a great feature and allows you to set up a graph on anything that you might have wanted.
The HUD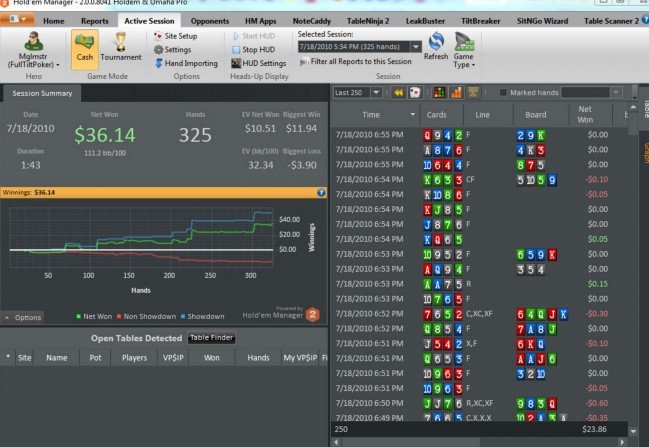 Another great feature of Hold'em Manager is the great HUD the software uses.
The software isn't just about the analysis and post-game updates, but it also has a lot of other abilities for a player.
The HUD provides live information about the games being played by you.
It also features a lot of analysis and reads on the plays going on and is pretty fast and accurate, making a great team for your gameplay.
You can even customize the display to suit your needs, after a few games with the HUD you might understand what are the features that you need when playing the game and which ones you do not.
The HUD on its own is a little clumsy, but that ability to customize it to your liking does fix that issue, somewhat.
The HUD does work well with multiple tables; though it might take some time for a player.
Learn hud
Our advice is to start playing with one game and learn about the HUD before jumping into multiple games.
Start with small tables which have fewer players; this is only for those who have never worked with such software when playing online poker.
There are many other software additions that you can add to this program.
While this program is good enough; to begin with and helps you out a lot. There are some gems hidden around.
The ability of this software to link up with others just makes sure that you have a great assistant who can help you out in some more games.
It would be challenging to find another poker manager software which can provide you so much for so little.
It might take some time before you pick up on all the hidden parts of the software but once you have it set to your liking there really is no stopping you from improving your game.
Just remember to check if this software is supported by the website or poker game you are playing before buying the software.