Why H.O.R.S.E.?
Cute Horse.
In most of the big tournaments being played, the winner is decided by playing an H.O.R.S.E. game.
This is done for a couple of reasons.
The first reason is that this type of game where different versions of poker are played nullifies any advantage a player may have by just playing one kind of poker.
The other reason is that this is a true test of how good an all-around poker a player really is playing these different kinds of poker games.
This format has been adopted by many online poker sites as well as the championship held every year on PokerStars.
The basic rules
There are some basic rules that players must adhere to, most of them are simple but it's always better to know the rules before you go headstrong into an H.O.R.S.E. game.
In most tournaments, the games which are in the rotation are set before the game starts.
In most cases, each game goes through a complete rotation, which means that each player when playing a style of poker must become the dealer for the game being played.
Players are required to play each version of the game and cannot skip any form unless there has been a discussion earlier.
Tips for not horsing around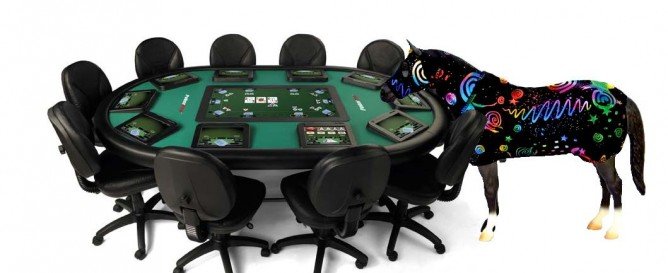 Nice poker table with a horse.
This being the most popular version being played in tournaments.
It would be wise to pick up some tips and tricks so that you are not left high out to dry.
These are just some simple tips; there are a lot of things which can be brought about later on.
Know your strength: You would be playing 5 different kinds of poker games but you should be prepared for the one or two types of games in which you are strong.
You won't will in all the different formats so be prepared to miss out unless of course, you have a really good hand. Playing to your strengths in this format is really important.
The above is also true about your opponents.
So pay attention to learn which games they are good at and which they are not comfortable in.
You can then raise the pot in the games you are comfortable in and those in which your opponents are not.
Be adaptable: The games in H.O.R.S.E. poker change really fast. You need to keep up with the various changes that take place. Your adaptability and ease in dealing with the different games will help you a lot.
The other players who take part in these competitions are very experienced and thinking about participating in the big dollar competitions would not be a walk in the park.
The best way to prepare for this event is to play all the other games in single one-off tournaments.
This would help you to learn the nuances and rules of all the other kind of games and would be better prepared to take part in this competition.
Related article: Poker Rules You Need To Remember Else You Die (Or Go Broke)
H.O.R.S.E. poker is also played online. One facet of online H.O.R.S.E. poker is that you can play multiple tables at one time.
This should be attempted by the novice as playing multiple tables can lead to different tables playing different variants of the poker game which can lead to a bit of mismanagement.
It is better to start off with just one table and then working your way to multiple tables through practice.
H.O.R.S.E. poker is the most popular game in tournament style poker.
There are big bucks to be won playing this format; the only problem is that if you are a novice it is recommended to start first practice the different types of games being playing before ending up at a tournament.
The players at these tournaments know what they are doing and are seasoned veterans in most cases.
So be careful when dealing with these players, they can take you out in a jiffy.
H.O.R.S.E. poker is a fast-paced game and hence speed is also of the essence, practice well and you should be able to do well.