If it's free, it's for me
Many websites let you play poker online, free as well thanks to a term called as no deposit bonus.
This is where the poker site provides you with a cash bonus to start playing the game, but you want to learn how to play the game first.
Learning the game is easy and there are many websites that not only teach you how to play the game but provide you with a lot of information about strategy and bluffs, all part of playing poker.
Here are some of the best sites to learn poker for free.
learn poker: PokerStars PokerSchoolOnline

PokerStars PokerSchoolOnline
Poker stars is a great website to learn about how to play poker.
Most of its features are free and there are many videos which you can use to hone your skills.
You do have to create an account though and to take part in the main quizzes which feature cash prizes, so even when you can learn poker for free you can win some extra cash!
TitanPoker Texas Holdem Poker Guide

TitanPoker Texas Holdem Poker Guide
This site has some great graphics and visual to help you learn about poker and how to play the game.
They even have an online poker game where you can bet money and try the real thing however you should learn up on how to play the game before going ahead with it.
The infographics are great on this site as they teach you about strategies which most sites don't
Poker1

Poker1
Mike Caro is a legend in the poker circuit and when you have a website which is run by his team you know, that is somewhere you can learn a lot.
You can learn how to play poker for free on this site, and it has some great video tutorials as well which can make you a better player to deal with.
PokerPistols Poker Strategy

PokerPistols Poker Strategy
This is another excellent site to learn poker for free.
Although the site is a little cluttered with so much going around. If you search the right places, you will find a goldmine of information about poker and various strategies and techniques which you can use.
Again, all this information is free and well worth looking into.
Not a big internet fan, where do I learn?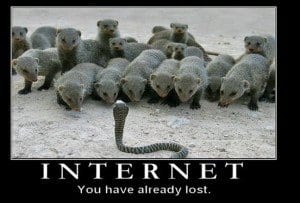 The internet lost.
Not everyone is a fan of the internet or gets his kicks from learning stuff online.
You may want to learn poker with the real stuff being played.
The best bet is to have a game with all your friends, even though you may not know how to play the game, with help from your friends you can become a better player.
Practice makes perfect.
Another great place to learn about poker is watching the World Series of Poker.
This is the ultimate source of poker information where the best poker players try to beat each other and win millions of dollars.
With the best players trying to win the coveted World Series of Poker bracelet, you could learn a few crafty tricks from the best.
The last place to learn your poker for free should be the casinos.
This is the place where you do want to end up playing the games and well, there is no other place to see ordinary people try their hand at the game.
The best part of going to casinos is that you get to soak in the real atmosphere of the table and the game.
You can see people twitch and fidget about when they try to play the game. Here is where you can learn about tells as well.
The way people behave to the cards being dealt and the situation at the table.
These are the ways you can learn poker for free and try to do well in games which you play.
I learned but what next?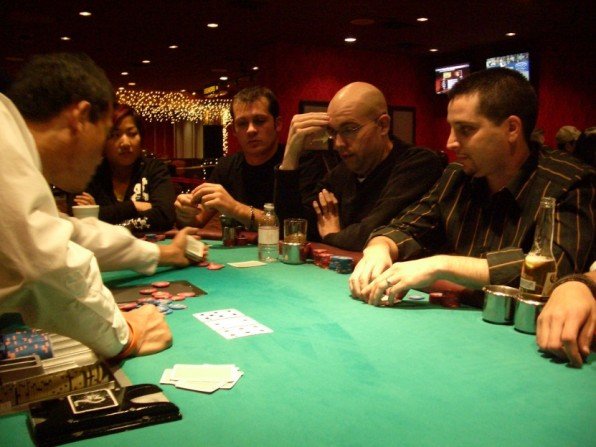 You want to come prepared to the real tables.
While you may have learned the basics of the game, it is not over yet. You would still need to learn a lot about poker.
How to play the game, what are the strategies, how do people deal with a different hand of cards, what is a tell, how do people bluff and so on.
There is a lot which goes on at a poker table and you need to practice all that to have a sense of what to do and not to do at the table.
The fact that you have to play with other human opponents is also quite daunting.
You would be facing players with varying degrees of experience; some would be amateurs while others would be seasoned poker players. The best advice is to start off slowly; so that you do not fall into the deep end of the poker swimming pool.
You should also practice playing the game a lot, especially with your friends and family.
Here you would not face the real pressure of a casino or a table. But you can hone your skills about what your strategy should be; how you can deal with the human component of the game.
Remember, take it easy and try to enjoy the game; once you have a set of strategies ready you can take on the big world of poker; and try to win some mega bucks playing.
Go to the small tournaments first and then try to move up to the bigger ones.
You never know when you may hit the jackpot.