1. Daniel Negreanu Blog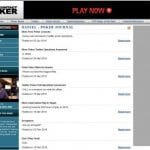 Daniel Negreanu's blog started in 2004. He is a professional poker player and has won six WSOP bracelets and two WPT titles. His blog posts are mostly about his experiences in his poker games. He touches upon topics such as other poker players, poker politics, poker tournament issues, and other topics. His blog is very casual and can be mostly read for entertainment or wanting to read another's thoughts on what is happening in the poker industry. There is not much in regards to strategy and game play, so novices may not find much use for the blog.
2. Jonathan Little Blog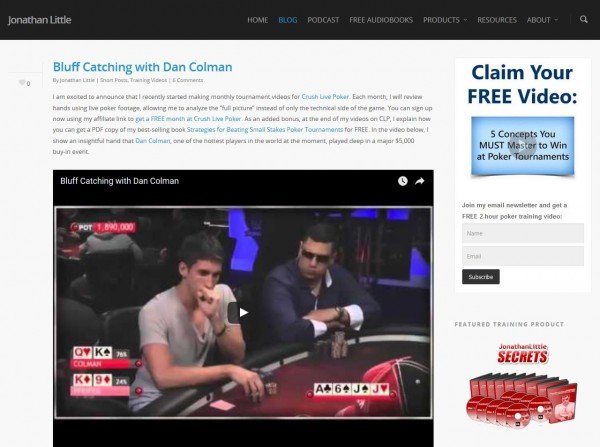 Jonathan Little started his blog in 2014. He is a professional poker player and has won two Word Poker Tours. Little's blog is a great read and resource for any poker player. On his blog, you will find poker videos that show and talk you through some of the hands he has played during a tournament. He also writes about other topics players may be interested in such as what sort of mind set you should have during a game, whether force out your opponent or keep them in and more. He also has other posts on game analysis and tournaments. You should definitely be looking forward to upcoming posts.
3. Card Player Lifestyle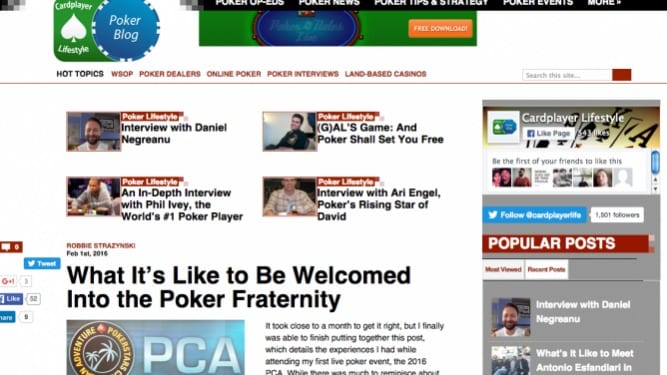 Cardplayerlifestyle.com is the perfect blog for lifelong lovers of poker and those poker industry followers habitually looking for poker news and updates. The blog reads much like a magazine; thoughtful, smart posts abound and are well written and fascinating. Photos accompany each post, and the blog is updated regularly.
Cardplayerlifestyle.com is a name recognizable to poker fans everywhere, and is clearly a standard in the industry for news and information. Including sit-down interviews, original content, and catchy headlines, this blog is a must-read for anyone who takes poker seriously and wants to be immersed in the culture.
4. ESPN Poker Blog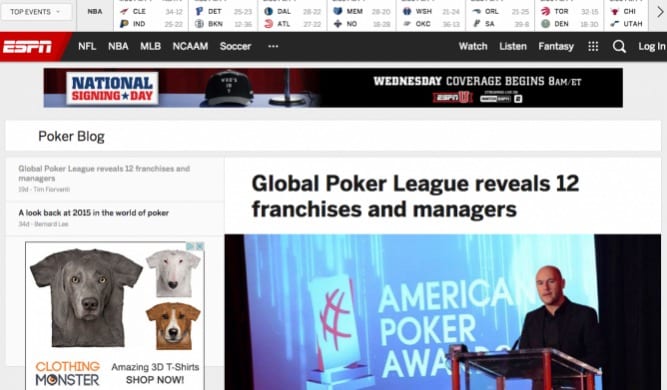 If you aren't subscribed to the ESPN poker blog, stop what you're doing right now and subscribe. You can't call yourself a truly invested poker player if you aren't staying up-to-date on poker news. ESPN's blog is easily the best way to do this. The sports news superpower features excellent articles written by premier journalists on topics that every poker player should be looking into. The blog covers everything from major tournaments to changes in the league with photos and thoughtful articles.
The ESPN poker blog is intuitive and easy to navigate with breaking news links featured at the top of the page in a sidebar for easy access. Hands down the best blog for poker news.
5. The Poker Barrister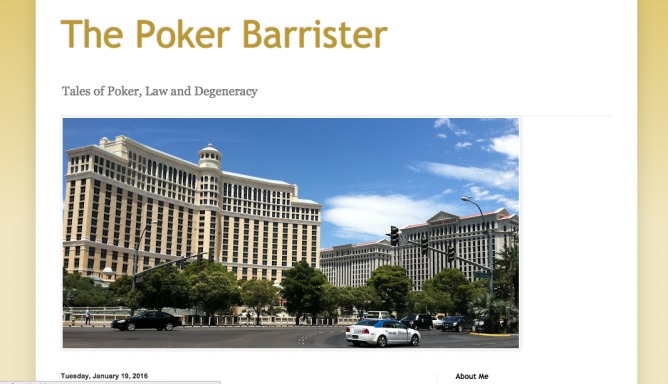 The Poker Barrister is a blog ran by Pete P. Peters. He started the blog in 2011, and it has been going pretty strong ever since. Like most poker blogs it's not 100% about poker, but a good chunk of it is. He does detailed hand analysis, the poker industry in different states, his winnings and losses, tournaments, and of course random thoughts and more. He has a very friendly tone, and his blogs spots tend to give readers advice or lessons they can take away. Novices and more experienced player will enjoy his posts for their tone and insight.
6. Pokerlistings Blog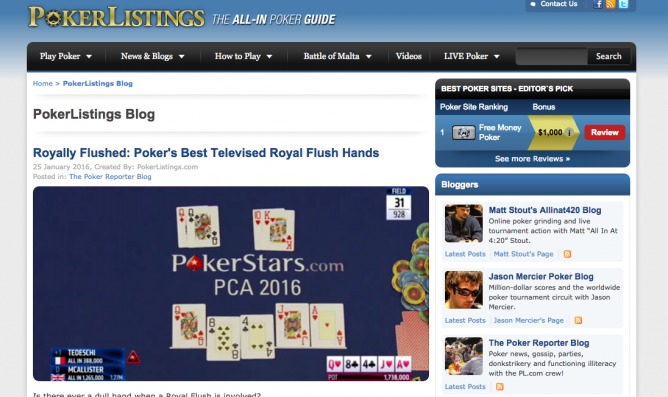 Pokerlisting's blog is run by the editorial team, and they also feature other blog writer's blog. This blog will be useful for novice and advance players. Pokerlisting's part of the blog usually showcases live feeds of poker games, comments on tournaments, poker news, poker gadgets and more. The blogs that Pokerlistings feature are created by a variety of poker players and enthusiasts like Jason Mercier and Matt Stout. They also have the WSOP blog, Positively Nerd Street, Poker Joker and more. With all of these sites, you access to a variety of poker news, gossip, strategy, insight and more.
7. Rob's Vegas and Poker Blog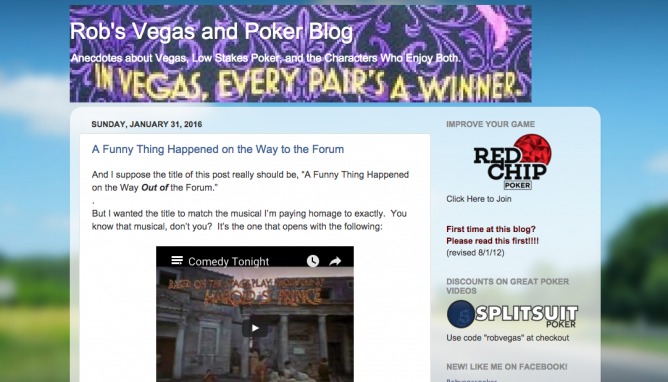 Rob started his blog, Rob's Vegas and Poker Blog, on September 20, 2011. There isn't a lack of cleavage or skimpily clad women, which doesn't have to be a bad thing. Like other poker blogs, he shares his own personal experience as a poker player. He sometimes even blogs live from competitions along with his Twitter feed. Most of the blog is very detailed and story-like, and it definitely has a very laid back tone. But poker is not all he talks about. He also talks about his adventures in Vegas and at poker games and encounters he has had with women. Overall, it's entertaining, but it may not be for everyone.
8. Thinking Poker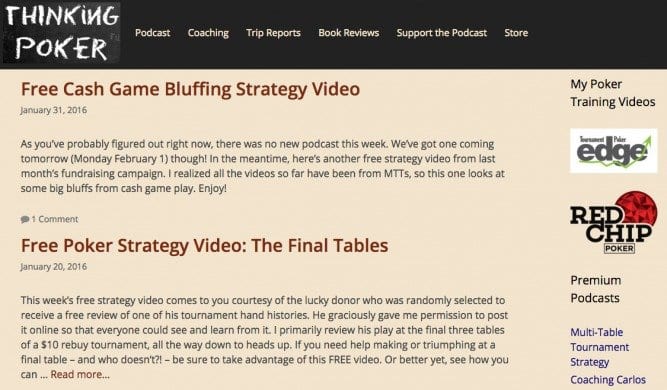 Thinking Poker is a blog and a podcast about just that—how to think about poker. Each episode is around an hour long and features guests from amateur players to coaches. There is a strategy component to most episodes, and also a nice interview element. The Thinking Poker website has everything from Trip Reports to a link where you can buy Thinking Poker swag.
This is definitely a blog/podcast to look out for, there seem to be big things on the horizon and rightfully so. While podcasts aren't as easy to digest as a video or an image, they have a lot to offer if you're willing to put the time in. This podcast is no different, and allows listeners a good chance to learn.
9. SplitSuit Poker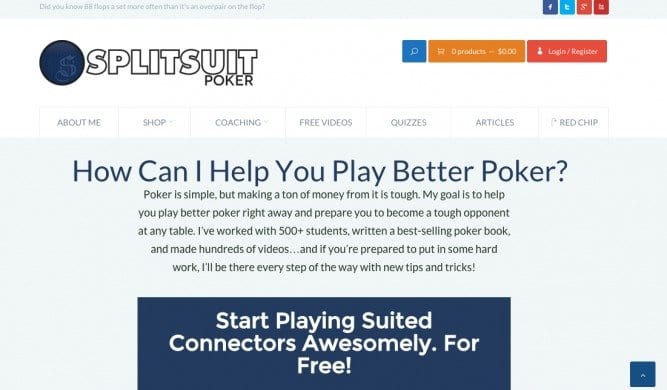 SplitSuit is one of the best blogs for players to learn how to improve their game. The writer of the blog is James "SplitSuit" Sweeney, who is a poker player and coach. The blog offers poker hand reviews with video, so poker players can learn how to play certain hands. It gives you poker strategies on beating floaters, handling a flop and more. You also get some fun poker quizzes that will test your skill. Players can also learn new plays and concepts through videos and quizzes provided by the site. Poker plays new and advanced should utilize this blog.
10. PokerStars Blog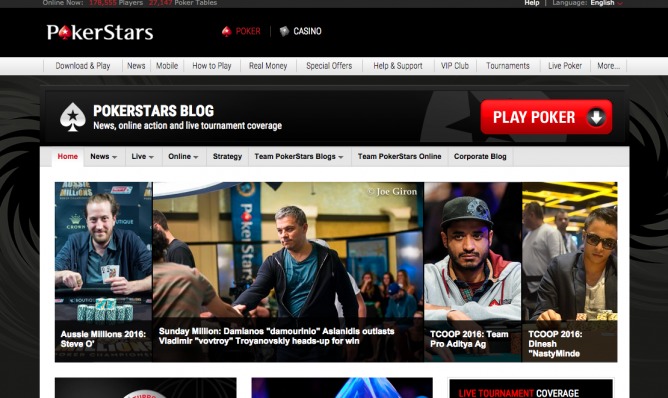 On Poker Stars Blog's site, you can find the latest in poker industry news, information and insight on live and online poker, strategy and more. When they blog about tournaments, you will get frequent almost hourly updates on players and game results. As far as strategy, you will find blog posts on how to increase your winnings, which hands you should play, poker psychology and more. You will also get news about the poker industry around the world. Beginner poker players, players who are more seasoned, online and live poker players will benefit from this site.
almost as awesome blogs
BlackRain79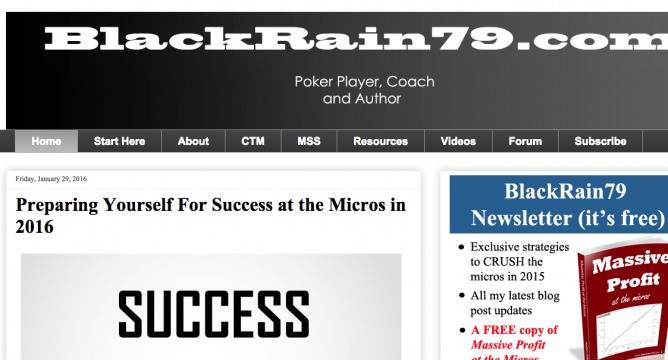 BlackRain79.com was created by an online poker player named Nathan. His posts are about his experiences in online poker, and it also has posts regarding strategies and tips when playing at the micro and small stakes level. His writing is somewhat personable but it is to the point at the same time. His posts with strategies and lessons are sectioned off for easy reading and understanding. Although he doesn't post funny, personable stories, his straight forward writing is still effective. He continues to update his blog, so there are more strategies and game play for the foreseeable future.
High On Poker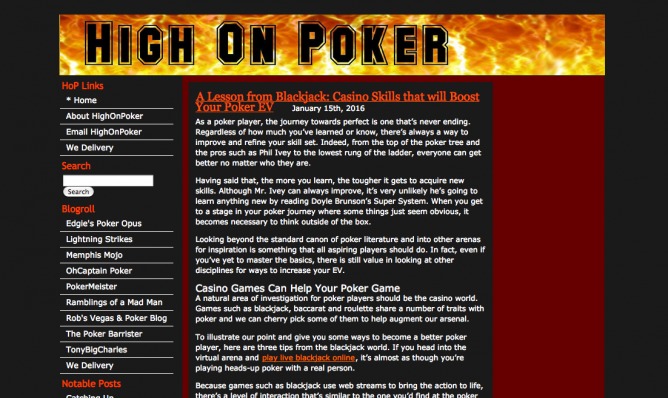 High on Poker is the creation of a poker player and lawyer named Jordan. He mostly writes about strategy, online poker, tournaments, news, and more. His writing style is very casual. He writes as if he's talking to a buddy, who is nice since you want the blogger you're spending some of your time on to, feel like a friend. He often draws his lessons from his own playing experiences. This blog will be great for beginner and more advanced poker hobbyists, since, as a hobbyist himself, Jordan knows what it's like to juggle work, family, and your hobby.
Living the Dream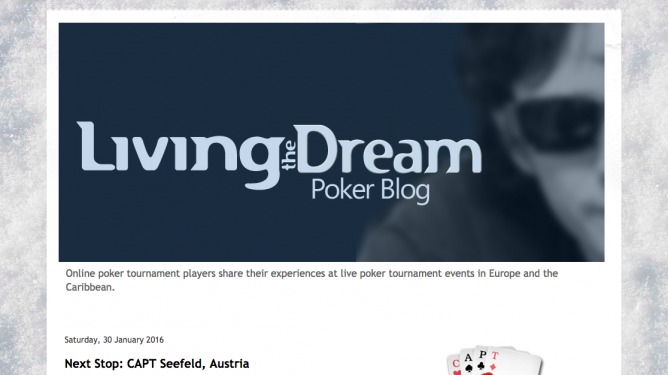 Living the Dream Poker Blog is a blog that shares the live experiences of online poker players playing in live tournaments in Europe and the Caribbean. The posts are very detailed as far as gameplay, but they do provide videos. It's an interesting blog as far as seeing how online players fair in live tournaments, since it is a different atmosphere. You also so get to read about some of the players' own personal experience and thoughts. There is no strategy or detailed gameplay, so this may not be the blog for you if that's what you're looking for.
Poker Guru Blog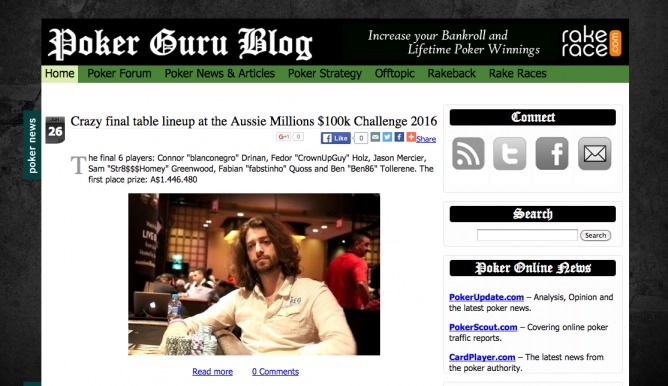 The Poker Guru Blog is a blog that can suit any player. It has a poker forum where readers can discuss poker and some off topics. There are blogs about poker strategies where readers can read about advanced poker strategy, beginner tips, poker psychology, probability, hand reviews and more. Readers can also read news about the poker industry and poker professionals, and more. Overall, the blog is very informative and players and hobbyists of all levels can gain something from it.
Poker Player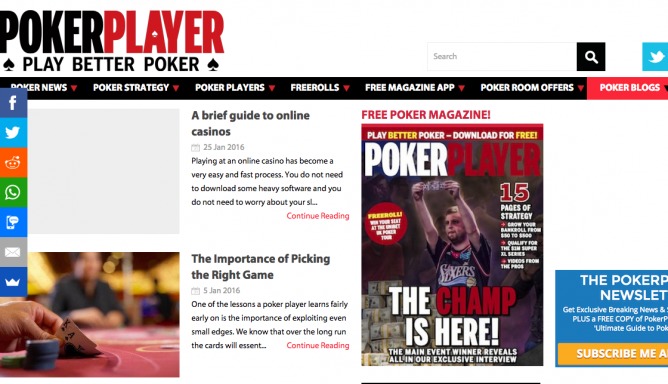 Poker Player is a blog where a poker player can stay up to date on the latest poker news, learn or brush up on some strategies, catch up with their favorite professional poker players, or read some miscellaneous poker topics like the history of online poker. If you're an online casino player or interested in it, you can find some insightful articles and tips. The magazine is very casual and can be useful to beginner poker players and players who are more advanced. The tone and style of the publication is very casual, and any advice or information given is easy to understand and follow.
Roads to Tomorrow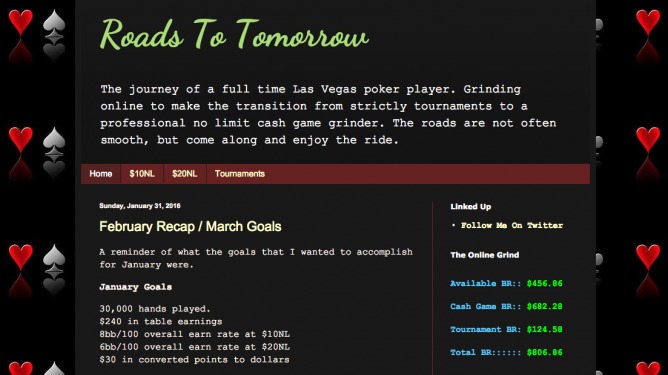 FlushhDraw is a full time Las Vegas poker player that started his blog on October 7, 2015, where he basically chronicles his and shares his gaming experience (mostly online games). His writing style is very story like. He displays the feelings and thought processes he had at the moment he was playing game. This is nice since it helps the reader put themselves into his shoes. It gives the reader a chance to learn from his mistakes and successes in poker playing. He even provides snap shots of some of the games he has played to give his readers more of a visual component. This blog is great for novices and more experienced poker players.
Blonde Poker: Diaries and Blogs
Blondepoker.com is an open forum about poker topics. It has attracted some fairly knowledgeable persons and boasts interesting threads about all facets of poker life. This forum is quite active – almost every post has moved up to a "very hot topic" (meaning it has over twenty-five replies) on the site. Threads range from personal diaries to requests for advice.
Frequently open forums bring some strange, off-topic comments, but generally this one stays supportive and poker-centric. If you're looking for a sense of community and are not quite ready to jump in to starting your own poker blog, posting in a forum such as this one is a good place to start.
TwoPlusTwo House Blogs
The twoplustwo forum is exceedingly popular, with updates and threads coming in every couple of minutes. Threads may start out about poker, but quickly deteriorate. This forum seems to be crowded with trolls, and doesn't offer a lot in the way of community. One thing it does offer is a chance to simply post. Forums are a great opportunity to get your foot in the door of the blogging community and see what things get people talking.
Twoplustwo uses this forum to promote their radio show, and takes advertisements from online poker playing websites as well. Not the best poker forum, but certainly one of the most popular.
Hard Boiled Poker Blog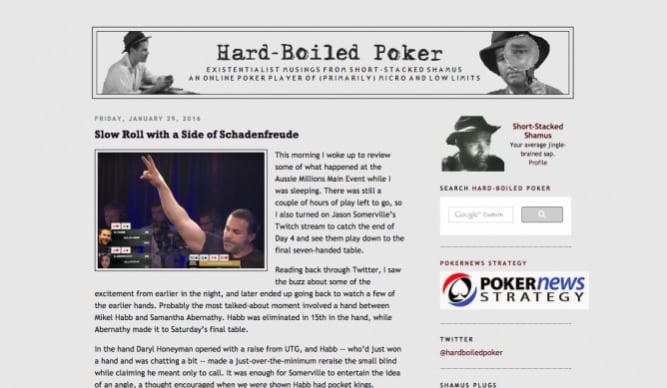 The hardboiledpoker blog is an awesome lifestyle blog by a fantastic writer. He touches on all facets of poker playing. Posts range from how contestants bet on the show Jeopardy to how to keep the chip lead when you're ahead.
In short, hardboiledpoker is an entertaining lifestyle poker blog with a great writer who knows how to write a compelling article. His posts are nuanced and interesting. There are frequent nods to current cultural phenomenon, but the author always brings the story back to poker. To make things better, the blog is kept up-to-date with posts coming in at least once or twice a week.
Jared Tendler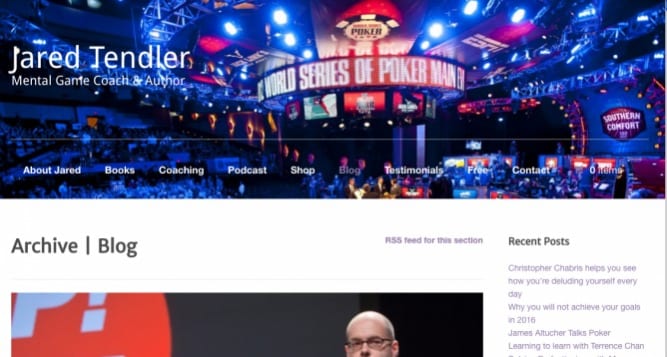 Jared Tendler is an author and psychologist specializing in the mental toughness and agility required to excel at Poker. His blog is mostly inspirational and promotional. Instead of offering poker-specific articles, Jared leans toward posts that discuss the mental requirements of the game and mental confidence in general. His posts include Ted talks, Q&As with poker superstars and clients, promotional posts for his podcast, and re-posts of interesting articles about the mind.
In short, Jared is an entrepreneur seeking clients who he can help master the mental game of poker, which takes a certain level of stamina and sharpness. His posts are generally amusing and surprising. They appeal to an audience beyond that of simply poker players.
Just the facts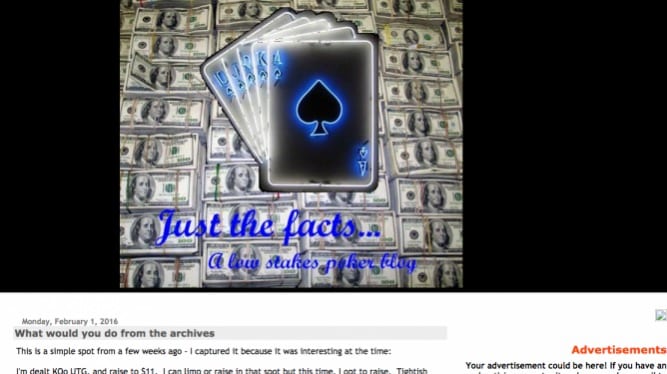 The Poker Meister, author of this lowstakeshands blog, stays firmly in the realm of posting only about poker. This makes this blog an excellent resource for any beginner. His most effective posts are the ones that detail a poker situation and then leave the outcome open-ended. Should he have checked, called, gone all-in, or folded? He receives some fairly interesting, contradicting replies from his visitors, which makes for a great learning opportunity and reveals how many different ways the game can be played.
Finally, a low-stakes blog about nothing but poker! If you're looking to read up on poker, and are hoping to skip all of the personal posts about family and vacation, this is the blog for you.
The Great Grind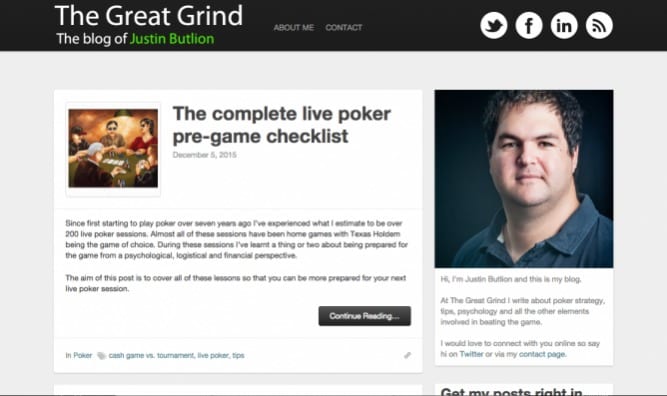 Justin Butlion is the author of the thregreatgrind blog, and comments on everything from strategy to psychology in articles that focus on the particulars of poker. He is very community-driven and encourages a conversation from his posts. He strikes a nice balance with personal posts about his own poker playing journey to more general posts about how to avoid tilt and what to do before an online poker tournament.
Unfortunately, Justin doesn't post very often, usually once every couple of months. This is unfortunate because he takes a very mathematical approach to the game which is refreshing and useful to those looking to improve.
Poker Practice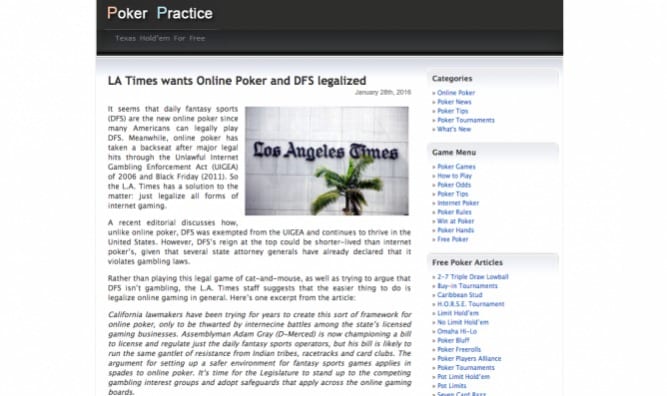 The Poker Practice is an informational blog with articles about poker news. From article titles like "Pros have Meeting with Pokerstars – It results in Nothing" and "Phil Ivey enters Daily Fantasy Sports World," there is nothing this blog doesn't cover. Categories include, "Poker News," "Poker Tips," and "What's New," and articles are both educational and fascinating.
The Poker Practice blog does well to comment on poker news with a keen eye on detail and fact. This is a great addition to anyone's blog repertoire.
Sugar House Poker Blog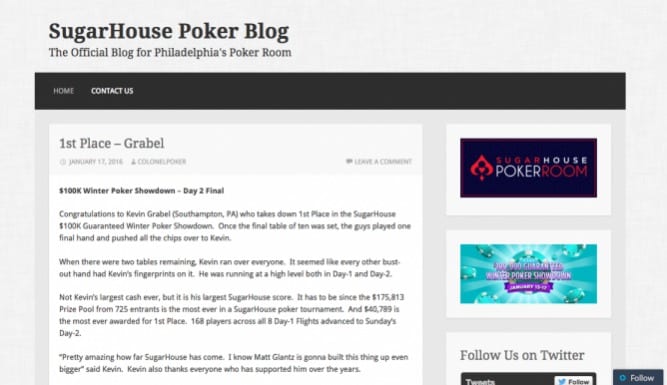 The SugarHouse Casino blog is the official blog for SugarHouse Casino in Philadelphia, PA. The blog serves as a recapping of wins and losses at tournaments hosted by SugarHouse, and features pictures, highlights, and commentary.
Because it is updated regularly and with great detail, the SugarHouse blog is a great resource for anyone in the Pennsylvania area checking in on new up and coming poker players in the area. It is also a great way to be introduced to the Pennsylvania poker community if you're new in town.
PokerTube Video Blogs
Pokertube.com is a hub of poker news and information in the form of videos and live hands snipped down for viewing pleasure. Pokertube.com also offers a chat forum, which allows viewers to post. However, the real charm of pokertube is the ability to watch videos organized into categories like "Poker Training Videos" and "Live Poker."
Videos are an intuitive way to share poker knowledge. Watching is much better than reading in the world of poker strategy, and pokertube offers viewers the opportunity to really "watch and learn." With videos being uploaded regularly, pokertube is a great way to have all of your poker news in one place at one time, cut down into bite-sized snippets that are enjoyable and exciting.
Pokerati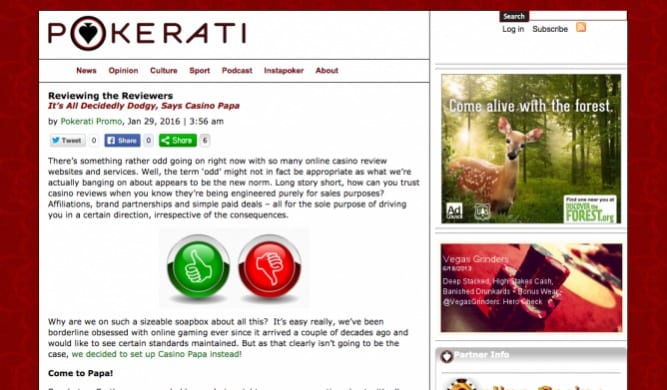 Pokerati is run by a group of poker bloggers. It features blogs about poker news, business, and politics. It also offers insight and opinion into poker and covers the poker lifestyle. There are some posts on poker strategies and tips, and the blog also features posts on live and online poker. The tone is very casual, but doesn't offer as much insight and personal experience as some bloggers do. The blog can be useful to players on all levels and platforms. Overall the blog is informative and gives you a little bit of everything. We look forward to future posts.
DK LAPPIN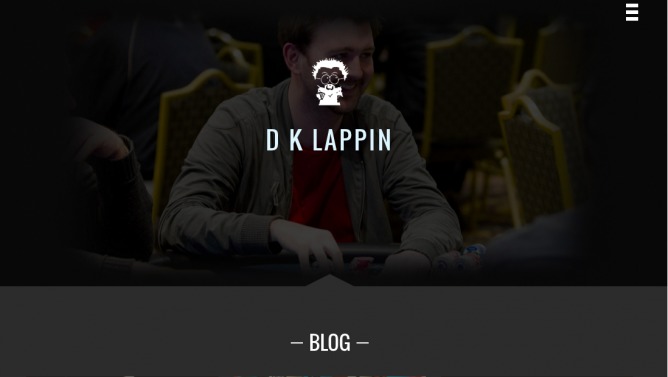 This blog by DK Lappin started in 2008. It is very insightful about his gameplay and the poker industry. What's cool about his blog is that he talks about current events and poker, and he finds a way to weave it all together. This blog would be interesting for a novice or a more experienced player, as it is a nice and entertaining way of keeping up with the poker industry. His writing has a nice flow, and he writes in a way that keeps his readers interested. He is still making posts, so it will be interesting to see what posts he comes up with in the future.
tbc's blog about grinding low stakes poker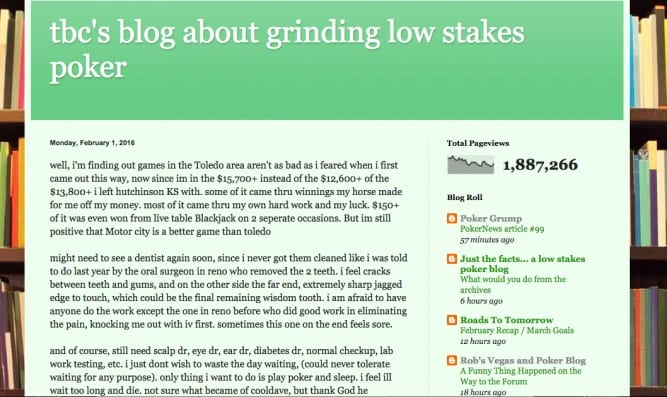 Seven Card 2003 was created by Tony Bigcharles in 2011. He writes about his experiences and game play at casinos, tournaments, and online poker. He also writes posts here and there about events happening in his life and his own personal thoughts. There is no shortage of quality content, his writing are long and in-depth. Tony also has a big community following him and the comment section of his posts are always full of opinions from his readers which makes this an awesome blog to follow.
The P-Log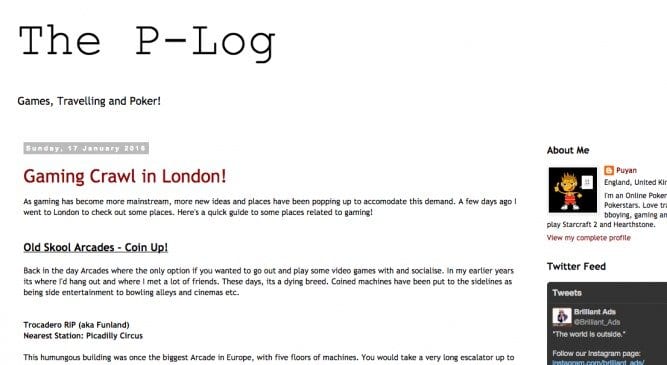 The P-Log is by a guy named Puyan, who is an online poker player on Pokerstars. He talks about his travels, games, poker, and random thoughts or events. The blog is very casual, and it reads as if a friend or a mentor is talking to you. As far as poker, he touches upon the industry, tournaments, well known poker players, and thoughtful theories on topics such as luck. He has some interesting stuff to say about the poker industry and its players. There's not much insight on strategy and gameplay, but you can find some usefulness in this blog.
The poker academy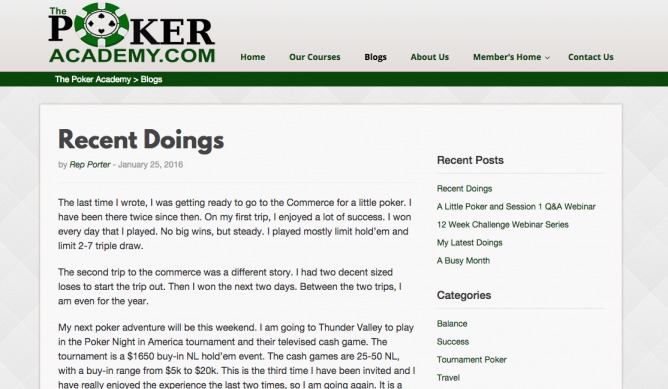 The Poker Academy is a blog written by Rep Porter, who has played poker professionally for over 10 years and have won 27 World Series of Poker bracelets and had 27 cashes at WSOP as well. He posts about travel, success, balancing poker games, and tournaments, a little bit of home life, and of course the World Series of Poker. The blog is very friendly, and he is detailed about his game play as far as significant hands, wins and losses, etc. It's a very good blog for any novice or professional to read, especially since it is written by such a professional.
BankRoolBoo$t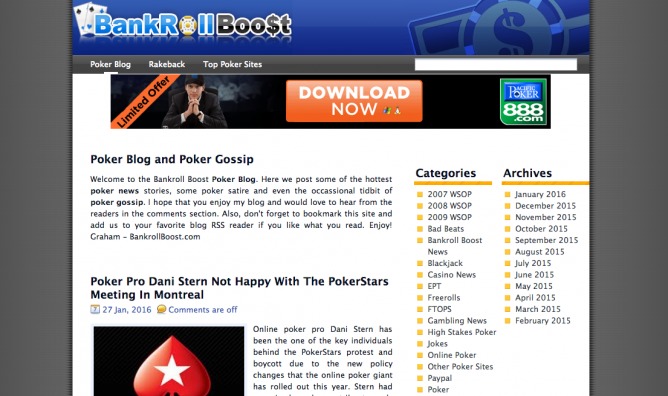 Bank Roll Boost started in 2015, and it is all about poker. Their blog posts are about the news and gossip going on in the poker industry. There is even some funny satire about poker. The blog is very laid back, and it allows the reader to stay up to date and have a little fun in reading about poker. Players new and old will get a kick out this blog, as it is one of the more entertaining ones. The blog is fairly new in the poker field, so we're looking forward to future blog posts.
Vegas or Bust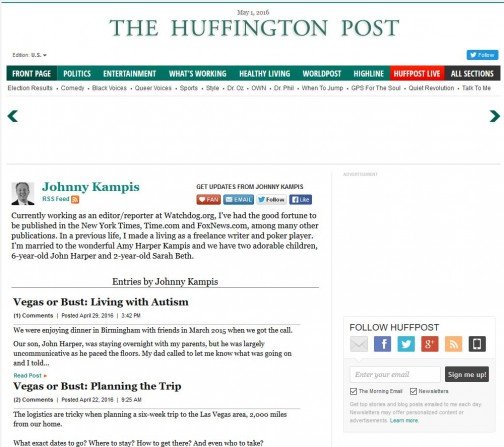 Johnny Kampis is back with a new blog (his previous being Poker Nation reviewed just below) on The Huffington Post. In this blog you can follow his road to Vegas and WSOP 2016. The blog can be summarized in his own words: "It's Vegas or bust, go big or go home". The blog started in April 2016 and has three posts so far. But being on a big site as The Huffington Post we can assume it will continue to be updated for a while. Furthermore you can always count in impeccable grammar and a great flow in Johnny's writing since he is a long time editor/report for many big established sites.
The rest
Poker Nation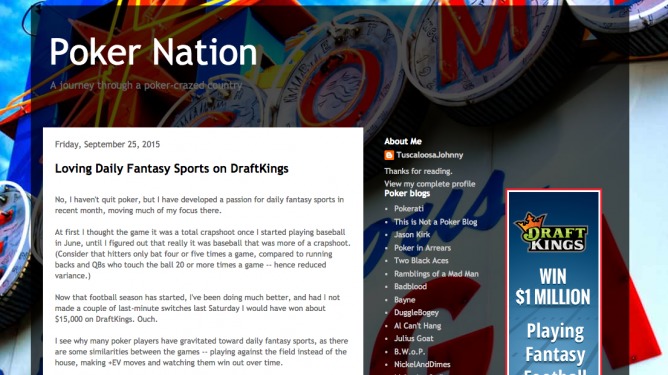 Poker Nation is a blog created by Johnny "Tuscaloosa" Kampis. He has competed in the World Poker Open, the World Series of Poker, and other tournaments. He started the blog in October 2004s, and it covers his thought and his own personal experience in the world of poker. The tone of the blog is very informal and friendly, which is great coming from a blogger. In the beginning he was an avid poster, but currently they are few and far in between. His last post was September 25, 2015, and according to the post he has been into fantasy sports lately. He hasn't quit poker, so he may post again sometime this year.
Poker Wannabe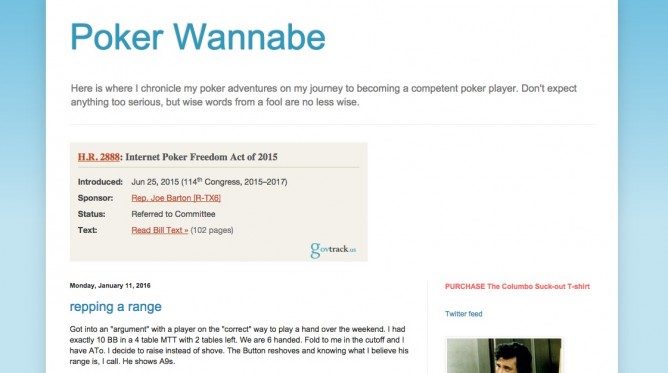 Poker Wannabe is a blog that many novice poker players will find relatable. Columbo (the username given) started the blog in 2005 as a novice player and created the blog to share his own experiences. On the blog you will find informative blog posts on what the blogger has experience in tournaments and strategies and plays they have learned. The posts vary in length; sometimes they're long and give good advice, and other times they may be short with little rambles. Sometimes they are in between. Overall the blog is good for novices or people who are becoming interested in poker.
Down The Rabbit Hole With Poker Aces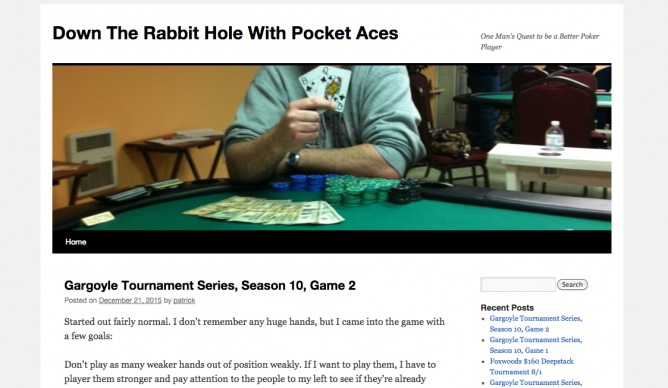 Down the Rabbit Hole with Pocket Aces is a blog created by a poker player named Patrick. Patrick is a very detailed blogger. He often shares his tournament experiences, where he will include every little detail life facial expressions of the other players, his thought process, and game-play. It is not as personable as other poker blogs, but a reader can learn something from his blog posts. If you're looking for something light and fun, then this blog may not be to your taste. This is mostly for readers who are only interested in game-play and strategy.
Pokerama-rama!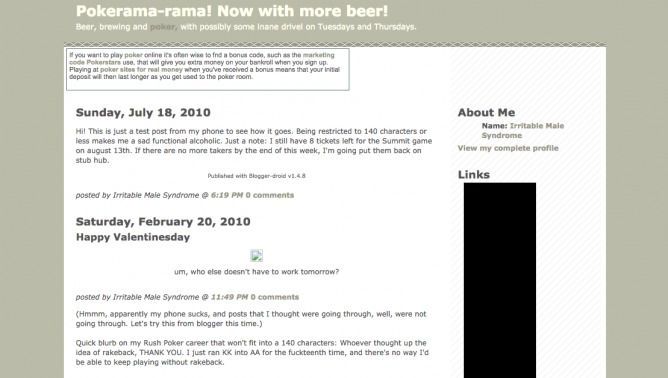 Pokerama-rama is created by a poker player with the blogger name Irritable Male Syndrome. His blog is not totally about poker. There are also posts about beer, rambling thoughts, and just rants about a life event or something that happened during a poker session. The blog is very casual and entertaining, but it does not give you as much thought processes, strategy, and a look into game play as other poker blogs do. This blog hasn't been updated since July 2010, so it's safe to say that it will no longer be updated. If you're looking for casual entertainment, it's fun to look through.
Memphis MOJO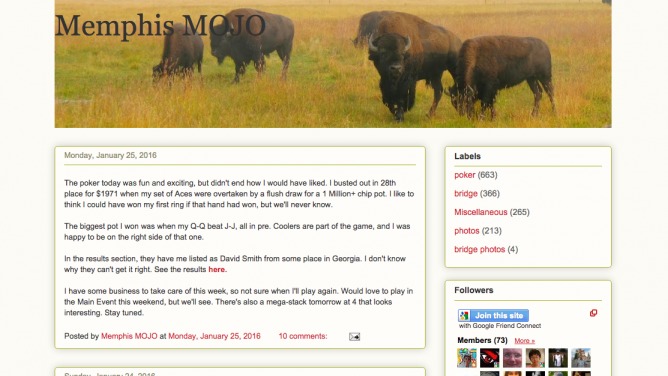 Poker and Bridge is by Memphis Mojo. His blog is very casual and talks about poker, bridge, and miscellaneous stuff like vacations, sports, and life events. His poker blogs are not very detailed as far as gameplay and strategy. He mostly talks about what tournaments he attended, how many entries there were, how much the buy-ins were, the prizes, what place he took, and significant hands he played. Overall it is an okay blog. You could use it more so for entertainment or to take a glimpse of some of the poker tournaments he partakes in, if you're interested in entering into one.
Poker can Change your Life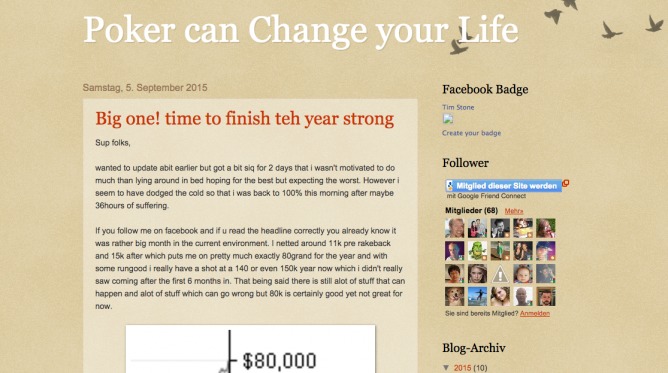 This blog is by a full-time poker player Tim Stone. He started playing poker full time in 2008, and he started this blog in 2011. His blog is casual and it's mostly about his life as a full time poker player. He talks about his winnings, the places he has lived, parties and events he has attended, etc. It is not a very personable blog, and there is not much insight into strategy and game play. His blog posts are sporadic, maybe once or twice a month. His last post was on September 5, 2015, so there is a possibility he may continue the blog.
TableTango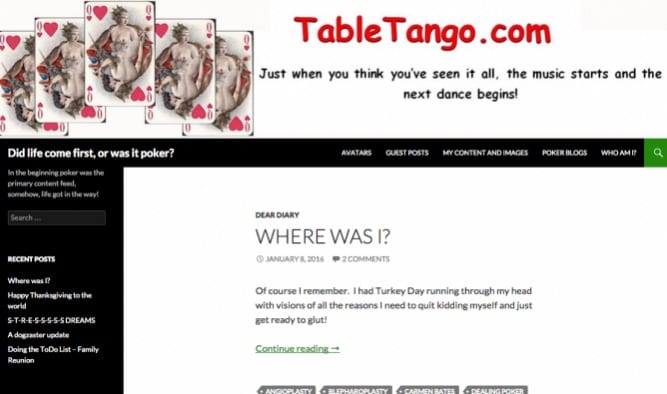 Table Tango is by Linda R Geenen. She started the blog back in 1982, and it touches upon poker, family, personal events, etc. You will find entertaining screenplays and poems about poker. You will also find stories about her family and more. Recently there haven't been many posts about poker, but you may find some interesting stuff in her previous posts. She hasn't updated since January 8, 2016, but from looking at her previous post one post every once in a while is normal. There is no telling if upcoming posts, if any, will be about poker.
Funny the way it is…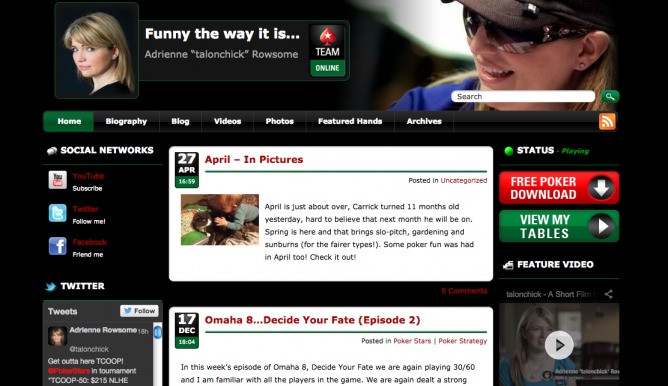 Talon Chick was created by Adrienne Rowsome. She is an online and tournament poker player, and her blog is mostly about poker and her life. It is a very casual and personable blog. As far as poker, she likes to give her readers insight on her game play and the lessons she has learned from being a poker player. She started in 2002, so there are definitely a lot of things that readers can pick up from her. She hasn't updated the blog since October 29, 2015, but she may update it this year. You never know.
Tao of Poker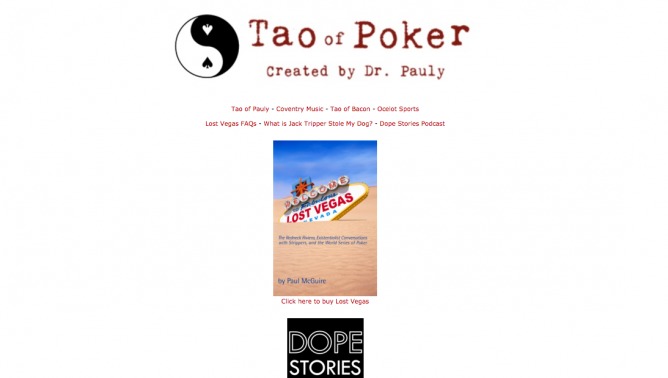 Tao of Poker is created by a guy named Pauly. He blogs mostly about poker, and you will find some interesting stories about encounters he has had in his home town or during his travels. His blog is very casual and amusing. He even has a disclaimer that says nothing on the site should be taken seriously. He sometimes posts about some of his poker games and significant hands that won or cost him a game. He also reported on tournaments such as the World Series of Poker. His blog is no longer running, but you can be entertained for a while going through his blog.
Tommy Angelo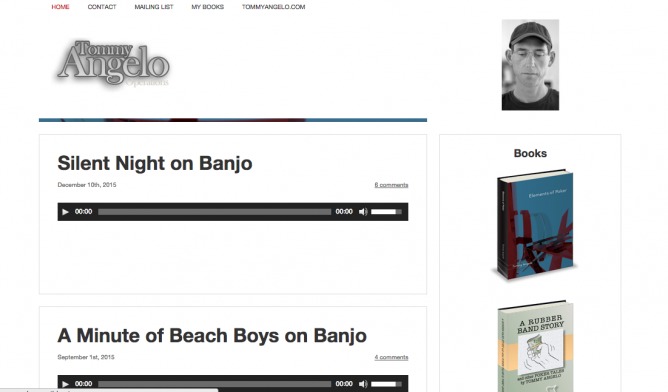 Tommy Angelo Operations is a self-titled blog that started in 2008. He writes about poker, random thoughts, and events in his life. He blog has a very friendly tone and readers will be able to learn something from it. As far as poker posts, he talks about tournaments, things poker players say, interactions he has had with other poker players, mini updates on his poker adventures and more. Anyone can enjoy this blog for entertainment or study. He hasn't posted since December 10, 2015, but since his past postings have not been all that consistent, it's not safe to assume that his blog will be no longer updated.
Up for poker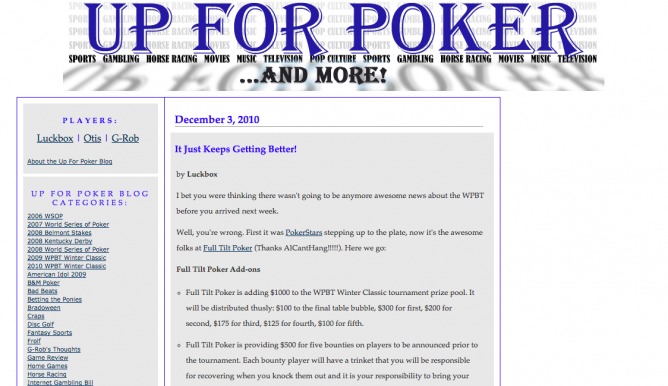 Up for Poker is a blog that was created by three poker players Luckbox, Otis, and G-Rob in 2003. The blog is mostly about poker, and you will see blog posts on topics such as poker players, poker psychology, WSOP, theory, strategy and more. The blog is very friendly and upbeat, and some posts are even in the form of a story. Although the blog will probably be no longer update, players old and new can use the blog as a resource. They can also find some other insightful information on horse racing, craps, basketball, sports betting and more.
Starting the Grind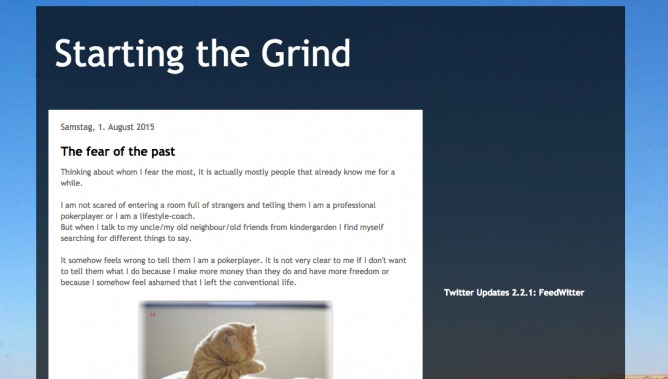 Starting the Grind is a blog by Pedro Goncalves, who has been a professional poker player for about 8 years. His blog touches up poker, travel, and other stuff outside of poker. Some of his posts are inspirational and upbeat. They touch upon confidence and having a better outlook in life and in poker. He does not have a lot of game play or strategy in his blogs. He more so talks about his outcomes from the games he has played. Readers may or may not find that much useful information on his blog, especially since he doesn't post very often. Because of the lack of postings in some years, it is possible he will post again sometime this year.
Wickedchops poker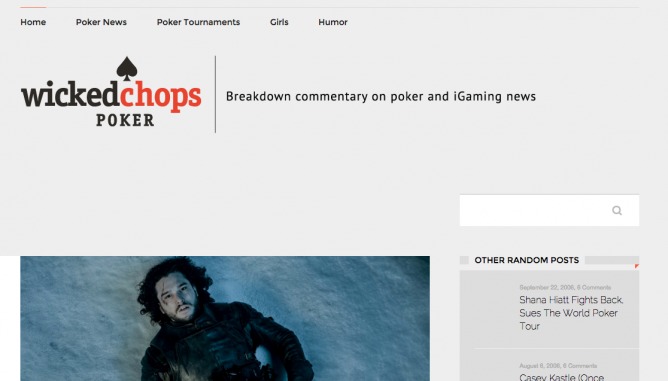 Wicked Chops Poker started in2005. It seems the posts are written by a group of writers and freelance poker writers. It's a very casual blog and sometimes humorous. It touches upon poker news and tournaments, girls, and funny insights into poker and other topics. The blog is mostly commentary on tournaments and the poker industry. It was useful for keeping up with what was happening in the poker world. Readers today may not find it useful as there is no updated information on the poker industry or tournaments. As it hasn't been updated since July 2015, the blog may be no longer running.
My husband is a "professional" poker player. Now what?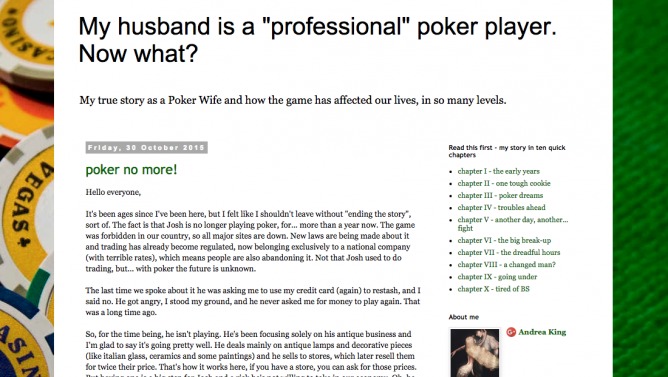 Wives of Poker were created by Andrea King who, as the blog title states, the wife of a poker player. It was created in order to share her experience with other women who may be going through the same situation. There isn't much a poker player can gain from it besides, a wife's view point of poker, but then again every situation is different. Wives may enjoy it just to feel a sense of comradery or understanding, but the blog has not been updated since October 2015. According to Andrea, her husband has been focusing more on his antique business and family.
James Alkin's Poker Blog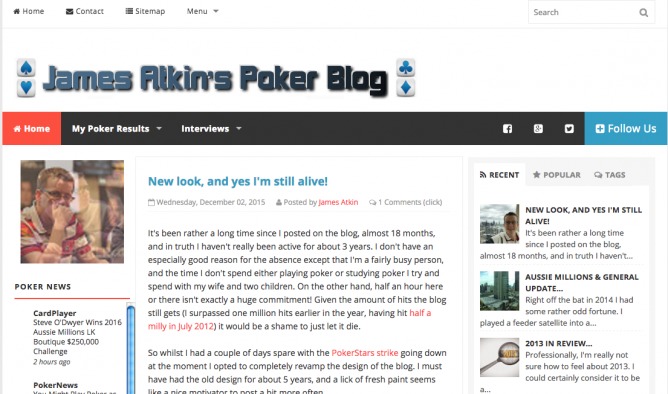 James Atkin's Poker Blog is a self-titled poker blog created in 2007. The tone is very friendly, and he mostly post about his games, winnings and losses, random thoughts, etc. He writes about online poker and will even post a snap shot of his stats to give readers a better look. He sometimes writes about tournaments he has attended as well and gives detailed insight on his poker play like hand analysis, bets, poker players he has encountered, etc. He hasn't posted since 2015,but states that he has been busy studying and playing poker or spending time with his family. He may post in the future, since he stated that he would hate for his blog to go to waste.
Betting for Value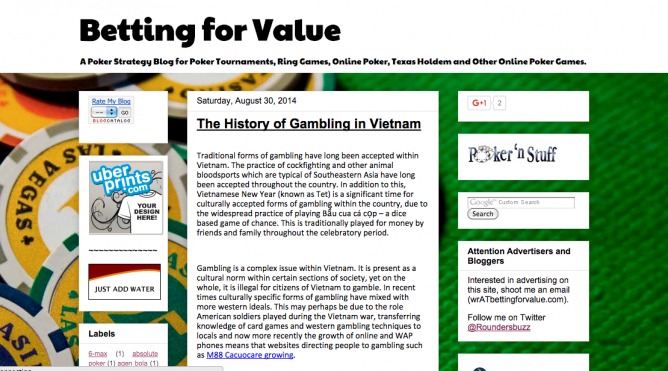 Betting for Value is no longer running, but it can be used as a resource for any poker player. On the blog, you will find useful strategic tips for poker tournaments, ring games, online poker, Texas Holdem, etc. The blog posts are full of examples that the reader can visualize and understand. The blogger's strategy mostly comes from learning from their own wins and losses. They are not afraid to admit the mistakes they have made, which makes the blog very realistic and personal so that the reader will feel comfortable and adequate enough to learn from the writer.
Bill's Poker Blog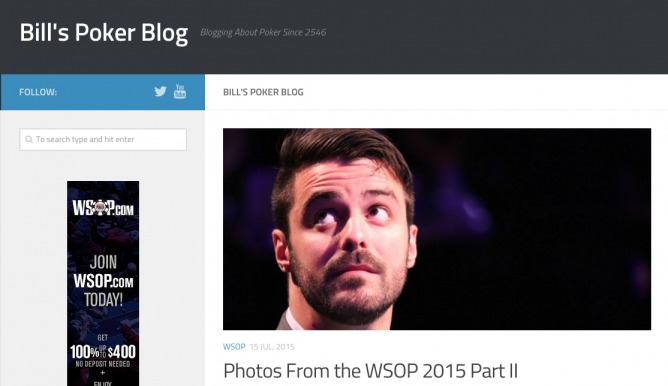 Bill's Poker Blog is no longer running but has some useful posts for all poker players. The blog feature posts from Bill and other guest writers such as Carl "The Dean Sampson". They touch upon topics such as tournaments, poker blogging, poker strategy, the poker industry, and traveling. You will also see posts about key players in the poker industry and other poker news. The writing is very casual and informative. The writers tend to tell a story with their posts, which makes the blog more interesting and easier to see a certain point of view.
Dusty Schmidt Blog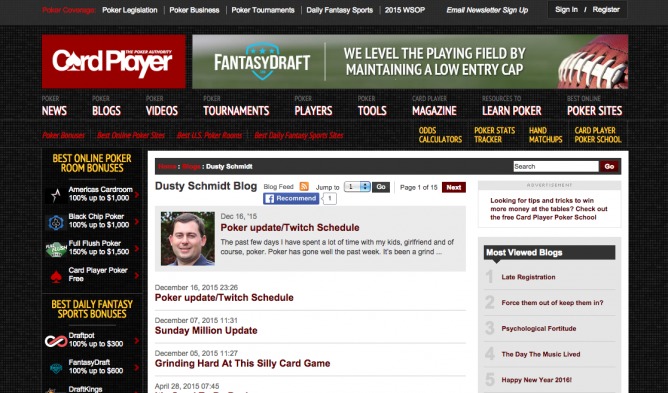 Dusty Schmidt is a well-known poker player in the industry, and he started his blog on Card Player in 2010. His blog touches upon his journey and experiences in the poker industry, his family, and golf. His writing has a very casual tone as if he were talking to a fellow poker player. His thoughts on what's going on in the poker industry, online and off, is very insightful. He hasn't posted since December 16, 2015, but it does not give any indication that he has stopped blogging, since he hasn't been a consistent blogger for the past two or three years. So he may post sometime this year.
Sole Survivor Blog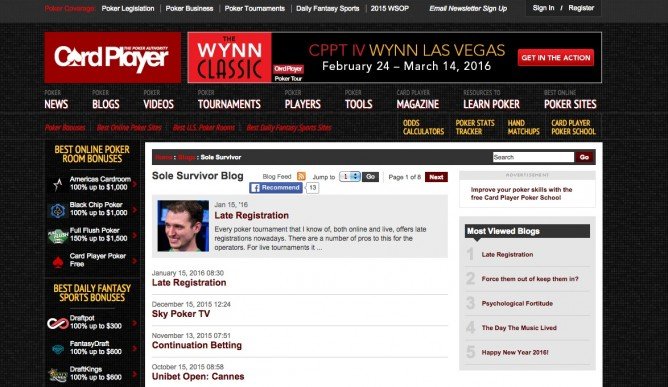 Ian Simpson started his blog Sole Survivor on Card Player in 2012. He is a professional poker player and is well known in the industry. He blogs about various tournaments he has played in, poker styles, playing tips, game analysis and more. His writing is very casual, and he provides great details about his plays during tournaments and often offers tips to players for future reference. He blogs about any plays he has seen other poker players make, and offers his advice on what he would or wouldn't do. His blog is beneficial to any poker reader, because they could gain a lot of insight into poker tournaments and poker play.
Chris Moorman Blog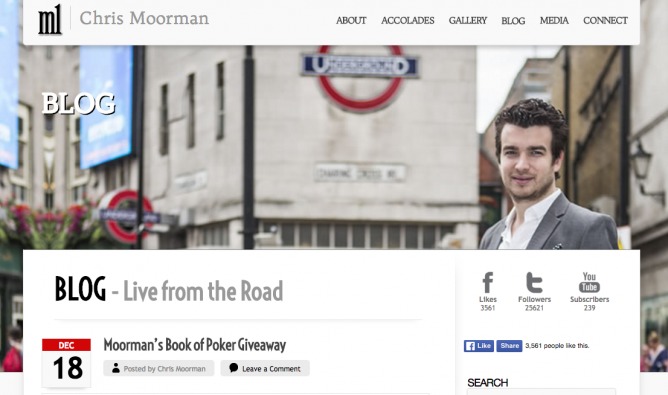 Chris Moorman's blog doesn't have much of an archive. He started posting on September 20, 13 and his last post was on December 12, 2014. The posts in between those dates are very few. What he mostly blog about was his traveling, tournaments, and touring. After he won the WPT in March, he gave a detailed account on his gameplay and his thought process during the tournament. It's a shame he hasn't posted in a while. From what we could gather from his blog, it would have been a good mixture of gameplay and his travels as a poker player.
Rob Yong Blog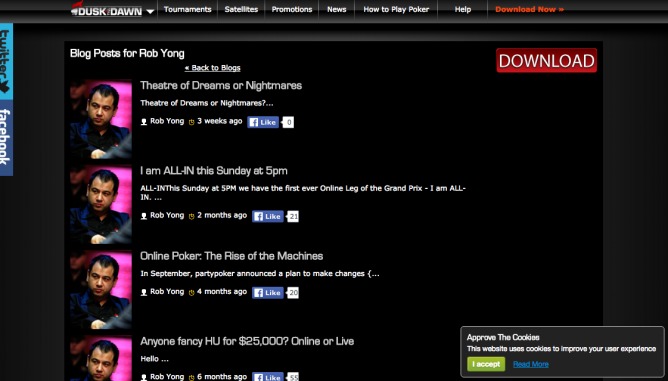 This blog was created by Rob Yong, who is the owner of the Dusk till Dawn live poker club and the online poker site dtdpoker.com. The blog doesn't offer much to poker players. It's about 2 years old, and there hasn't been much posting during those two years. The blog is basically updates and information about what's going on with the poker club. If you're a member of his club or play on his poker site, then you may want to keep up to date with what's going on. Other than that, there is not much you can do with this blog.
The Unlikely Guide to Poker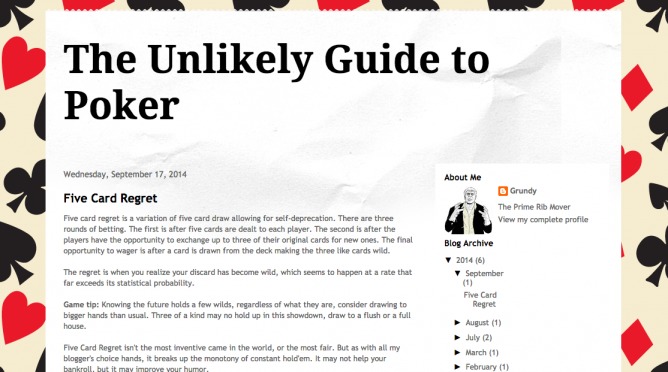 Grundy started his blog The Unlikely Guide to Poker started in 2007. The blog is no longer running but is a very useful resource. The blog talks about poker strategy, poker game variations, his beginnings in poke and more. Just to give you an idea, you will see titles such as "Choosing the Right Virtual Table" or "The Sucker-Sucker Bet." The blog is very casual and is often written as a story to intrigue the reader and allow them to better understand the strategy or subject discussed. This blog will be useful for novice and more advance players.
My Poker Thoughts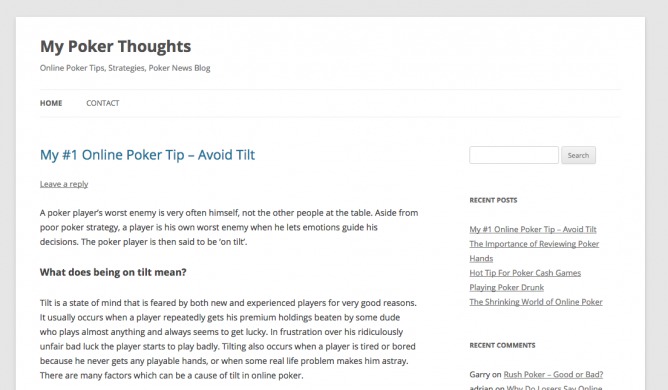 My Poker Thoughts are by a variety of writers, usually Timothy or Jeremy. You don't really get any personal information about them, so we don't know much about their background in poker. This blog is all about poker. Although it is no longer running, it can be a useful resource. They cover poker strategy, online poker hand analysis, tournaments, poker industry news, poker pros and more. It is very detailed and well written, where novices can understand poker terms and know what exactly the writer is talking about. It's a shame it is no longer running, but it's worth taking the time out to go through the archive.
Party Poker Blog
Party Poker is one of the best sites to keep updated on the happenings in the poker industry. They keep readers informed on current and upcoming tournaments. Also, they sometimes provide gameplay and strategy tips for players. They try to make the blog more personal by introducing readers to poker players who are members of Party Poker. If you are a more experienced player and have a Party Poker membership, then you will definitely find some benefits from reading this blog. If you're a novice however, then you can use it to keep up with the poke industry and learn a couple of tips, but you may want to learn more about poker and strategies from other blogs.
PocketFives User Blogs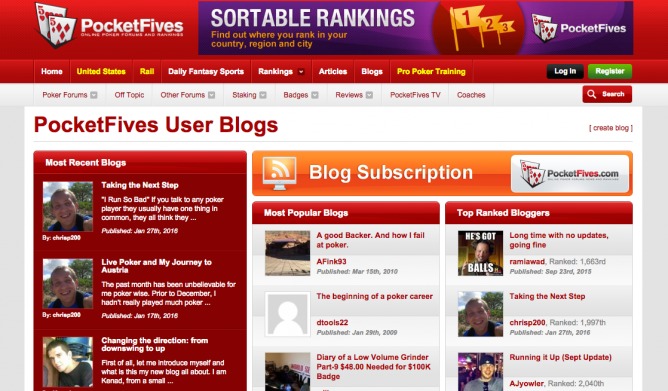 Pocket of Fives is a great blog, because it has a great variety of bloggers, from novices to professionals. Some players share their lives as poke player professional or hobbyists. Some offer gameplay strategy and tips or offer their insight on what's going on in the poker industry. Of course there are other topics being cover, which means that any poker enthusiast can find something that suits their poker fancy on this site. Not all bloggers are still running, but you can still find some valuable information in the ones that are no longer running.
Pokergreed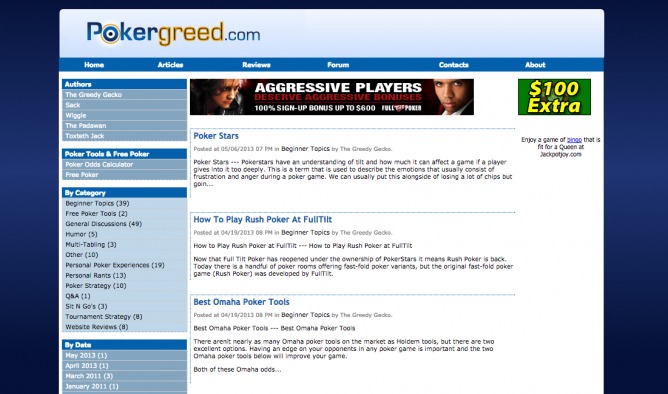 The Poker Greed blog is ran by 5 authors. They have blog posts for beginners, and they post about personal poker experiences, poker strategies, tournaments strategies, poker discussions and rants, and more. The writing is very friendly and casual. It is easy for a beginner to understand and becomes very relatable when they write in story form. What's great about this blog is that it is written by five authors, so you are able to get different perspectives and strategies. Since the blog is no longer updated, more advanced players may not find it useful, but beginner and some intermediate players can definitely use it as a resource.
PokeriMania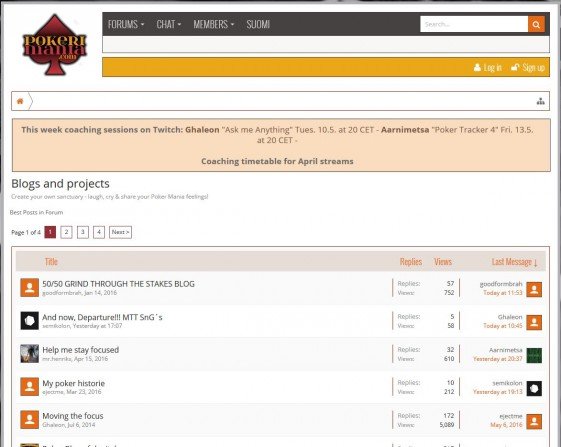 Pokerimania.com is forum of blog posts from different poker bloggers. Bloggers range from beginner poker players to advanced players. You will find blogs on strategy, game play, tournaments, poker for beginners, and more. This blog is beneficial to all players, since there will be something for poker players of all levels. You will also get different perspectives on poker play and the poker industry from poker bloggers around the world. Some people's posts aren't very recent, but you can still use them as a resource for study and future references. Like forums, you can also comment and start a discussion.
Poker Junkie Blog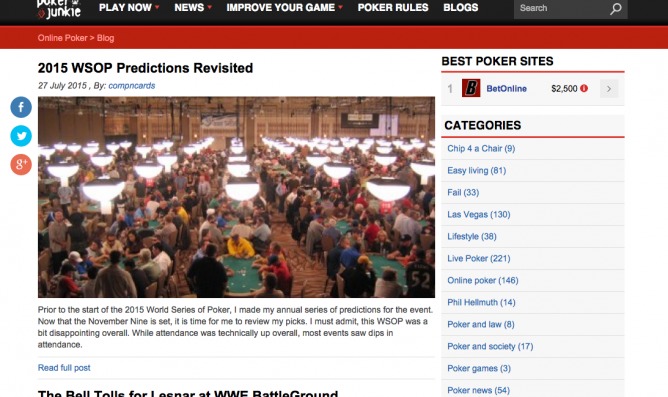 Poker Junkie is mostly written by the site's blog writer who is under the username "compncards." The site is very well written and personable. The writer sometimes writes his blog posts based on his own personal experience or what he has learned through others. He often writes about poker news, since the world of poker is ever changing. He also writes about the poker lifestyle, professional players, skills vs. chance, poker and the law and more. The site is great for any poker player, as you are able to keep up with the poker industry and learn some new strategies and insights at the same time.
Poker King Blog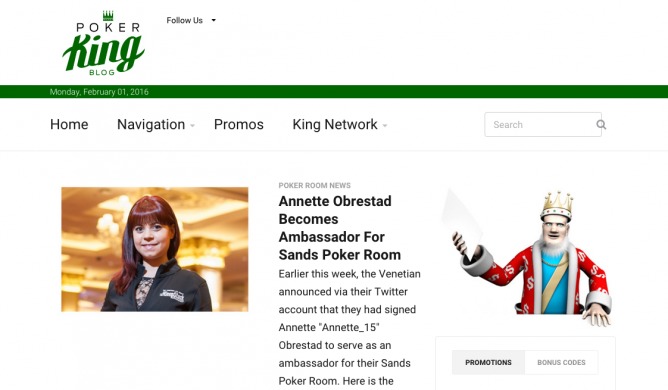 The Poker King Blog is ran by an anonymous writer(s) under the name Poker King. They deliver poker news, player profiles, poker bonus promotions, tournament results and more to their readers. They have other blog networks as well, including Poker-King.com and PokerBonus-King.com. Poker King Blog and Poker-King.com produce similar and different content. Poker King Blog, however, provides more commentary and insight on what's going on in poker news. They even blog about poster scams to ensure that online poker players are not being scammed. Poker Bonus King, on the other hand, covers online poker promotions. This site can benefit both online and live poker players.
Ken Lennard Blog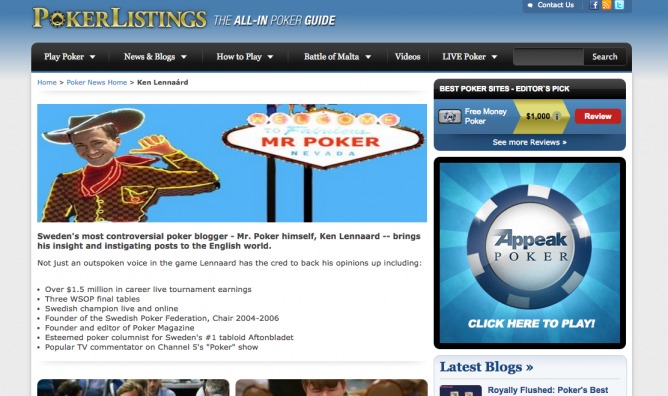 Pokerlistings.com features Swedish champion poker play and blogger, Ken Lennard. His blog on Pokerlistings showcases his insight and opinions on the poker industry, gameplay, strategy and more. He blogs about poker hands that have had significant impact on the outcome of a game. He also blogs about poker mannerisms and politics, and miscellaneous stuff about poker. The great thing about this blog is that you can get the best of the live and online poker world. There is some useful insight and advice for poker players who want to try their luck in a live tournament. The only real downside to this blog is that it hasn't been updated since December 10, 2015.
Reading Poker Tells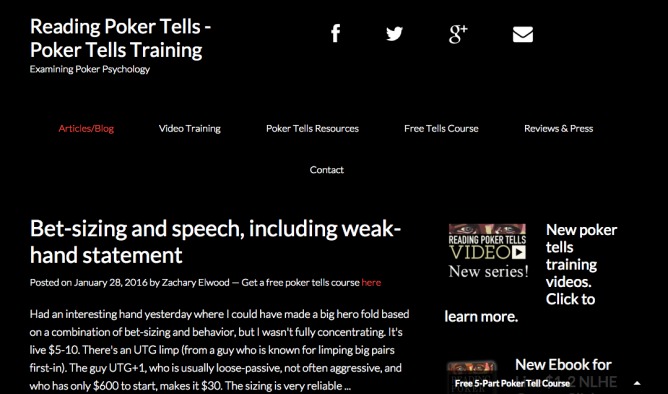 Reading Poker Tells blog is all about poker psychology. The writer of the blog is Zachary Elwood, who is a poker player and the writer of Reading Poker Tells the book. Poker Tells will coach you on how to read your opponent through bet-sizing and speech, facial expressions, behaviors and more. On his blog you will get free samples of his video training, and you can sign up for a free 5-part course. The only downside of the blog is that you only get a sample of what he teaches in his book and videos.
Resipsa Poker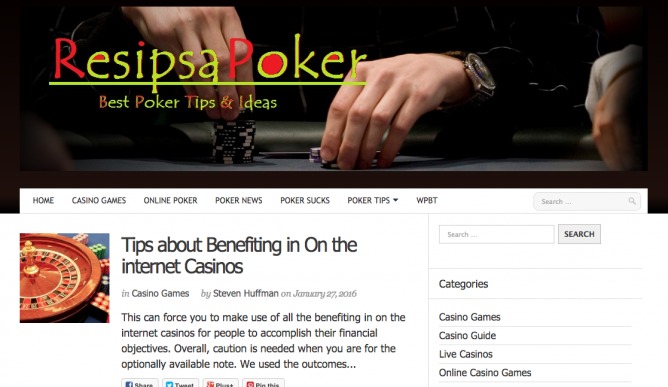 Resipsa Poker is written by a poker player named Steven Huffman. On this site, you will find blog posts on casino games and guides, live and online casinos, online and live poker, poker news, strategy, tips and more. The blog will be useful to poker players of all levels and platforms. It's a very casual blog, and the writing is clear and understandable. One downside to it is that you don't get much advice or insight through stories and scenarios, where a reader can either relate to or visualize enough to walk in the writer's shoes. Overall it is a good blog, and we look forward to reading future posts.
Rupert Elder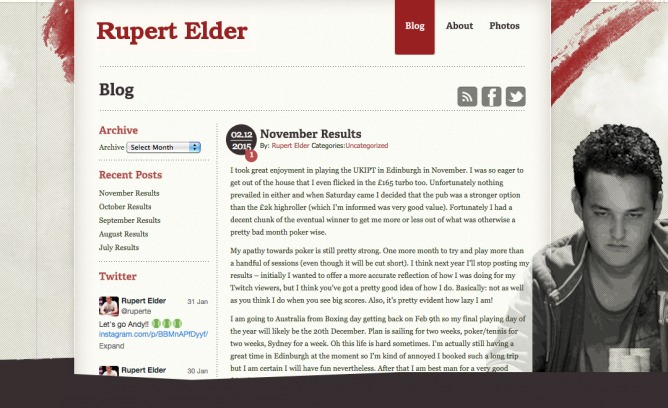 Rupert Elder's blog hasn't been updated in a while and is likely no longer running. He mostly posted about his monthly poker game outcomes and other updates. He also gave advice to his readers, to whom he advised to take his advice like a grain of salt. Regardless of whether the advice was helpful to his readers or not, the advice given was well thought out and based on his own personal experience. As previously stated, the blog is no longer running. So there is not much poker readers can use in the archive that might be useful today, but the strategies and tips offered are worth a look.
Scottish Poker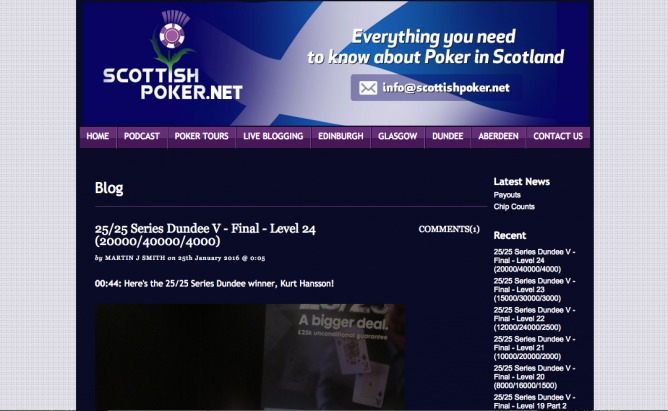 ScottishPoker.net is home to Scottish Poker tournaments and events in Edinburgh, Glasgow, Dundee, and Aberdeen.There are no strategy posts, gameplay, or miscellaneous poker articles, which is okay. The real downside to the blog is that there isn't any news about poker players of Scotland or what is going on in the Scottish poker industry outside of the tournaments. If you're visiting this blog you will be informed on what is happening during live poker tournaments only. You will have access to live blogging of poker tournaments in Scotland. You will also have access to poker podcasts hosted by Martin J. Smith and Willie Elliot.
HorrilbeFlopper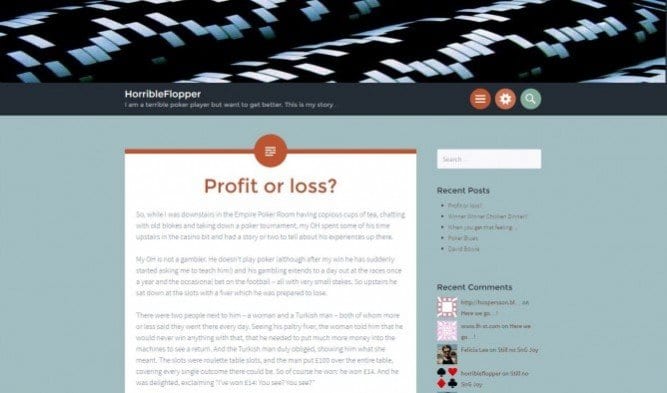 Horrible Flop is a new blog that started in August 2015. This blog is written by a woman who is seeking to get better at the game of poker. She writes in story form about poker and her own personal experiences. The writing is very relaxed, and she speaks to her readers in a friendly manner. This blog will be great for novices, as they can relate more to a blogger poker player who is still getting their feet wet. There is not much about strategy or tips, but the blog is still in the beginning stages so that may change.
Poker Player Wannabe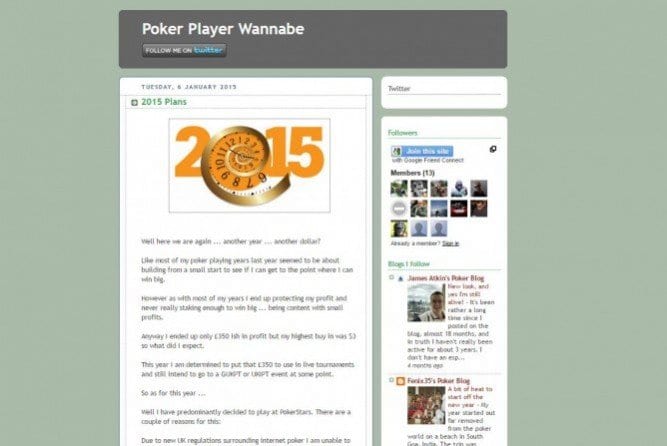 oker Player Wannabe is a blog by a poker player with the screen name GTheJester, who has played poker both live and online. His blog gives its readers updates on his recent tournaments and games. He often reviews tricky hands and plays to see if the hand or game could have been played any differently. Since the blog has not been updated for over a year, it is likely that it is no longer running. If that is the case, poker players may find some use in the archive of the blog, as far as game play goes.
Poker Grump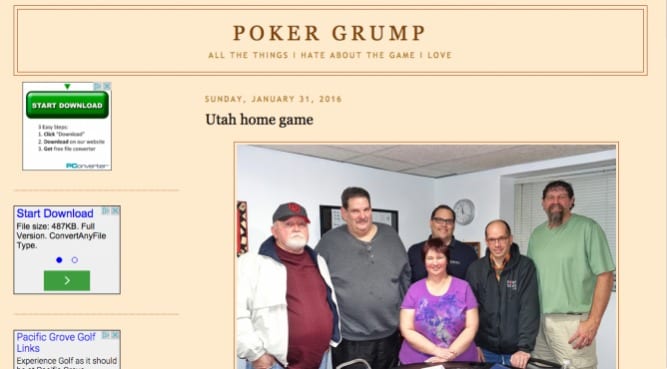 Rakewell moved to Las Vegas with the intention of becoming a poker dealer but soon found he could get the bills paid playing poker himself. Rakewell's blog is very much about the specifics of the game, most notably the things that he finds frustrating and/or captivating. He posts a lot of screen shots of online poker games he's participating in and writes many articles about game play. He also delves into his personal experiences with the specific hurdles one must jump over if they are a professional player, which are quite different than those of a low-stakes player.
Pokergrump is a fantastic blog for the poker nerd. It reveals specific hands that Rakewell won or lost and why. Rakewell is forthcoming about his strategy with the intention it seems of simply having an outlet and forming a poker community. I would highly recommend this blog for those looking to bond over shared poker experiences.
Acoimbra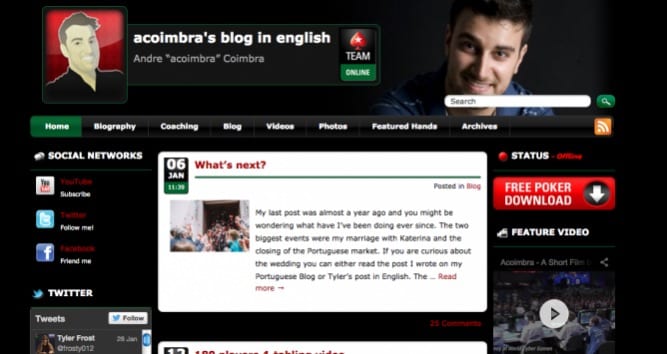 Andre Coimbra is a popular poker player from Portugal. Like many poker bloggers, Andre advertises his private coaching services on his blog, and also includes posts about his personal life. While not very great in number as of late, his blog posts do have length and interesting content. Andre is an advocate for pokerstars.com so expect to see a lot of comments and screenshots of online games on his blog.
Overall, Andre is clearly a poker expert and has a great writing voice. He is humble and sets entertaining goals for himself (turn $10.00 into $1,000, for example) which he then reports his progress on. His blog is informative and personal, and his multiple forms of social media should be attractive to any fans looking for more.
Bad Blood on Poker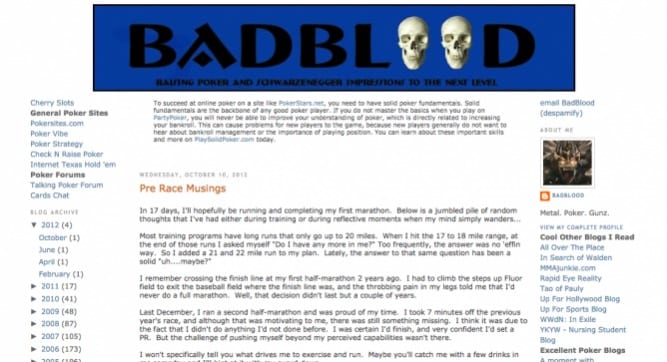 A good resource, but no longer being updated.
Badbloodonpoker is a personal blog with a long history. His blogs date back to 2004, and he has sometimes achieved almost 200 blogs in a calendar year. Recent posts don't include much poker talk, and instead detail the author's other passion – running. While interesting, there isn't much to read about poker on this one as of late. However, previous years have some fascinating opinion posts about changes in the industry.
Borgata Blog
The Borgata poker blog is an extension of the promotional efforts of the Borgata Casino in Atlantic City. Most posts advertise upcoming tournaments at the Borgata. There is the occasional post reporting on winners of Borgata tournaments and other player victories, but most posts stay very close to the Borgata brand. This blog is easy to navigate and would be a useful bookmark for any player trying to stay up-to-date on opportunities to play for high stakes.
While you may think a promotional blog would be a bit stale, the Borgata blog actually has some multifaceted articles sprinkled in with the expected self-promotion. East coast players would be smart to keep an eye on this one.
WSOP Blog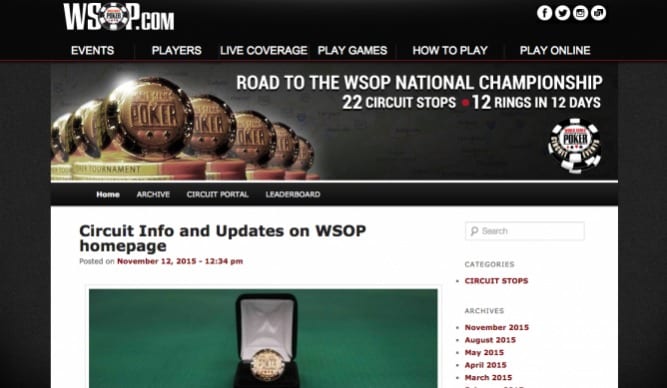 The World Series of Poker blog is just that – a blog featuring posts that function as updates on, and recaps of, WSOP tournaments. The WSOP advertises upcoming events and tournaments on their website. They also post leader boards from past events. The WSOP is an institution, of course, and so don't visit this particular blog hoping for tips or strategy articles. This blog is all about the results.
What is missing from the WSOP blog, of course, is the type of engaging voice one would expect from a blog. However, the blog is functional and informative, and presents results in a timely fashion and in intuitive ways.
Doke's Blog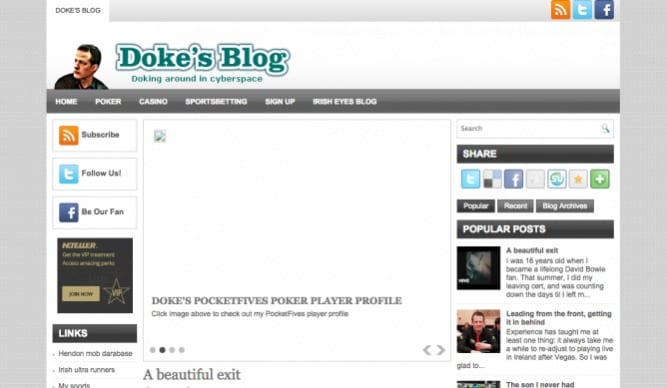 Doke is a poker player from Ireland whose blog is both hilarious and smart. His posts detail his many trips abroad, playing tournaments and hanging out with his poker-playing friends. The content tends to be light-hearted and diary-style, which is appealing because he is a funny guy with amusing stories. He is clearly well known and well liked in the online poker community, perhaps because he doesn't seem to care what anyone thinks. This blog features links to all forms of social media, other blogs Doke follows, and his most popular posts.
What this blog lacks in sophistication, it makes up for in humor and a feeling of camaraderie. And Doke does seem to have some interesting things to say about poker and his own game play. This is a blog to check out if you're looking for a good time. Don't expect to find any earth-shattering strategy articles.
Chasing the Dream – Edgie's Poker Opus
Edgie's blog is a traditional diary-style blog by a relatively low-stakes player who seems to be trying to build his career in the poker industry. His posts have tapered off in recent months (haven't seen a post by him yet in 2016), but that isn't shocking. He seems to post every two to three months with a focus on how his game is going and what he has been up to in his personal life.
Edgie is a nice guy trying to make it big in the crowded world of poker. If you can relate, you will certainly appreciate this blog. He tends to be positive and use his blog as a way to encourage himself and his visitors to keep on keeping on.
Felicia Lee's Poker Blog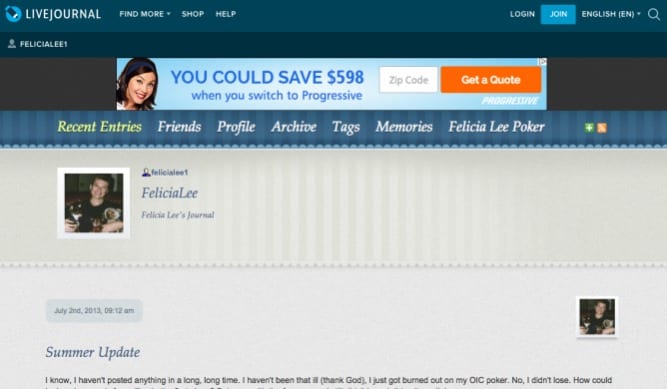 A good resource, but no longer being updated.
Felicia's blog includes some smart posts about game play and strategy by a clear expert. She posts about things she admires in other players and things she finds amateurish. Although she deviates drastically from poker in some posts, she tends to stay grounded in solid poker talk. A shame she isn't updating her blog anymore, as she had a lot of interesting, original things to say about the game.
From Zero to Poker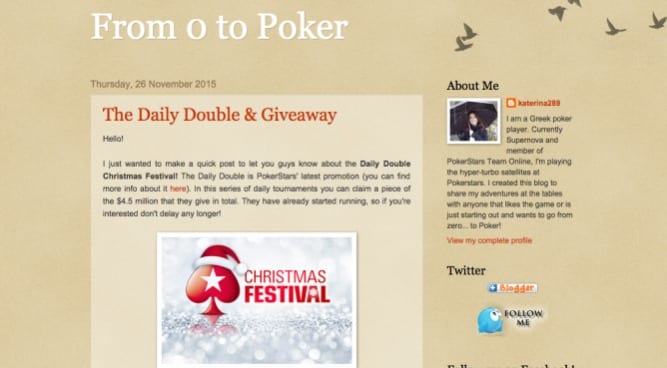 Katerina is a Greek poker player blogging about her journey in the poker world. While she hasn't posted in a few months, she does have an archive that goes back to 2010. Her posts are an interesting read and she has garnered some support in the poker community; each of her posts has a fair number of comments and the overall read is very positive. Her posts are often reviews of tournaments she's played in, tournaments she is looking forward to, and personal achievements.
Unfortunately, she doesn't post very often nowadays but she has indicated she will start again soon. She also translates some of her posts to greek to reach out to her fellow countrymen.
Gold and Poker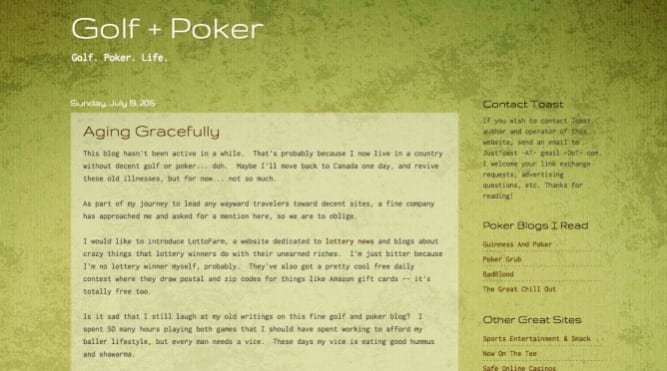 A good resource, but no longer being updated.
Toast's blog is a warm, entertaining read. Toast is very personal and has a great sense of humor. His approach to his blog is to be forthcoming, and to talk about poker and golf as a way in to the other details of his life. Posts range from long detailed analysis to short humorous reflections. This was definitely a great blog in its heyday but is currently not being updated. Toast moved to Israel and seems to have changed gears.
Jamie Flynn's Poker Blog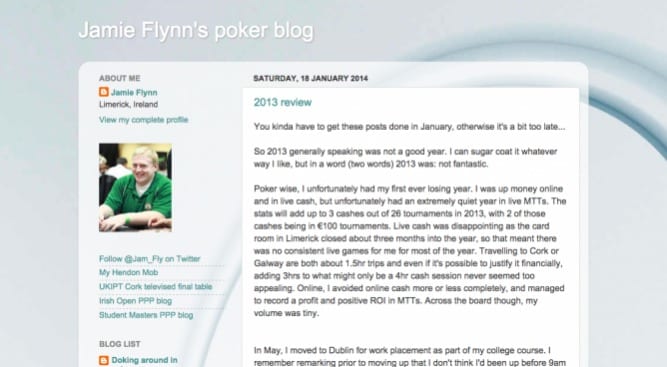 A good resource, but no longer being updated.
Jamie Flynn is a poker player living in Ireland who approaches his blog with tact and honesty about money. He, like other bloggers, includes graphs of his own personal profitability. This is the most useful thing on his blog, as it is a learning tool for newcomers to the game. He talks a bit about the poker lifestyle from his perspective, and those posts were riveting as well.
88 Keys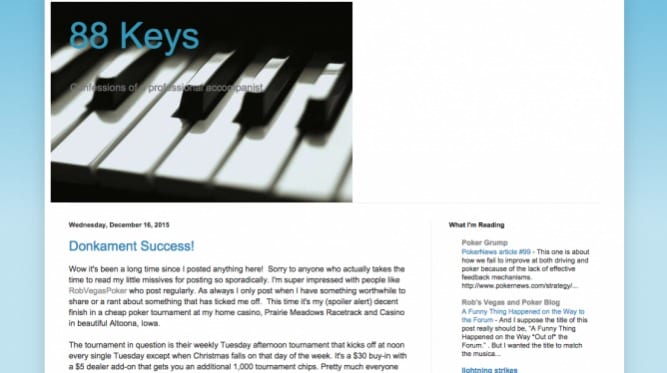 The 88 Keys blog isn't just about poker, although most of the posts do tend to reference poker in some capacity. The blog was started by "JT88keys," a piano enthusiast and small-stakes poker player. His posts are sporadic and range anywhere from detailed accounts of his recent vacation to poker tournament play-by-plays.
Unfortunately, JT88keys doesn't post often enough to make this a must-read blog. But if you're in the mood for some good poker stories told by a nice guy with a humble, good-spirited approach, definitely check this blog out. Most poker-centric posts include some musings on strategy decisions. Those posts are certainly worth reading.
Katie Dozier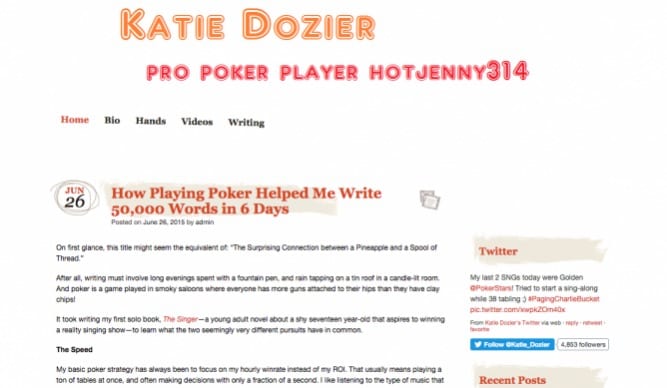 Katie's blog is a frequently personal, sometimes funny diary-style blog. Katie certainly isn't a one-trick pony; she supplements her poker career with book writing, article writing, and entrepreneurial endeavors. This do-it-all attitude is fundamental to her blog, which discusses not only poker strategy but also the lifestyle of a professional poker player. She tells stories of specific hands, posts updates on her personal life, and offers poker advice. Unfortunately, Katie hasn't posted in awhile, but her video tutorials are an excellent resource for those still learning.
In short, this blog is an awesome resource for those looking to stay positive and get inspired about stepping up their poker game. Katie's voice is engaging, and her posts are entertaining.
Life With Face Cards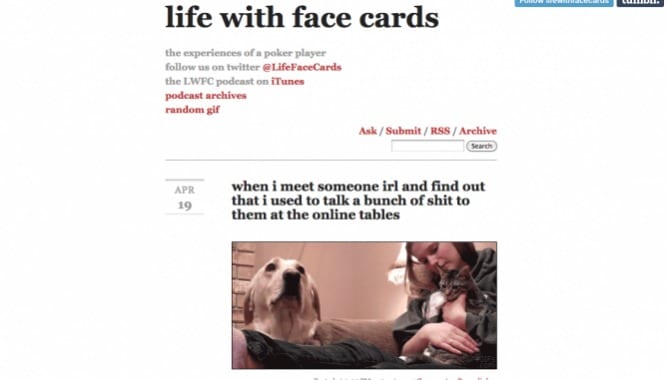 A good resource, but no longer being updated.
A hilarious, millennial-style blog complete with gifs galore about awkward poker situations. Unfortunately, the author is no longer updating to the dismay of her frequent visitors. One commenter even remarked, "I would pay for more frequent updates." This is a great blog to check out on a day when you need a good laugh and a reminder that poker players shouldn't take themselves too seriously.
Lightning Strikes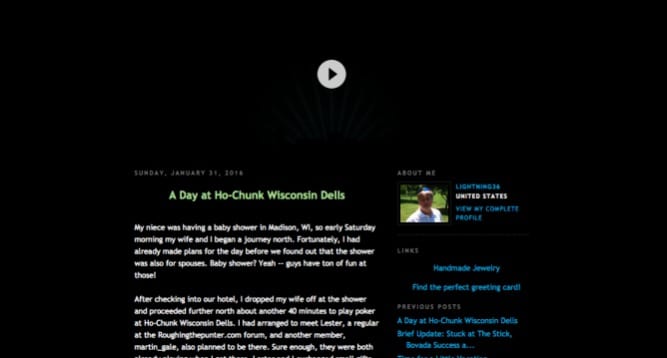 This is a blog by an opinionated poker player navigating his way through low-stakes tournaments. He posts about his trips to play poker, of course, but sprinkles in a little bit of everything. You get a good sense that the author of this blog loves the game, not just the money that comes along with it. He is also forthcoming about how he is doing – how much money he's making, when he's frustrated on the table, how he feels about his game at any given moment, etc. This would be a useful blog to check out for any beginner hoping to catch a glimpse of the day-to-day life of small-stakes poker player.
Occasionally the posts on this blog seem like rants, but overall they are interesting and spot-on. This blog would be much improved with a different background color and platform. However, the basics for a good blog are all present – honest voice, diary-style approach, and high frequency posting.
Mr Subliminal's Blog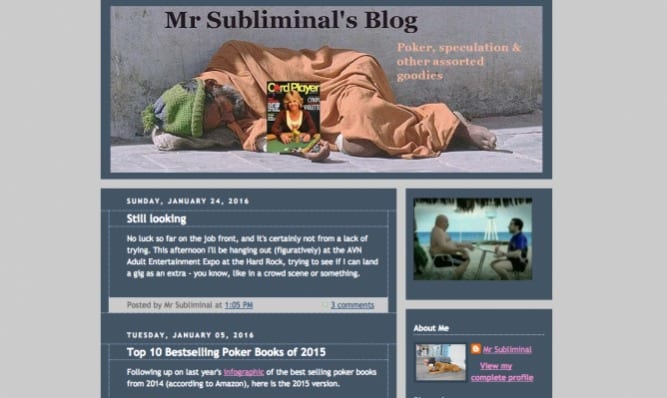 The mrsubliminal blog is operated by a currently homeless, jobless man who alternates between posts about his personal struggles and complaints about the economy. He frequently posts screenshots of twitter conversations about poker he finds amusing, but which are odd for anyone who is visiting the site for the first time.
There isn't a lot to review about this blog, as there isn't much poker talk happening. Mrsubliminal seems to be blogging as a way of connecting with peers and releasing his frustrations. This is a great blog to look into if you know mrsubliminal personally, otherwise, not much poker knowledge to gain from this one.
NicNicNic's Blog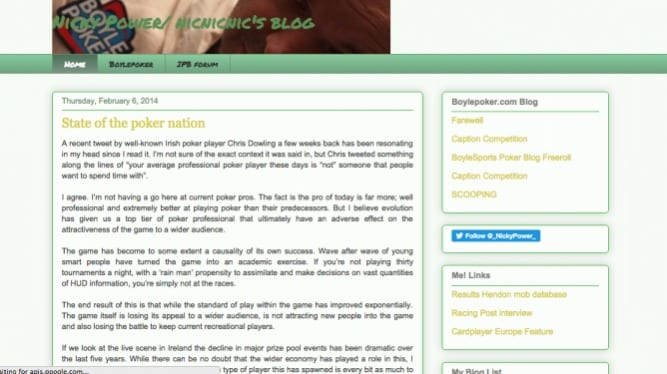 A good resource, but no longer being updated.
Nicky Power started his blog in 2007 with the hopes of chronicling his rise to poker greatness. His posts are steady and interesting up until 2014, when they stop altogether. Nicky writes with great passion. His posts are opinionated but smart and readers can tell Nicky is a player who lives and breathes the game.
Big Stax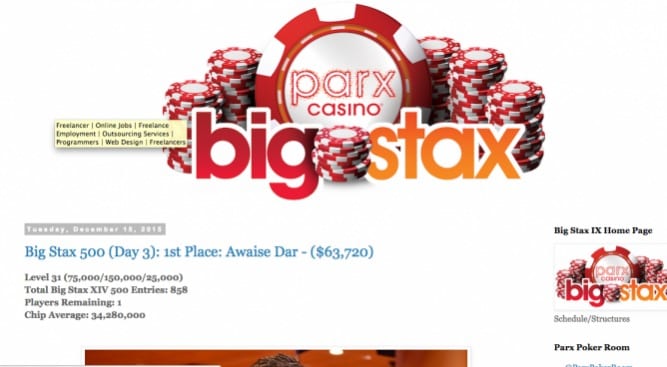 The Parx Casino "Big Stax" blog is a detailed account of the action and players at the Big Stax tournaments. The blog is very active, with sometimes more than 30 posts in a single day. Posts are complemented with photos, play-by-play storytelling, and solid reporting. Much like promotional blogs of this kind, posts do not deviate from the Big Stax tournament coverage.
This is a great blog to follow if you're curious about up-and-coming players, or if you're hoping to attend a Big Stax tournament in the future. The articles are easy to read and super informative. Expect to learn a lot about how the tournament is run and how players are doing.
Phil Hellmuth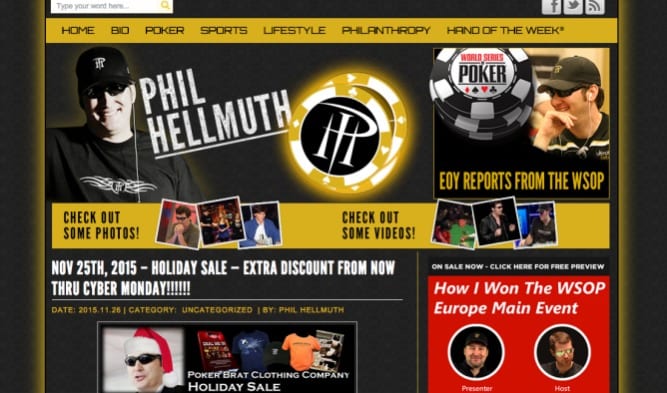 Anyone who knows anything about poker knows who Phil Hellmuth is, which allows him a certain amount of freedom to do what he wants with his blog. All of the posts are overflowing with personal photos, which makes for a great viewing experience for fans. This blog is sometimes self-promotional, but is mostly just a glimpse into Phil's life. There is little talk of poker strategy or gameplay. Phil seems to be posting for his fans more than for his own satisfaction.
This is definitely a great blog for fans. You'll learn a lot about Phil as a person, his family, friends, and sense of humor, from visiting this page and scrolling through. Phil is a pretty likeable guy with such an enormous reputation; it would be a good idea to add this blog to your list of must-reads.
Terrance Chan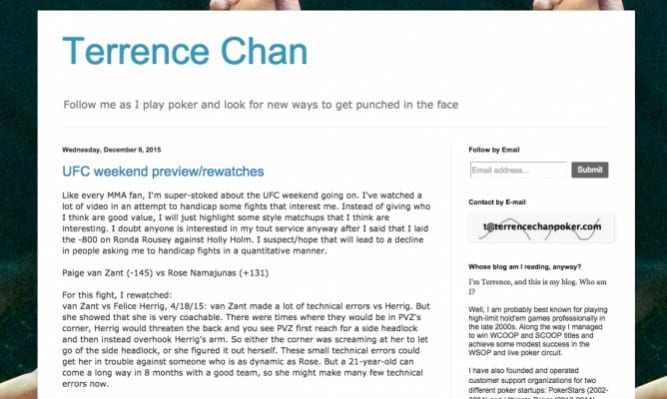 Terrence Chan is a poker player and MMA fighter who has found success doing both. His blog is diary-style and informative, and he uses his blog to give his opinions on new things happening in each of his specialty industries. He is clearly a professional poker player and definitely comments on poker from that angle.
His recent posts tend to focus more on the MMA side of things, but he still has some pretty interesting things to say about the poker world. Terrence posts about once every other month. This is a great blog to check out if you are curious about both poker and MMA fighting.
Whiskey Town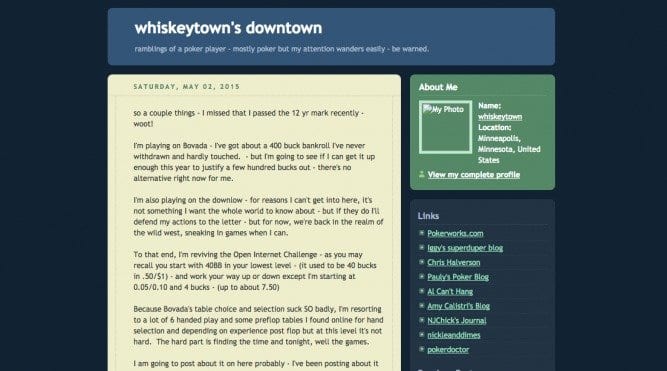 A good resource, but no longer being updated.
Whiskeytown's blog is a very personal, diary-style blog by a low stakes poker player from Minneapolis. His blog delves into his own mindset about poker and life. While sometimes a bit off-topic, his blog is very revealing in a positive way. Whiskeytown probably has very similar outlook as many other poker enthusiasts playing poker on the side. Unfortunately, this blog hasn't been updated in over six months.
Your Poker Dealer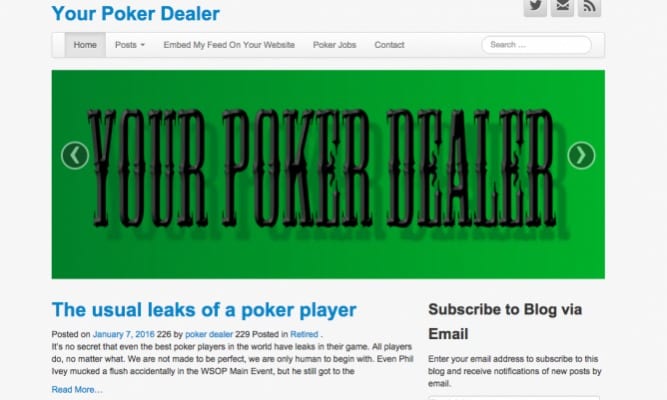 Bloggers looking to put their articles and posts in front of a large viewership might find help in yourpokerdealer.com. As opposed to forums, which usually don't have enough restrictions, blog community websites like yourpokerdealer.com have just enough restrictions with many blog voices to make for a great poker conversation online. This blog does just that, with great articles by experienced players.
Pokerdealer.com could do a bit more to make the site intuitive, but overall is a nice website with great content.
Baltic Blonde Poker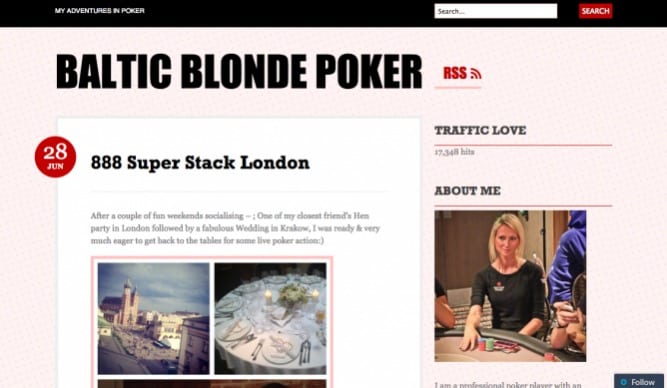 A good resource, but no longer being updated.
Daiva Barauskaite's blog is a diary-style blog about the day-to-day life of a professional poker player hoping to become one of the greats. Her blog is very poker-centric; all of her posts are about her poker-playing adventures and are positive and inspiring. Daiva rarely goes into too many specifics though, and this paired with her lack of recent posting, keep this blog from reaching its full potential.
Dad's Poker Blog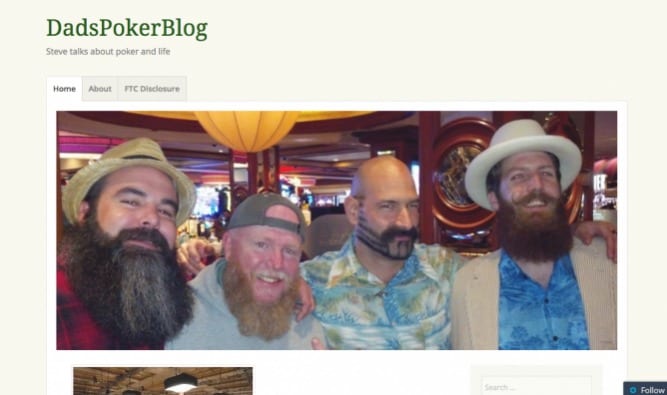 Steve is a lovely guy who left his career in IT in order to pursue poker and social media. On his blog he tells stories about tournaments, but mostly he updates his readers on his personal poker goals. This is great because not only does Steve live in Las Vegas, where poker opportunities abound, but also, Steve is just a really likeable guy with goals that are achievable and realistic.
Steve's blog is a great resource for anyone in a similar position as Steve, thinking about leaving a career in order to pursue poker and make friends. Steve is willing to admit to the things he's not excelling at, and where his strategy could use improvement, which makes his blog an excellent starting-point for anyone looking to connect.
William Elliot
A good resource, but no longer being updated.
William Elliot's blog features an enlightened voice discussing important issues to any and all poker players. Although Elliot no longer updates his blog (he seems to have moved over to a twitch page), his older posts do still strike a chord and are certainly worth the read. He tackles issues like tournament fees in a forgiving, fact-based way. Poker players could use more blogs like Elliot's to help navigate current issues in educated ways.
Liquid Poker Blog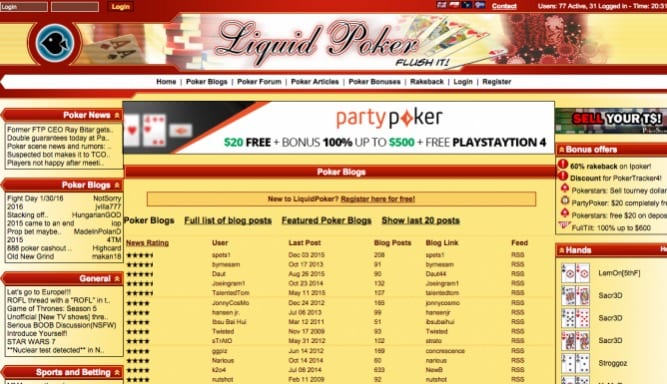 Liquid Poker is a community of forum-posters and blog writers discussing their personal wins, losses, and decision-making with regard to their individual poker careers. Liquid Poker has some exceptional features—poker highlights are grouped together in the top left corner, along with blog updates, sports and betting news, and low-stakes poker tournament highlights.
In short, Liquid Poker does a good job of maintaining a structure that is useful for blogging newcomers and veterans alike. However, like many forums, blog posts with the most views and posts tend to be those with little or nothing to do with poker. Liquid Poker does try to combat that with a voting feature, but the effectiveness of that tool isn't necessarily definitive.
Poker School Online Blogs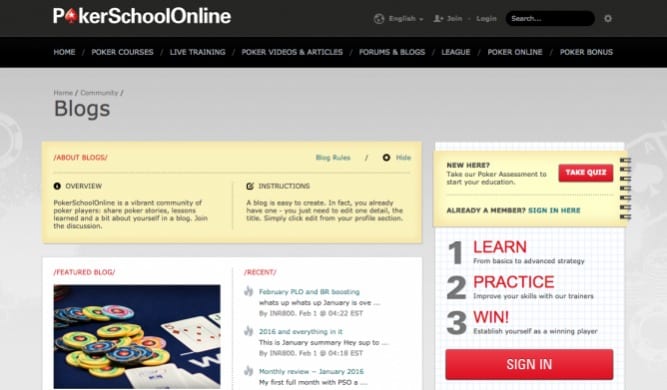 Poker School Online is an online curriculum designed to teach poker to beginners. Their website has a blog community that features posts by many bloggers at one time. PSO organizes the blogs by an up-to-date running news feed of blogs with recent posts, and also by featuring a blog at the top of their page.
Anyone can be a blogger! That is the message of PSO's community blog forum, and that kind of positive spirit permeates the blog page. The blogs on PSO are mainly newcomers to the game tracking their wins and losses and sharing experiences for feedback. Overall a really positive experience and a great way to start blogging in a way that would be constructive to your game play.
My Poker Journey
PokerVIP.com is an inspirational community forum for poker novices and experts alike. Thread titles range from "My Poker Journey" to "Lost Newbie!" and everywhere in between. This forum even offers a live chat option with the pokervip.com team—a bonus for anyone who just needs quick questions answered.
What is most compelling about pokerVIP.com is the way the forum is organized. Users can select from talking about "Beats, Brags, and Battling" to "Lifestyle & Off Topic." This is great for keeping view and post counts high, but allowing people who want to.