favorite poker hands?
We all know that poker is a tough game; there is a lot of skill and luck involved in winning the tournaments against some really good players.
Should you have favorite poker hands to play?
The answer is not that simple.
Having poker hands actually has a lot of negatives.
The fact that you are being compelled to play the cards just because they are your favorite does not make any sense since you could end up losing money easily by losing the hand.
A good read: You Want a Second Income from Poker?
Also if you consistently play your favorite hand in tournaments, opponents will be able to read that and can take you out to the cleaners.
Poker is not just about the poker hands; there is a lot of skill required to learn the tells of different players.
The way they play is a major factor to think about when placing the bet and playing the game.
For all the time you might have won based on playing your favorite; there must be at least 3-4 games you would have lost with the same poker hands.
The reason you keep the wins more in mind than the losses is because you tend to pay attention to the positives.
Having a favorite hand also clouds your judgment; as soon as you are dealt those favorite poker hands you want to play them; no matter what the condition is at the table.
This severely hurts your gameplay and can make you lose a lot of money.
When you should have it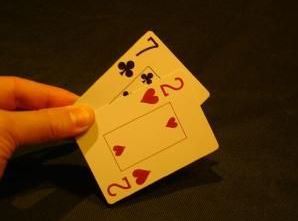 You should have a favorite hand only when you are sure that you are going to win the game.
That is as simple as it gets, any hand can help you win a game if played right.
There must have been a lot of times when you would have won playing the 7-2 by bluffing your way to glory;so that element of luck and surprise in poker stays.
This is one major reason why you should not have any favorites since the game is so unpredictable.
The game of poker is all about the situation and hence playing games based on favorite hands does not work.
Also read: Heads Up Poker: Strategies To Use During End Games
judge
The best thing to do is judge the situation and then make your move on whether folding or continuing.
That is something to work on in this game, you constantly need to learn and adapt while at the table.
Of course you are not the only player who likes to play with favorite cards, if you have knowledge about some player who constantly plays his favorite cards over and over again, you can use this to your advantage, ensure that the opponent does not get to see the flop easily.
Poker is a game where you should exploit all the weaknesses of your opponents; and this is true in the case of playing favorite hands as well.
Check out: Top 10 Poker Magazine's You Must Read
Remember poker is a game that not only rewards the skilled players but also the smart players.
Poker is just as much about the ability of a player to play the cards.
The factor dealing with bluffs and tells at the table should not leave your mind when playing the game; and this is the most important thing to work on when playing the game. Your table presence and behavior gives a lot more away than the cards that you often play.
The best advice is to play the cards by checking the condition of the table; before making a decision of what to do. Even the worst of cards can help you win a hand or two.
Do not have a favorite hand unless you want to end up going to the cleaners and going broke.