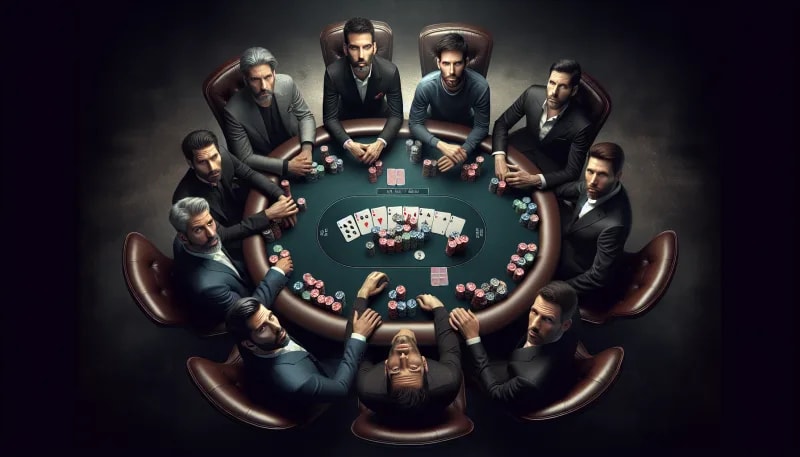 Top Male Poker Players in 2023
Moving on from the introductory charms of poker theories, let's talk big boys and big bucks — I'm staring at you, Top Male Poker Players of 2023. Who's crushing the felt this year, you ask? Let's just say if poker chips were cookies, these guys would have some seriously upset stomachs from their hoarding habits.
First up, Justin Bonomo — does the man have a secret chamber where all poker skills are kept? With his accumulated winnings skyrocketing, he's been racking up titles like he's collecting Pokémon cards. His 2023 run is just chef's kiss.
Then there's Bryn Kenney, who probably uses dollar bills for bookmarks. Why? Because following recent wins, his career earnings are eye-watering enough to make Warren Buffet do a double-take.
Daniel Negreanu, poker's Golden Boy, keeps proving that age is just a number. He stacks chips and accolades with the same fervor a kid in a candy store would—only it's a lot more lucrative than a sugar rush.
Let's not forget Stephen Chidwick, whose stoic poker face could rival Mount Rushmore. The man's consistency is a force to reckon with, and 2023 has been no exception.
Jason Koon? Fast. Fierce. Does this guy sprint on water when he chases after poker titles? His speed is matched only by his skyrocketing earnings.
Erik Seidel. He's been at this game longer than some of you have been alive. But don't think for a second he's slowing down—he's still schooling youngsters on the regular.
David Peters could probably boast a poker CV that reads longer than a Tolstoy novel. And it's just as epic, given his performances this year.
Dan Smith, the silent assassin of the poker world, has been stacking victories almost as high as his philanthropy work. Can you spell heart of gold, or perhaps, heart of gold-plated chips?
Did someone say Fedor Holz? Ah, the prodigy that treats high roller events like his personal piggy bank. Spoiler alert: He's still winning. A lot.
Last but not least, Phil Ivey. No list is complete without the presence of this poker luminary. Controversial? Sometimes. Brilliant? Always. His 2023 game is the stuff of legends—as if it ever wasn't.
And aren't we all just a tad cynical? Wondering if their luck will rub off on us if we just click our heels three times or maybe squint at the live stream really hard?
Next up, we'll pivot to the Top Female Poker Players of 2023. Because who said poker is a gentleman's game? Spoiler: they're just as formidable at the baize. Stay tuned.
Top Female Poker Players in 2023
Following the boys with their chip-stacking swagger in the 'Top Male Poker Players of 2023', it's time to showcase the queens of the felt. Ladies who've not only broken the glass ceiling but are also cashing in big-time at the high-stakes table. Who says poker is a man's world?
Vanessa Selbst - Come on, she's a retired legend who decided that winning over $11 million was enough to say "checkmate" to poker. But rumors say she's still got the skills to send chills down opponents' spines at a random Tuesday night home game.
Kathy Liebert - A staple in the poker world with earnings topping $6 million. Her poker face must be made of titanium, because she's collected titles like they were going out of fashion.
Kristen Bicknell - With three WSOP bracelets jingling on her wrist, Kristen isn't just playing cards—she's orchestrating a symphony. Over $5 million in winnings, and aren't we all just a little bit jealous?
Maria Ho - Now here's a multifaceted gem, commentator and poker pro with over $4 million in the bank from playing cards. I'd listen to her poker tips any day.
Annie Duke - She might not play much these days, but her $4 million pot of gold is still shining bright. Ever think she just pops into a poker room for nostalgia and walks out with a few thousand?
And then there's:
Annette Obrestad - Remember when she won a whole tournament without looking at her cards? Talk about blind confidence!
Liv Boeree - With a physics degree and over $3 million in winnings, she's the Einstein of poker.
Vanessa Rousso - The 'Lady Maverick' of poker, not just because of that sick $3.5 million but her law degree stints as well.
Joanne 'JJ' Liu - With over $3 million, she's the kind of player who could sell ice to Eskimos.
Victoria Coren Mitchell - The first woman to win the EPT twice; I hear bookies cry when she walks into the room!
Do these stellar women play together in a secret high-roller league we don't know about? Can't help but wonder, right?