PokerTracker 4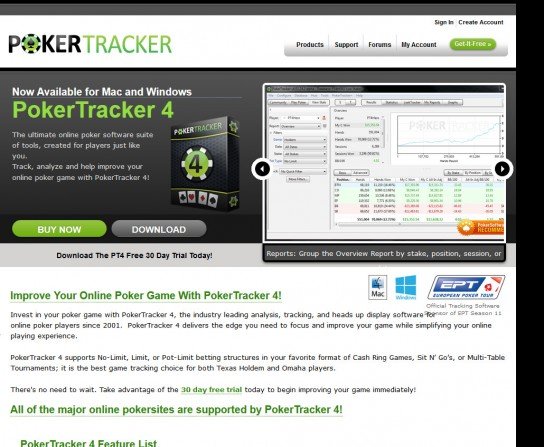 The Poker Track franchise has been in existence for many years the 2012 roll out of PokerTracker 4 has been one of its most successful yet.
A powerful, comprehensive tracking and analysis program, this application is compatible with most of the major online poker sites.
How does it improve your game?
It has several facets that assist with this such as hand history and results tracking, data and statistical analysis, a dynamic HUD, an automated note tracking solution called Note Tracker, equity calculation and integrated ICM analysis as well as a leak busting tool called Leak Tracker.
There are also other features such as secondary tabs for overall results, statistics, graphs and customized reports. The overall results tab gives you details about your session quickly and easily using drill-down and filtering capabilities. The statistics tab gives you more detailed information which includes a hand range visualization tool. The graphs tab has several different graph options which include viewing your personal results, creating a luck bell curve chart or creating a money flow chart between the various players at a game.
The HUD comes with plenty of customisable statics or you can stick to the standard layouts provided. The Vector HUD Engine is the name for the scaling display that allows you to resize your table without affecting the layout of your HUD. It does this by automatically adjusting the text size of the stats. Viewing the database statistics and applying filters is extremely easy.
There is a 30 day free trial and the full version of PokerTracker 4 costs $99.99 for Hold'em or Omaha or you can pay $159.99 and get both. If you have the full version, you are able to import hands from games at any stakes. The full version registration code can be used on two computers.
One of the latest features of PokerTracker 4 is the ability to tag hands using the HUD tag menu for future review.
The makers of the program offer full support. For more information, please click here.
If you want to contact them, you can do it via their site. Here is a shortcut.
Hold'em Manager 2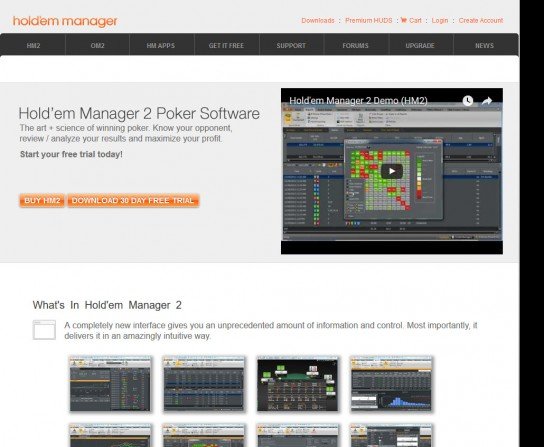 Holdem Manager 1 was definitely one of the biggest names in hand history/HUD software tools. They have now released the follow up to HEM with HEM2.
The world of online poker is forever changing. To keep up with it players need to stay ahead of the game and keep with latest poker tools to give them the edge.
What HEM2 does is reads hand histories saved on your computer and converts them into the database. The software then reads the database and makes use of a HUD to display information of interest to the player on the table in real time.
With minimal setup you will have a program that keeps a record of your overall profit/loss and give your real time stats on your performance and that of your opponents.
If you want to test this software out, it is available for 30 days as a trail license with full functionality. After that it will cost $99.99 for the license and will give you access to updates and all the support via email and forums.
Cardschat.com has an additional review on this product.
If you want to contact them, you can do it via their site. Here is a shortcut.
Table Ninja II
Perhaps one of the more main stream poker tools is Table Ninja.
This tool rolls 3 tools into one and is definitely a must have if you a serious about online poker.
The tool is simple enough for beginners to use, but versatile and useful for experienced poker players too.
Firstly Table Ninja has a hotkey function allowing you to assign bet keys.
You can assign bet keys not only for amounts, like for big blinds or percentage of pot size but also depending on the stage of the game being the flop, turn or river.
Table ninja also comes with a built in table manager which allows you to stack tables and only view the tables of interest when it is your turn to act.
The third useful tool that comes with Table Ninja is the live stats to compliment your current HUD. Everything is customizable including the amount of information you wish to display.
Hosted from Holdem Manager, the trail version is free. Once you have seen the benefits of the application you can purchase it for $75 if you only play on PokerStars. If you would like to use it on other platforms you can expect to pay $150.
They have an excellent support structure including Guides, FAQ, forums, Email support, One on one support and can even assist you with setup.
Pokertracker.com has an additional review.
If you want to contact them, you can do it via their site. Here is a shortcut.
SharkScope
Knowing your enemy is half the battle won.
Imagine knowing the statist's of every player on all of the major poker platforms and it all being displayed right in front of you live on your table.
SharkScope has been tracking and collecting information on online poker players since 2002 and have not stopped since. They gather statistics from all the major poker clients.
With this tool you can identify possible fish that can help boost your bankroll. More importantly with the built in HUD, the tool pulls through all the player information it has and overlays it neatly over your opponents.
Without even knowing the player or ever playing against them you have at a glance their ROI, average stakes they play and other useful information. The HUD is fully customizable should you want to change the layout.
SharkScope also has a handy tournaments finder feature where it will filter out all the tournaments that are a waste of time and which ones should be profitable.
All this information is available to you starting from $6 to $12 per month or have unlimited access for only $99. This also gives you access to future updates and all the support you could need with FAQ's and Email support.
Cardschat.com has an additional review .
Poker4Tuna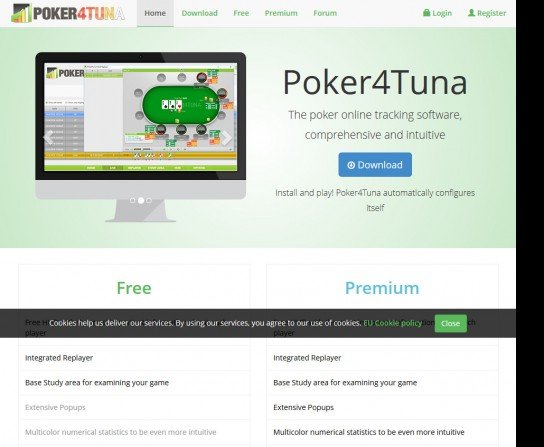 Poker4Tuna offers many different statistics to improve your game.
Stats such as the percentage of hands played, the preflop/postflop aggression and so forth.
It uses a single digit for the percentage. So for example a digit of 5 means that it is a percentage anywhere from 45% to 54.99%.
Each statistic has a pop-up showing the actual percentage and includes various detailed statistics.
There is a free version but in the premium version, each statistic is colour-coded: White is average value, azure is passive/tight player and red is aggressive/loose playt. You can mark certain hands as important and replay them.
The premium version costs 9 euros per month. Poker4Tuna was started in early 2016 and has a forum for support.
Poker Indicator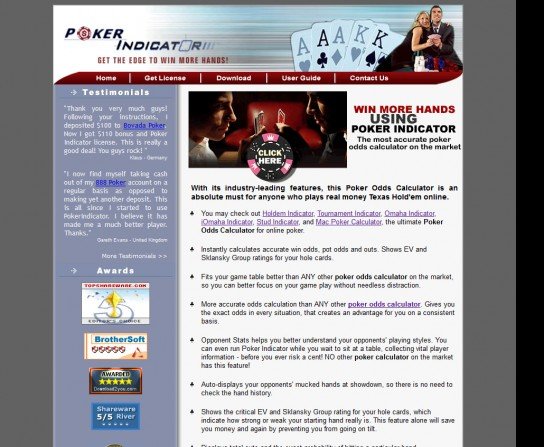 Poker Indicator can be a valuable asset if you want to have a poker calculator that does it all.
Not only does it calculate your win odds, pot odds and outs but it also attaches to your table without restricting you or hampering your ability to focus on the table by showing you information you do not need.
It has a built in opponent statistic builder which can give you the edge you need by gathering information on your opponents playing style.
Even better it can do this without you even having to be seated at a table.
With that, you can gather information without having to risk any of your bank roll and when you do finally sit at a table you have sufficient information to play the opponent as through you have known them and their playing style for years.
Another handy feature is the pot odds display that can assist you in making a decision.
It also comes with a notification to inform you when you have the best possible hand on the table so that you can maximize your hand pay out.
The application has a free 30 day trial after which it can be purchased for $59. They have full support via email and have regular updates since its release in 2005.
Flopzilla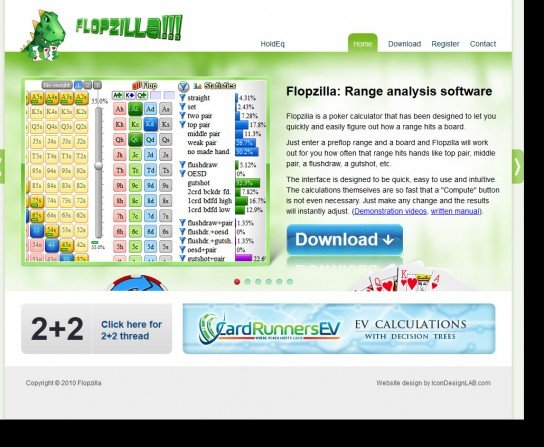 Flopzilla is a very handy tool to have in your poker tool arsenal.
This robust and reliable tool has been around since 2010. With a quick and easy install with a painless setup, Flopzilla will be coaching you through flops in no time.
Once installed, you will need to enter in a card range and Flopzilla will cross-reference that with its database and give you an easy to understand percentage of you hitting a hand like a straight or pair.
Flopzilla is a simple poker calculator that lets you quickly work out how a range hits the board.
Flopzilla was developed by Scylla. It only costs $35 and has a full range of support in the form of a contact us page.
Pokersoftware.com has an additional review on this product.
ICMIZER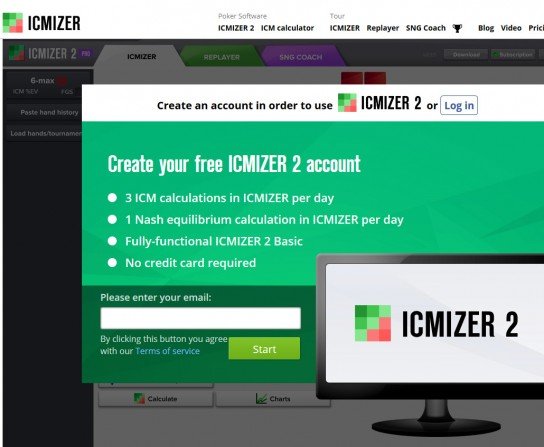 If you are new to the world of online poker or just want to improve your performance and increase your income you might be interested in ICMIZER.
This app is a tournament calculator for sit & go's and multi table tournaments.
The app is web based so it is easy to access but can be downloaded for desktop use.
The calculator allows you to import your hand history from PokerStars, Party Poker or Online game network.
You can customize the layout from the payouts to the blinds on a per game basis.
Once you have set the basics and selected your position you can calculate the all in push probability of the other players and the app will give you a probable outcome based on the information supplied.
The app also gives you the optimal play based on your starting hand.
ICMIZER has been on the market since 2011. They had a dedicated forum and you can also contact them via email .
Their pricing is simple and affordable. They have a starting subscription of $14.99 per month on a month to month basis and scale up to an annual subscription of $79.99 per year.
Advanced Poker Training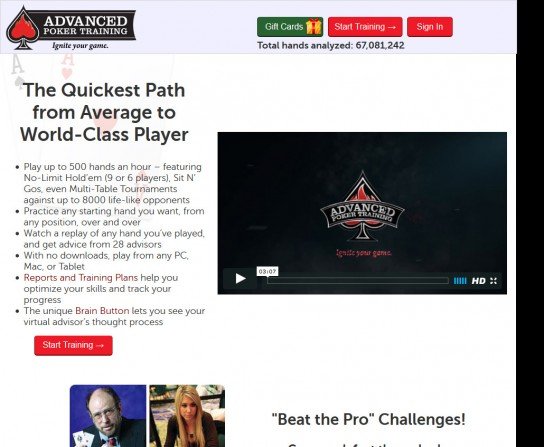 If you are looking at sharpening your skills as a poker player and want to use a poker tool to help you instead of powering through gameplay, Advanced Poker Training will be able to help.
This online tool helps you by running you through various scenarios and putting your skills to the test.
Not only does it come up with new ways and plays to test your skills and teach you how to play, it also provides detailed analysis of your training after each section you complete. The tool also gives you weekly reports that are emailed to you.
The tool will also replay any hands that you may need to work on and this can also be done from various positions on the table.
The site also has 20 advisers that can guide you through the steps and help you sharpen your skills.
All of this is done through an online web based poker simulator.
The company started in 2009 and prices start from $29.97 per month or $149.99 for a year membership. They also offer a double your money back should you not be satisfied.
SpadeEye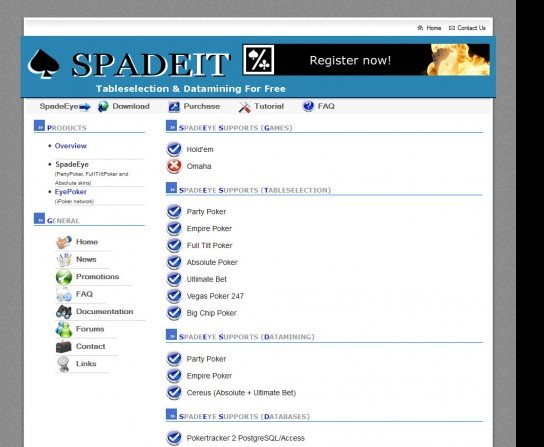 At some point we have all been baited and lost a portion of our stack to someone that baited us.
It can be hard to avoid players that are considered sharks and it can also be hard to find the less experienced players that are easy pickings.
SpadeEye can assist no matter if you are the fish or the shark.
Not only will this tool mark and evaluate players based on their player statistics that are gathered from the local poker client database, but will also indicate profitable tables as opposed to tables that would not be worth your time.
The setup may be slightly technical but definitely worth the time spent.
Once you have imported the opponents statistics, SpadeEye will start assessing players and allocating them a colour code so you can easily identify who to play with and who to stay away from.
The software offers a free version. Should the tool work for you, you can purchase the full features for $39.
For any bugs or questions, the developers at SpadeIT can assist you in the form of Forums and email support.
Pokertools.com has an additional review on this product.
hhsmithy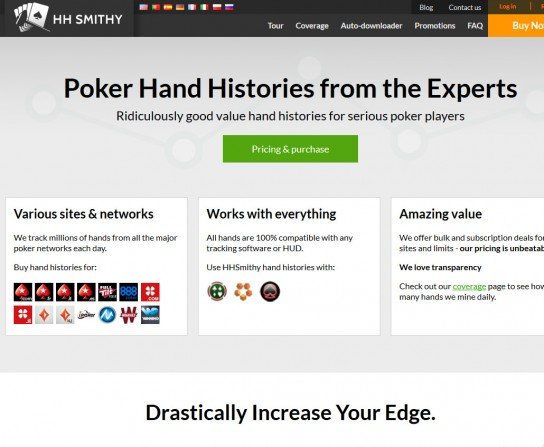 When money is on the line, playing against unknowns is not a position you want to be in.
HHSmithy allows you to play the best tables with unlimited reads.
Other features it offers: bulk as well as monthly payments from $10 and even daily free hands.
They offer competitive rates with the guarantee that should you find bulk hand histories that are cheaper than them, they will not only match the price, they will take an additional 25% off.
There is also easy support access and the program is compatible with any tracking software or HUD and works with PokerStars,Full Tilt, 888 as well as many others.
HHSmithy provides you with a huge sample of statistical data which allows you to build a hand history that you can learn from and allowing you to plot the best move in your next game.
With fantastic support and quick turnaround times via email, you can purchase a hand history database with peace of mind.
Should you wish to read additional reviews, one is available at this link.
PokerJuice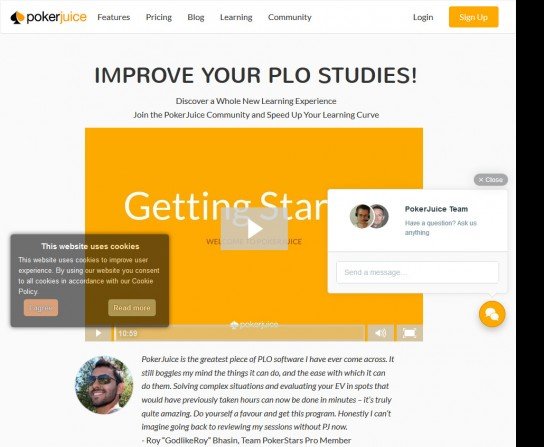 If you like the old western ways of playing poker and are drawn to Omaha we have not forgotten you!
We reviewed PokerJuice which is probably one of the best hand vs range and range vs range analysis tools available.
Another great thing about PokerJuice is that it has many additional features that you don't find in other PLO software's.
With PokerJuice you can construct a hand for yourself and your opponents with its built in hand re-player or you can use it to create custom scenarios to test different possible outcomes.
You are also able to import a text hand history and make calculations based on your previous games.
The development team at PokerJuice have been active in the poker industry since 2005 with the co-owners Morten Poulsen and Nikolaj Borge using the software themselves to improve their game.
The support structure is excellent with developers on standby via skype, email and calls. They also have a Q&A box on the webpage for live chat.
Pricing wise they are fairly more expensive however the means justifies the end. Starting Monthly subscription at €29 per month which requires a one-time purchase of Odds Oracle Pro at €79 or yearly costing at least €249 which includes the Odds Oracle Pro license.
Here is a YouTube review of PokerJuice
Open Holdem Bot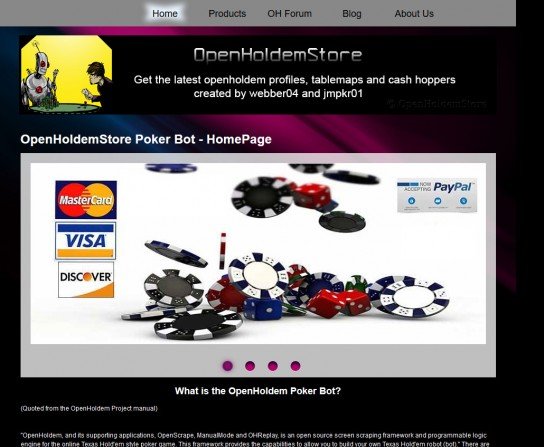 Every poker player could benefit from having a friend that knows their playing style and can step it whenever you need a break to carry on playing.
Poker bots are there to make rational and reasonable decisions on your behalf by learning from your previous hand history.
Being a fish(AKA new to poker) can be tough and using Open Holdem bot can help you excel, even at the low stakes.
The profiles can take time and effort to learn and write them and the table-maps are required for each site and type of table.
They can work however with any poker site using custom table-maps, they provide you with poker database statistics which allow players to make informed decisions and there is no monetary cost involved.
All you need to do is take the time to learn how to use it.
Open Holdem Bot has been in the making since 2009 building up experience using multiple types of playing styles.
However poker bot seem to have closed down development as their website has been removed and the forum is empty. You are still able to download the tool from varies sources on the web but you will not find much in terms of support.
Please note that most poker sites will ban you and freeze your account if you are caught using a poker bot.
To read additional reviews please see this link.
PokerStrategy's Equilab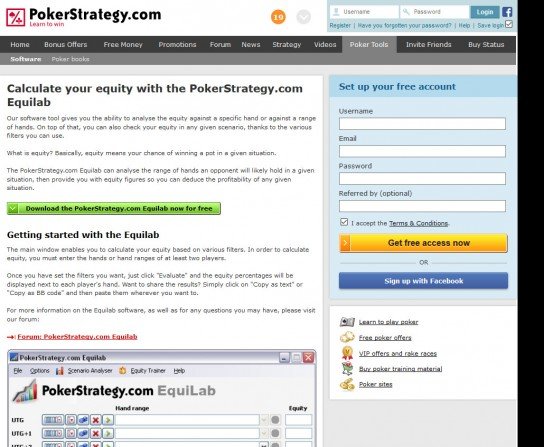 Next we are looking at PokerStrategy's Equilab which is suited for beginners to professionals.
The software is really simple to use and teaches you about calculating spots in hands and learning certain ranges and chance of success in different scenarios.
It has a really easy "drag and drop" hand selection that can be used to allocate hands to the players in your scenario.
The predefined hands that you can apply to the opposition are not just random cards.
They were combined by some of the best online coaching sites and where compiled by actual players and not just a random number generator.
The tool also teaches you how to understand a preflop scenario and helps you understand why betting 3 times the BB is a good choice or when you should be hesitant to call when an opponent bets out of position.
It also comes with a handy poker mathematics tool which has a predefined algorithm that allows you to work out your fold frequency for instance or how to work out your odds and outs.
As with most poker tools, you can also import past hand history into this app.
PokerStrategy has been around for the past 8 years teaching people how to be successful at poker.
The tool is completely free and signing up is easy. They do not have much in terms of support but they do have a very big forum that has plenty of advice and tips should you have any issues.
You can view an additional review by PokerVIP.
Spade ICM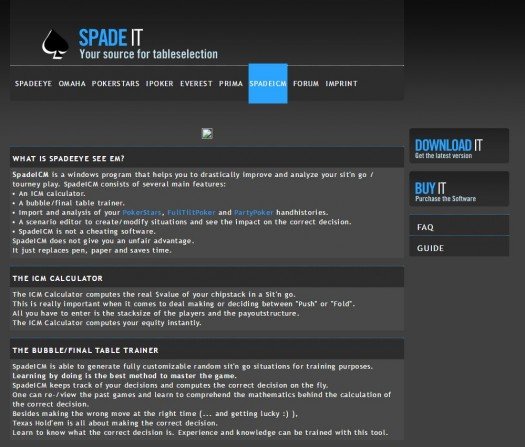 Are you constantly being kicked out of MTT or SNG's right outside the bubble?
Spade ICM is a Windows-based analysis package, featuring a bubble/final table and ICM calculators, scenario editor and import facilities for PokerStars, Full Tilt and Party Poker hand histories.
We must emphasize that Spade ICM is a convenience package, not cheating software. It simply allows you to quickly and easily track a number of variables that would previously be done with pen and paper.
The ICM Calculator takes into consideration your chipstack in a Sit'n go and computes the real value of it. This is a vital step when it comes to whether or not you should push or fold.
You are also able to import your Sit'n Go or tourneys hand-histories into SpadeICM to analyse previous hands.
Sold by Derelbe and created in 2007, they have a good support structure via email, FAQ and support forums. Once the 30 trial has ended, for a mere $40 you can own Spade ICM.
If you would like to read more reviews on this tool click here.
ALL IN Expert
Knowing when to push a player all in is determined by your cards and the body language of the other players.
In the world of online poker you lack the body language tell. When to call or push all in preflop can also be a difficult call.
With All IN Expert it helps you by showing you what cards are a good choice to head all in with or raise preflop.
ALL IN Expert is a small app (1.5mb) that is only compatible with Windows. It is fairly easy to use with minimal setup. All you need to is choose if you want preflop or all in. Then enter pot size and stack size and then you will be able to have a fairly accurate idea of what you are heading into.
Regards to support and updates ALL IN Expert was developed by Matt Mazur as a side project. I would not expect much in the line of support and updates as such. The app is useful and free but you do get other apps that have a card calculator built in and that offer more functionality.
Unfortunately this app has a small following as such there is not many reviews. However here is a forum with talk of ALL IN Expert.
888 Poker Odds Calculator
Not everyone is a poker maths whizz, so how do you calculate those all-important numbers when you're in a hand?
If you want to be successful playing poker, you have to know when you're behind and when you're ahead in order to make the right decisions.
With that said, 888poker has the perfect poker tool to help.
The Perfect Poker Tool
Whether you're on a draw, have a made hand, are up against one, two or more opponents, our poker calculator is the perfect tool for figuring out the odds in any situation.
And, it's so easy to use! Simply, plug in your cards, what you think your opponents' have, the board and you'll have the correct odds that will allow you to make informed decisions.
This poker calculator is also mobile-friendly, so you can get those numbers even if you're not in front of your PC.
Up Your Poker Swagger
You can even use this poker tool to review hands that you have already played to see if you were ahead or behind.
By doing this, you can refine how you play hands going forward, or even have fun letting your friends know that they made a crazy play in your home game.
Just imagine being able to prove that you made the right play when your friends start criticizing that all-in shove on the turn.
The 888poker Calculator is all you need to find the right poker odds behind the cards!
Official Poker Rankings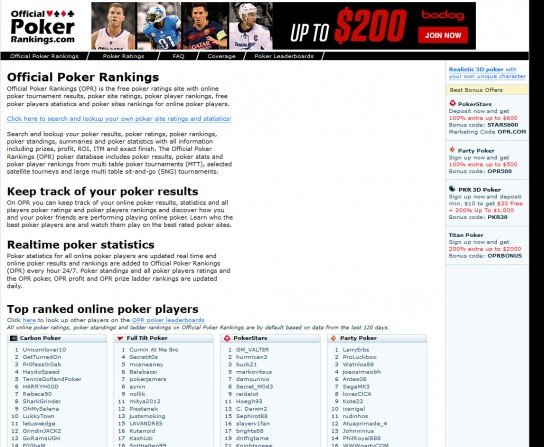 Official poker Rankings is a free online ranking system.
It gathers information from PokerStars, Party Poker, Full Tilt and Carbon Poker. It stores all this information online and is easy to access.
This tool gives you great information about players like their ROI, yearly earnings and even give you a rating in a percentage form and their overall ranking.
With the large database one would think that this tool is complicated however it is easy to use and has all the information you need at your fingertips.
The site has a quick reference poker leader board FAQ and there are plenty of online threads.
Parttimepoker.com has an additional review on this tool.
TimeMojo
As you stare at the flop it takes you a second to realize that you have just hit a strait flush.
Your opponent raises, big. Your hearts races as you quickly want to re-raise all in. This would normally give your hand away and you would lose out on getting paid what your hand was worth.
In 2013 TimeMojo created a tool to help you with this. It has a great feature which randomizes your delay in your action when it is your turn so your opponent can never tell if you are snap calling or thinking about calling.
It also can help assess your opponents moves by analysing there moves based on their previous hands and the time it took them to make a play. One of the great features is there is no need to configure a complicated setup.
The software makes notes for you and displays it in a easy to view HUD. Once you have played a few hands it can start building a database of your opponents and you can determine their hand strength based on their reaction time.
You can download the tool and try it out for 7 days. They then have 3 paid for versions ranging from the Micro Version for $19.99, Small Version for $39.99 or the full version for $59.99.
You also have full support via email and FAQ sites.
Pokersoftware.com has a detailed review in this tool.
Preflop Poker Bot Assistant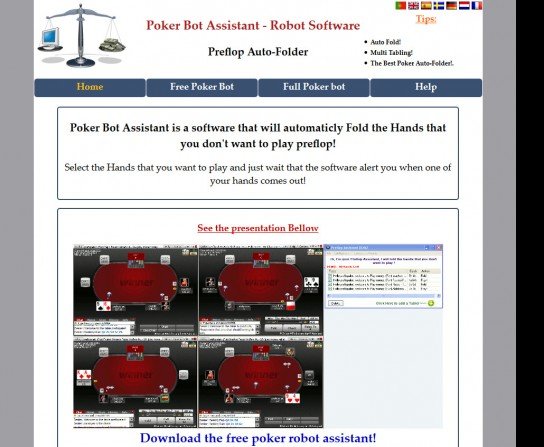 In the words of Mr Kenny Rodgers, you got to know when to holdem and know when to fold them.
Poker is a game of patience and skill. So Rivax Limited has created Poker Bot Assistant which will automatically folds the hands you want to play that will have a less favorable outcome and then notifies you when a decent playable hand appears.
Again this is not like conventional poker bots that take over completely. This is a learning tool that can teach you what kind of hands to look out for and when to play them and how to play them based on previous hands and position and chip stack size.
This tool works on play tables and cash tables so you can test it out before risking your bank roll.
The tool is completely free for the first 150 hands after which it is only 79 Euros for the license.
Not only do they release updates for the tool but they welcome any suggestions to improve the tool.
They have a full list of support including email support, FAQ's and an dedicated forum.
20. SNGO Brain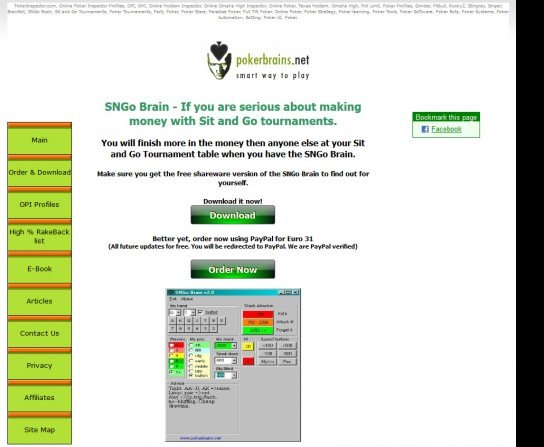 Most SNG guides and tools/calculators only really assist you at the final stages of the game.
SNGO Brain is different as it will help you with all your decisions up to the heads up for maximum payout.
The software calculates the best possible solution based on your cards, chip stack size and blinds on what your best play is for each hand. Once this tool has assisted you to the end game of heads up, it doesn't just drop you and leave you.
At this point the software that is installed with ease and is user friendly, helps you play the best possible end game.
The tool calculates decisions in mere seconds and can help new fish or even guide the more experienced. With prolonged use, you can learn what calls to make and when to make them.
The software comes with support in the form of forums and email support. It has a free version which has limited usage. Should this tool work for you, it can be purchased for only 31 Euors.
Pokertools.co.za has and additional review on this tool.
Stats For Poker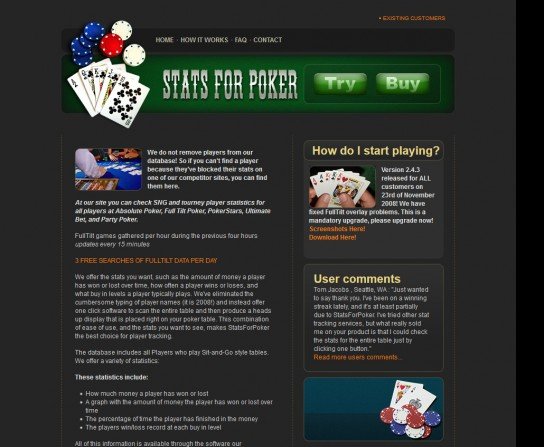 Next we are looking at a stats tool.
Having the right information is crucial when playing against someone you don't know.
But how do you gather information without playing the person?
Well Stats For Poker mines all the sit and go tables on the popular poker sites since 2008.
It then pulls through all the information you would need in order to give you an idea of the players SNG history from there payout/win percentage to their buy in levels that they play.
With a simple click of the mouse you can scan the entire table and it will produce a HUD that is placed on the poker table.
The software is simple to use and easy to install.
However the company appears to have been disbanded as none of the online services are working and we are unable to make any contact with them. Also the 5 free searches that they offer as a trail did not work.
There is also no additional reviews on this product.
SNG Solver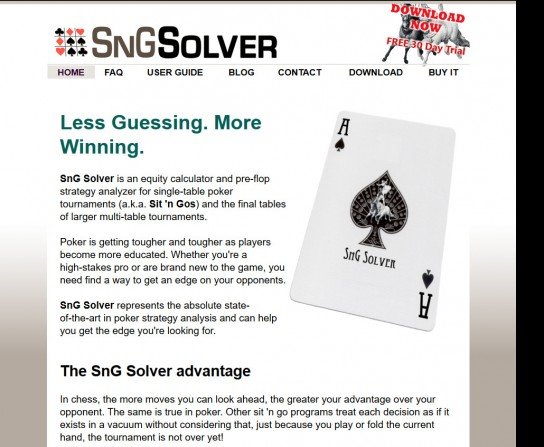 It has been over 20 years since Malmuth wrote about ICM analysis and developed a calculator.
Most tools are based on this calculation.
SNG Solver is the first tool to improve on that mathematical equation.
SNG Solver is an advanced equity calculator that analyses and suggests possible moves in sit and goes (single table) or at final table on MTT.
SNS Solver doesn't just look at stack size and your hand, it also looks at position and looks at possible outcomes for future hands. Seeing another round can be the difference of being kicked out just before bubble or actually making bank off the game.
SNG Solver was developed by Jason Keeney who started off as a video game programmer. Thus he was able to build a tool that can calculate complex algorithms in real time. He has an easy to access support page with different forums and blogs.
The software has a 30 day trial period after which it costs $99 to purchase.
SNG Wizard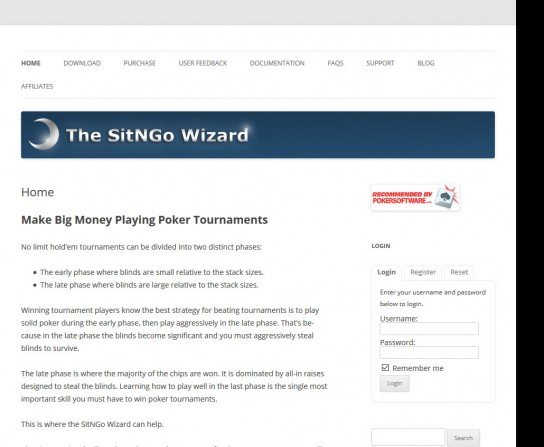 The SNG Wizard is all about the late game strategy.
It will teach you the vital importance of things such as the number of opponents you are up against, what the stack sizes are as well as the opponent calling ranges. It will also teach you about when to push and when to fold.
The SitNGo Wizard contains features that will run an analysis of each hand in your tournament hand history from PokerStars, Ultimat Bet, Titan Poker, PKR, OnGame Network, Absolute Poker, Party Poker, Full Tilt Poker and the World Poker Exchange to compare it to the equity you would have if you fold pre-flop or push all-in pre-flop.
And to make sure you are getting what you want, you can adjust any of the game parameters and see in real-time how that will affect the analysis.
Doing this allows you to recognize vital factors such as stack sizes, number of players remaining, position, blind sizes and stack sizes.
The SitNGo Wizard comes with a 30 Day Trial and a 60 Day No Strings Attached Money Back Guarantee for only $99.
For an additional review please click here.
HoldemRecourse Calculator
Another poker app that has been around since 2007 is HoldemResource Calculator which is a learning and analysis tool
The great thing about his tool is it supports Mac OS and Windows. With HoldemRescorce you are able to Imports data from PT3, PT4 and HM1/2 databases and can import hand history as well. This gives you a history of your previous games and allows you to track your progress and performance with the handy graphs.
The app also gives you a preflop/postflop card graph to show when to fold/raise/call based on position which is fully customisable. The app is fairly easy to use once you have imported your previous hands and imported your player history from your poker database.
They have a simpler support structure where you can email any bugs or suggestions to. The software is free to download and has a two week trail.
After the trail they have a payment ladder which gives you discount for opting for a longer subscription. These range from $9.95 per month for a two month subscription to $5.55 per month for an 18 month subscription.
For and additional review from Pokersoftware follow this link.
HHdealer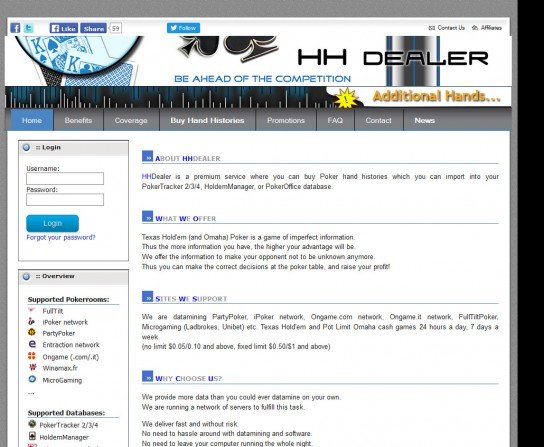 If you are new to poker and don't have any previous hands to plug into your analytical software you could be at a disadvantage while trying to build a hand history.
Not to stress you can buy poker hand histories that you can import into your PokerOffice, PokerTrack 2/3/4 or HoldemManager, then you need HHDealer.Texes Holdem and Omaha is a game of imperfect odds when it comes to cards,
HHDealer gives you superior quality that will give you the upper hand over your opponents, making sure your money pot grows.
HHDealer datamines the iPoker network, PartyPoker, FullTiltPoker, Ongame.com and Ongame.it networks as well as Micro games and delivers poker hand histories since 2008.
When purchasing data, players have five filters to help them decide on their order: game, poker site, stakes, number of hands and table type.
You have to order between 250 000 and four million hands and the price will vary accordingly. Hands histories can be purchased or rented.
They offer full support via a forum and email contact.
Should you wish to read and addition reviews on is available at this link.
PokerRanger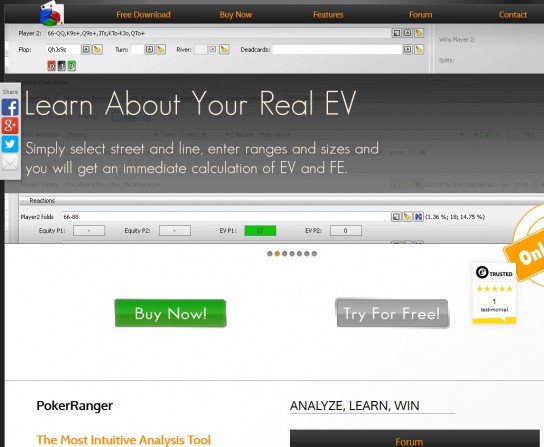 In the next poker tool review we are looking at PokerRanger.
This tool makes it very easy to review different lines like bet/fold, bet/call, bet/raise and so on preflop and postflop both during and after game play. With this tool you can also import previous hand history from HM 1/2.
PokerRanger's Equity Tables Tab shows the preflop hands strength and how often it wins, splits or loses in its range.
With this tool you can make an informed decision based on previous statistics of your starting hand.
The Tool was developed by Michael Voelkel and they have an easy to access support tab with a dedicated forum. They have a full list of contact details in order to log a bug or make a suggestion or for any other queries you may have.
They are constantly reviewing the tool and adding additional functionality with version 2.0 expected later this year.
The tool is free to download with a trial period. Once the trial period is over you can purchase the tool for $79 which includes all future updates free of charge.
Additional reviews from current customers can be viewed here.
Xeester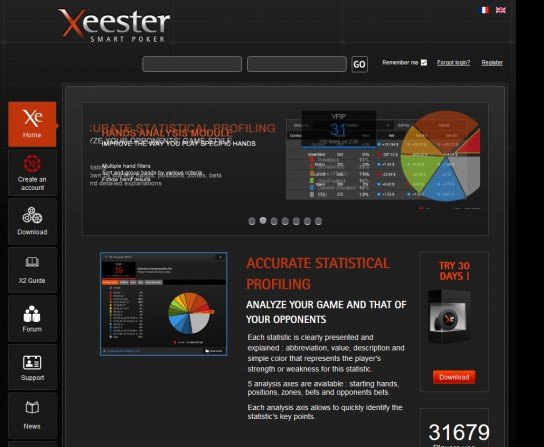 The thing that stands out when looking for a poker tool is real time information.
In a fast pace environment, you don't always have the time to search through notes on players or review all of their stats just to look for the important bits of information.
Xeester makes this easy.
The HUD they designed gives you all the information you need without being intrusive.
It gives you all the basic stats on a player with a possible breakdown that is just a click away.
You can expand the HUD to reveal additional information on the player that you have collected or that you imported from your hand history.
It also has great tools to give you a visual indication of both yours, and your opponents playing style.
They have optimized the way data is displayed and reduced the clutter that is normally associated with hand analysis and data mining.
Created in 2011 it has grown in leaps and bounds with regular updates and a full range of support.
You can try out the software for 30 days and then they have different packages to suit your needs ranging from a starter package for micro games for only 9.99 Euros and go up to 49.99 Euros for high end games.
Cardplayerlifestyle.com has a detailed review of this tool.
Hold'em Signs
Finally a poker app that is Mac/iOS compatible Hold'em Signs.
Generally, poker apps are only windows compatible but slowly more and more apps are becoming available to Mac users. The next app we are reviewing is an entry level calculator that helps you improve your holdem skills.
It quotes you a win, loose and tie percentages.
It will also show you how many cards are left in a deck and also suggest a raise, call or fold move and shows both yours and the opponents estimated hand rank.
The app does require you to input all the information however it is quick and easy to use with little to no setup and experience needed.
You can select up to 10 opponents and you are able to customize the look of the app from the deck to the background of the app.
The app was developed by a lone developer by the name of Robert Kyrikis and is updated every now and again however we don't see much room for support aside from logging a bug with iTunes.
It is available through iTunes for $10.99 with no demo.
Holdem Indicator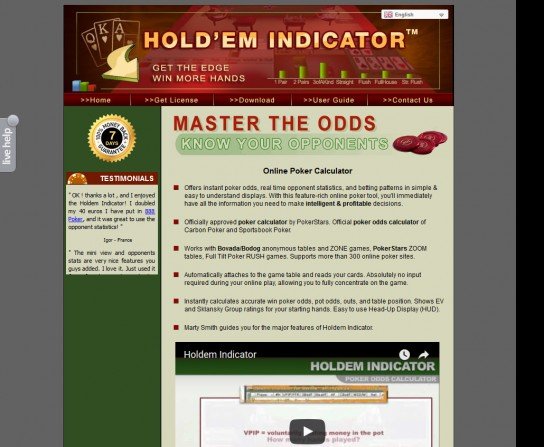 Holdem Indicator is a poker odds calculator.
It has built in opponent tracking software and helps beginners advance and teaches them about different hands.
An important point to remember about poker calculators is that they are there to teach you.
Once you have a good understanding of your hands and what to do preflop they lose their appeal.
Holdem Indicator also includes a Win Odds tool.
What is unique about this tool is that it doesn't just look at the cards. It also looks at how many players there are remaining in hand, and how likely they are to have a hand within the various ranges.
This tool gives you an equity value of your cards preflop by accessing a sample of hands that it pulls from pokerroom.com. This gives you a good indication of where you stand before investing any money into the hand.
The development team has been busy with this project since 2006. It has regular updates and is affordable at only $99.50 for a lifetime warranty.
They also offer a full list of support that is easy to access in the form of a forum and email support.
Sitandgoplanet.com has an additional review on this tool.
Flop Inspector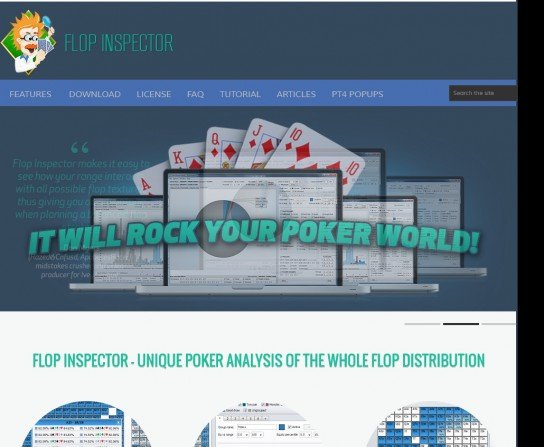 Did you know that there is 22 100 possible flops you can see in a game of Texas Holdem?
Flop Inspector which is an analytical software that helps you understand your game plan preflop.
This tool is a learning tool that is to be used during your review time to learn from your mistakes and also to pick up on what kinds of hands you should be playing.
Not only does the software do all of that, It can also tell you how frequently cards have come up in an easy to understand way. This can also be narrowed down by factoring your cards along with the card range of your opponents.
The tool also has an equity realization function that allows you to see your equities based off of your hand and the ranges you have previously assigned to your opponents.
The developers have been busy at work since 2014 and have a full range of support for this system in the form of FAQ's and email support. Pricing for this tool is $49 which includes all future updates.
Pokersoftware.com has an additional review on this tool.
EasyStreet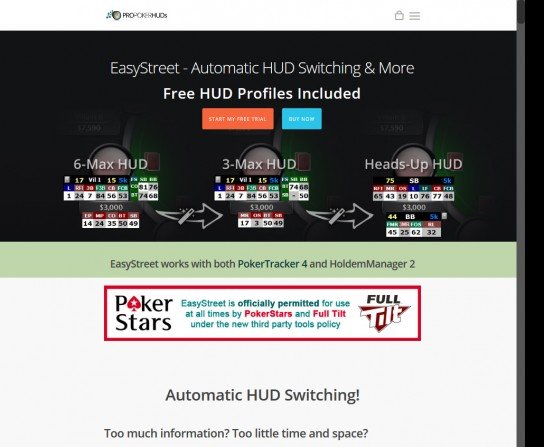 Players today are always trying to find that extra edge to be better than the next. Most regular poker players will use a HUD to display information that has been gathered about their opponents.
The standard HUDs can become cluttered and unreadable.
EasyStreet helps clean up the clutter. Installing this easy to use software is quick and simple. The automatic HUD switching feature is only available for PokerStars and stars working right out of the box.
As you are seated at the table, the tool will automatically switch to different HUD views depending on how full the table gets.
If you would like to use the software in other poker clients, the software does support that too however this will need to be done with a predefined hotkey that can be setup when you install and setup the software.
The developers at EasyStreet developed the tool in 2014 and have released several updates since its original release. Should you wish to try the tool it can be used for 30 days in trail mode.
To purchase the software you have an array of choices starting from $23.94 to $112.41.
Poker Charts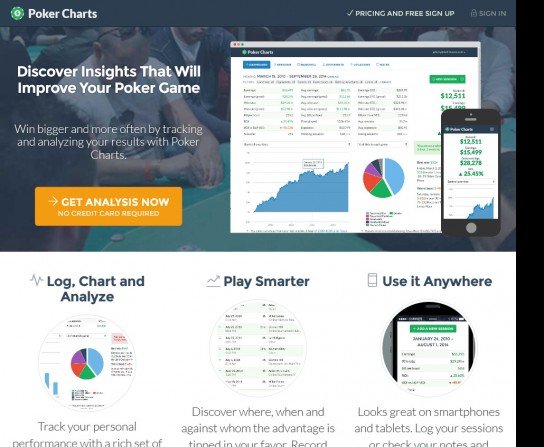 If you are an avid poker player you will most likely be tracking your performance.
Either with a excel based spread sheet or a mental note. This can be a tedious chore that is not truly accurate and only shows you how you have done.
With Poker Charts you can log you performance and the performance of your opposition.
You can track your online games and any live games you play. Not only that, you can log upcoming games and who will be attending which will reference any previous data you have on the other players.
The App is Web based therefore no download is needed and you can access the site off of your smart phone or tablet. Furthermore the software was developed by poker players for poker players and therefore it is easy to use and works like you want it to.
The company started with the idea in 2003 and are constantly improving on the system. They have an easy to use contact page and even welcome suggestions. The system has a 30 Day trail followed by a monthly fee of $2.49. There is no contract so you can opt out at any point.
Additional reviews and discussions are available through this link.
Shanky Bot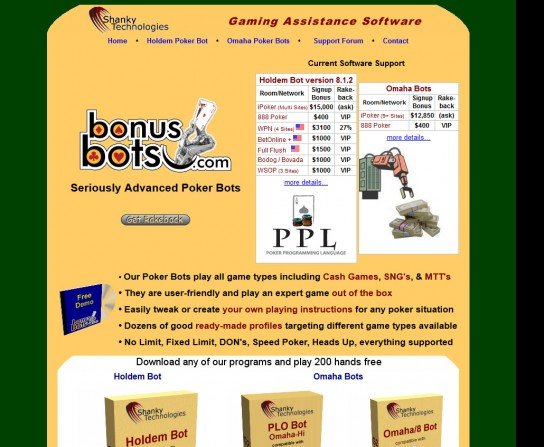 Bots in the poker rooms are becoming more and more common. Poker bots are generally not aloud anymore however if you decide to take your chances with Shanky bot it is definitely one of the better poker bots.
This poker tool can play any kind of holdem from cash games, to SNG's and MTT's.
The bot does require a hopper which is a paintball term but in essence it loads the poker bot to the table. You will need to purchase this separately at $50.
The developers at Bonusbots.com started with this tool in 2006 and have constantly updated and tweaked the bot. The bot is play ready out of the box and comes with premade profiles. You can create custom profiles to suit your playing style however.
Shanky Bot allows you to test out the software with 200 hands free. If you decide to purchase the software it will cost you $129. The developers offer full support with FAQ's, Forums and email support.
Everydayreviews.com has an additional review on this tool.
FullAutoHoldem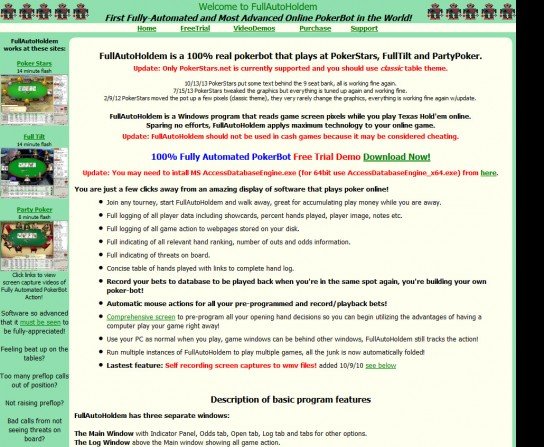 Grinding smaller tables to build a bankroll can be a tedious task.
FullAutoHoldem is a pokerbot that is 100% real and plays at FullTilt, PartyPoker and Poker Starts, and will keep collecting your money from any tourney or small blind cash table if you have to step away from your game.
It records your bets to a database which can later be played back should you be in a similar situation so essentially you are creating your own personalized poker-bot.
The comprehensive screen allows you to pre-program your opening hand decisions which means automatic mouse actions for all your record/playback bets. FullAutoHoldem also allows you to play more than one game at a time which increases your chances of winning.
Player data is fully logged from webpages to your disk and contains percentage of hands played, notes, player image, showcards, threats on board and so forth. It shows a concise table of hands which are played with links in order to complete the hand log. It now sports a new feature which allows for screen captures of self-recordings to wmv files.
Only PokerStars.net is currently supported under the classic table theme. It has a 30 Day free trial, after which the cost is $19.95.
We are unable to find additional reviews as poker bots are frowned on by most sites and can result in being banned and winnings and deposit being frozen.
Here is a link to a video demo of this tool.
Coloring Tool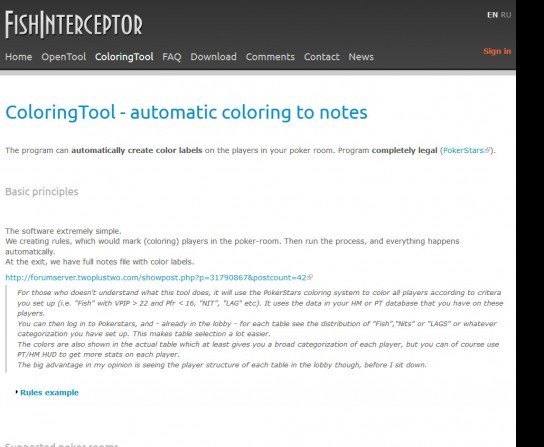 Wish you had a perfect memory and remembered every player you have ever played against while remembering there playing style before you have even taken a seat?
Well now you can with Coloring Tool by Fishinterceptor.
With Coloring Tool you can create rules which mark ever player in the poker rooms and give you a brief over view of there playing style. The system does take a bit of configuring and you will need to connect to your database (Supported Databases include Holdem Manager and Poker Tracker) but once set up the system is completely automated.
FishInterceptor has been developing Poker Apps since 2011 and therefore have the experience to create a great app. They have a FAQ section and you can contact them via Skype and Email.
The software is fairly inexpensive at $30. You can however demo the software with limited functionality. In the Demo Mode it will only save 10% of the players it finds in your database.
Additional reviews and discussions are available through this link.
Texas Calculatem
Poker odds calculator software applications, such as Texas Calculatem, uses a series of algorithms to calculate poker statistics in order to provide valuable information to the user no matter what the situation is in real-time, keeping you constantly up-to-date.
Whether it be fold depth, position, your playing style or the dealt cards, Texas Calculatem will take the hassle out of considering factors such as your own cards and your opponents. It will then offer you a course of action based on all the information it has gathered.
Unlike many of its competitors, Texas Calculatem is on the acceptable use list of all major poker rooms, including Poker Stars. Furthermore Texas Calculatem was developed way back in 2004. It is 100% free and has support in the form of forums.
For additional information about this free calculator, go to this link.
Limit Hold'em Pre-flop Hand Advisor
Limit Hold'em Pre-flop Hand Advisor is another app we are reviewing.
This web based app works with PokerStars and is quite the handy tool.
The app is only applicable on full tables with 9 or 10 players however. As the name suggests, the app processes the players hand and advises the best course of action.
The app takes into account your position, cards and any plays made before you.
The app is not automated so you are required to give the app the variables in order for it to assist you with a play.
As this is a web based app there is no installation and it is completely free!
IntelliPoker is linked to PokerStars and is the startup school for the online poker company. As PokerStars is a large company the support is easy to access.
Poker Usher
The next tool is geared towards the "new to poker" players.
If you don't have the bank roll to buy expensive tools and analyze every aspect of the game it could take considerable time and funds to figure out who is a good player and who is someone you can feed off.
When facing a new opponent, you may not know how to handle his play and can't figure out if he is bluffing or not. Poker Usher's basic concept is to keep you away from the strong players and steers you to the less aggressive players (the biggest losers) so that you can increase your earnings.
It stores all the players you have every played against, how they played, what they bet and when, when they folded, the cards they showed and so forth.
You also don't have to navigate around the online poker room lobby. You can join games direct from Poker Usher.
The software is free and easy to use and can turn an average player into a rich one.
The developers have been making poker tools since 2003 and have made Poker Usher as simple as possible to master. They have a contact page on their website for support and queries.
iPokertube.com has an additional review.
Poker Mate
Another handy tool that you can carry around with you is Poker Mate.
Developed by Mark Keonard and just recently updated, Poker Mate is free for your iPhone.
It allows you to track your play live as well as enter date from past sessions, it supports cash games and tourneys and it allows you to view your results using a wide variety of stats.
In addition to that, it tags your sessions so that you can customize your reports, it takes notes so that you can review your play, it helps you automate your bankroll management and track your opponents.
The pro version gives you various filters so that you can target your strengths and weaknesses and it has a passcode lock to keep your data secure.
As this tool is offered on iTunes it does come with a certain peace of mind. iTunes supports the tool and there has been two updates since the original.
Hand2Note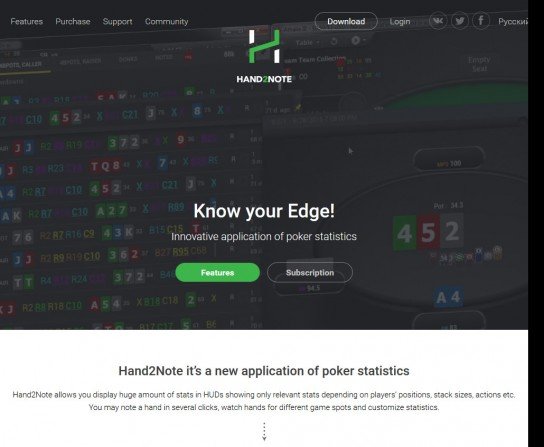 Hand2Note is a tracking database tool with a built in HUD that is easy for most people to use.
With this tool you can import your hand history/Hand database simply or it can auto-import your hand history from your local folders where your poker clients saves it's on files to.
Once you have all of your hand history loaded, using the information in that database is as simple as clicking on the screen name of one of your opponents.
Not only does this have the ability to view data on your opponents, but you can also take notes on them, there stats and even the hands you are playing.
This information is useful not only for reviewing your game, but also when you face the opponent again as you will have a full breakdown of there playing style.
Another great feature of the HUD is it bases what information it shows you depending on your position at the table, stack sizes and number of players at the table.
The software has a free version that you can use indefinitely but restricts you to certain tables.
After that it works on a sliding scale that starts at $10 a month all the way to $200 per month. They also have full documentation for support as well as a contact email.
Pokersoftware.com has an additional review on this tool.
Hold'em Profiler
The biggest issues with poker tools that reference previous hands is setting up the software and importing those hands into the program.
Holdem Profiler is one of the very select few that can boast an easy automatic import. The tool imports cash game and tournament hands automatically once the previous hand file is uploaded.
Since this is a web based application it doesn't require any additional installation and is already up and ready as soon as you have loaded your hand history. Another added benefit is that you can access your statistics from any pc as the application is web based.
With fully customizable filters, you are able to change the way your information is viewed when you review your hands.
Holdem Profiler has a trial version that allows you to upload 10 000 hands which should last a few weeks. If you decide to purchase the tool it will cost you $25 per year. As they maintain the service it is kept up to date and you have access to their support via email, Forum and FAQ.
Pokersoftware.com has an additional review on this tool.
Gam Poker Analyze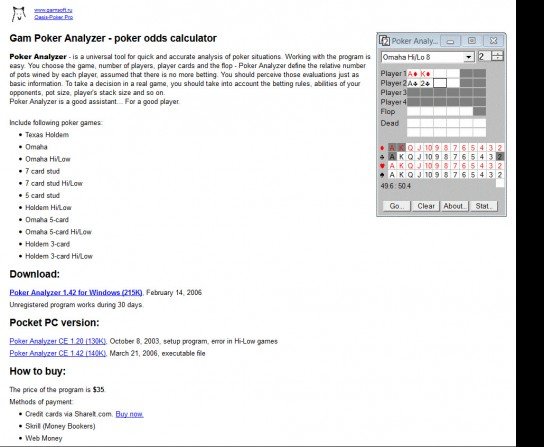 With a wide array of choices in the poker tool game, picking one can be a daunting experience as most only work on certain poker clients and for certain types of poker.
GamPokerAnalyze is a universal tool for on the fly analysis of game situations.
For new players this tool is easy to work with and is a breeze to install and setup.
All you need to do is choose your type of game, select how many players there are and what cards are on the table and this tool will look at your percentage of a positive outcome.
The level of data that you can input can be broken down further into the number of pots a player has won, provided betting is closed. However when using this tool there are a number of other things to consider like pot sizes and your opponents position etc.
This is not calculated by this tool.
This software was last updated over a year ago. If you wish to test this software out, you can do so for 30 days before having to purchase it for $35. However this tool is lacking in the support department as it is not readily available.
Jivaro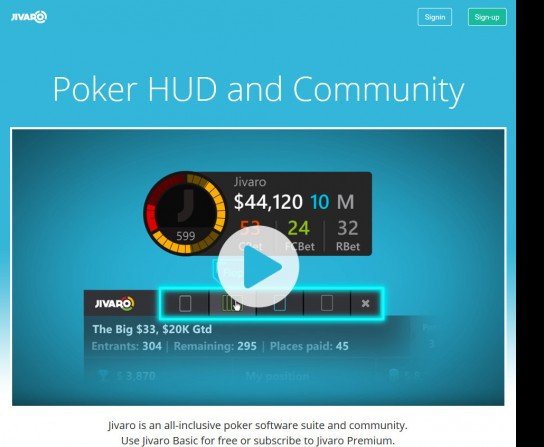 Jivaro is a HUD with a difference.
First and fore mostly it is quick with no configuration required. Once installed you can simply log onto your PokerStars account and the application with all the stats will open up within seconds.
What is truly great about this tool is that it doesn't feel forced or make you feel that it is overwhelming you with information.
When you are seated at your table, the software will place a ring around the PokerStars player which will break the players down into 3 basic statuses which are players that voluntarily put money into the pot, players that raise pre-flop and a stat to show the players aggression frequency and it will also show you the number of hands you have played against certain players.
This software was originally developed in 2011. They offer a full list of support and updates. The software has a free-to-use limited function license and an affordable full feature license for just $5.99 monthly.
Additional review available at pokernews.com
RangeEdge
At no Limit holdem tournaments you are most likely going to end up short stacked and blinds are rising fast.
You will need to change your safe playing style to a more aggressive Push/Fold tactic in order not to get blinded out.
You will not have the opportunity to call on the BB as the bigger stacks will just over bet you and push you all in on a hand you might not feel fully comfortable with.
RangerEdge can be opened while you at your online table to help you make a mathematical decision that will find the middle ground of narrow and wide card selection.
All you need to do is select your play being a call, push, bet call etc. Select the ante and what position you and your opponents are seated at and select the stack sizes.
Finally you select your cards on the Card Range graph followed by an estimated card range of your opposition based on previous plays. It will then give you a colour code of green or red to suggest a push or fold.
The software is easy to use with a full support section on their site. You are able to download the software and use it under a trial license. Once the license has expired you can then purchase the software for $10.
CardHider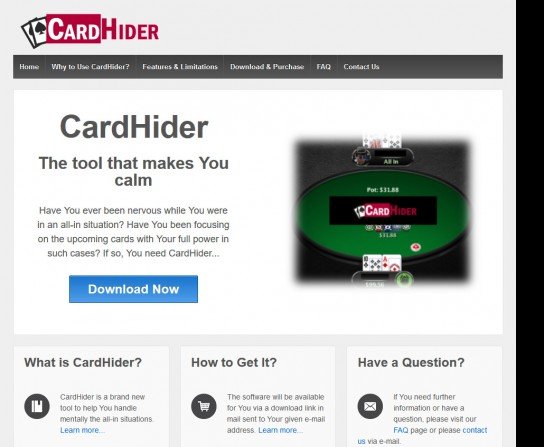 Once you have gone all in on a table and made the commitment to the had there is nothing you can really do but sit back and wait for the cards.
If you play multiple tables, you can often find yourself distracted by these tables and you tend to shift focus onto a table you have no control over anymore.
CardHider can help with this. The software is simple to install and detects when you have gone all in on a hand.
CardHider then hides the cards, and all subsequent cards should there be any, until the hand is over. You will then be forced to focus on the other tables and give your attention to the tables that you do still have control over.
Unfortunately Card Hider is no longer available for download anymore
iHoldemIndicator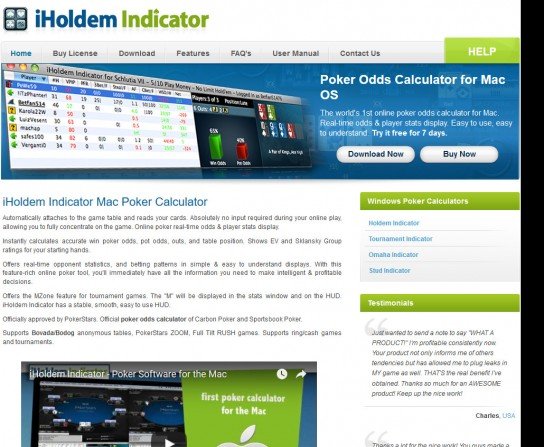 iHoldem Indicator is one of the very few iOS tools that has great support with impressive features.
It is available from the iStore and is compatible with PokerStars, Full Tilt poker and part poker and works on MTT, cash games and sit and goes.
If you are hesitant to trust this tool, you can put it through its paces with it on play money tables till you are comfortable with the way the tool works.
This poker calculator attaches itself to the bottom of your table and offers you a range of stats.
The calculator will show you some useful stats like your win odds should you go into a showdown with your current hand. It also has a pot odds stat that tells you a ratio of how many chips are in the pot and how much you would need to call.
Along with this is a hand odds that give you a statistic of your chances of hitting your required cards. It has several other stats that's it pulls up for you that make life easier and help you make informed decisions.
This tool was developed in 2013 and has a limited trial with a lifetime license fee of $99 should you wish to purchase it.
An additional review can be found at pokersoftware.com
CardRunners EV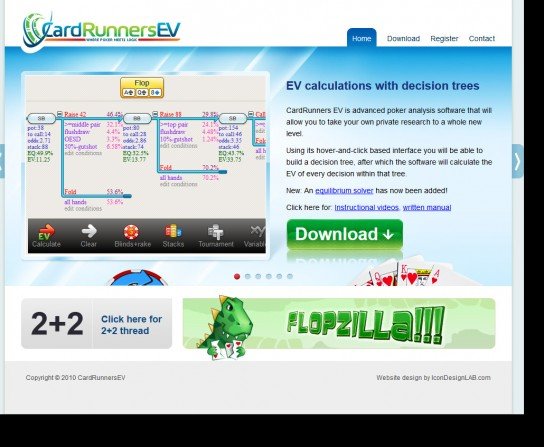 CardRunners EV is a Texas Holdem calculator that analyses each hand and calculates your expected value of your hand against the actions of your opponent.
The information is broken down and displayed in a branching format. The software can calculate ICM calculations for tournament play to and can be applied to cash games, sit and goes and also multi-table tournaments.
The tool can compute the exact value of a play down to the exact value of your hand and you can display all this information simply by hovering your mouse over the specific branch.888
The developers offer full support via email and the software has a 30 day trail. After that it will cost you $99 for the full package which includes all future updates.
Pokerenergy.net has an additional review on this tool.
iOmahaIndicator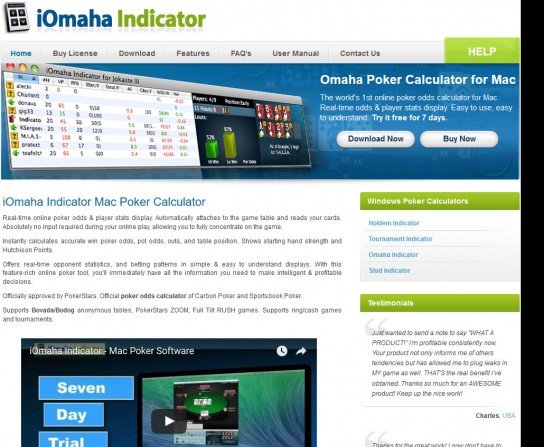 iOmaha, created in 2013, is based on the iHoldem Indicator program. It is simple to install and use. Although there are a few setup steps to follow on each poker site you play Omaha cash games or tourneys on, it is far simpler than many of the Mac-based poker software out there.
The software works on both play and real money tables. A good suggestion is to test it out on the play money tables first.
The application is compatible with most of the sites including PokerStars, PartyPoker, 888 Poker, Onfame and Full Tilt Poker. The iOmaha supplies statistics on Win Odds, Hand Odds, Pot Odds, Outs, Position and Starting Hand Strength.
Win Odds stats show the chances the software predicts you will win if the hand goes to the showdown. This stat is also available in the low hand in Omaha 8 or Better.
To get to this stat, the program uses a complex algorithm that uses information such as your cards, community cards and number of other players to give you an indication of whether you are likely to win or lose.
Hand Odds stats show the odds of getting certain cards such as a flush or straight for you and the other players on different streets. Pot Odds stats represent the ration of how many chips there are in the pot to how many chips you require to place a bet. Outs is a statistic that shows how many cards you should ask for in order for you to improve your hand.
The Position stats option shows your position in the hand on any street after the flow.
And finally, the Starting Hand Strength is a statistic that shows how strong your hand is. It takes this information and divides it up into four groups. Group 1 and 2 are generally the hands you want to play whereas Group 3 and 4 hands are not as valuable pre-flop.
There is a free trial available and then $99 for a lifetime license.
Omaha Indicator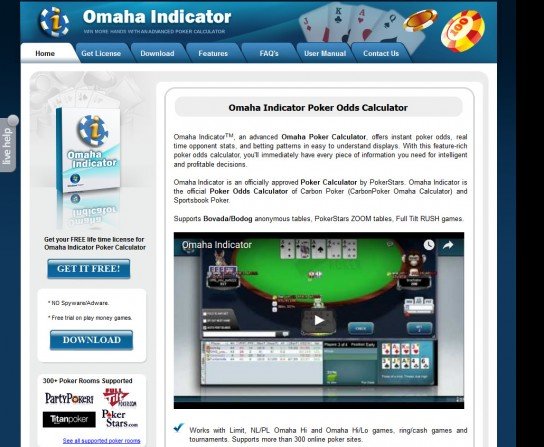 Why have three poker tools when one will do?
Omaha Indicator can fill that spot and possibly even save you money. If poker is your bread and butter who wouldn't want to save as much as possible. This tool has a odds calculator, table tracker and statistical tracking software all rolled up into one tool.
This tool is developed by the same team that put together iHoldem Indicator. As we know this is a great tool if you want a odds calculator that can give you pot odds, wining odds, high/low winning odds and so forth.
In other words when the tool is looking at a hand it factorizes multiply points of information and makes a decision based on not only how strong your hand is but also how many other players are in the hand and their card ranges.
The number of hands are all tracked and you are able to pull up opponents total wins vs Loses. This app was developed in 2008 amd comes with a free trail license and the paid for license is $99.95. They offer a full list of support including 24/7 support via email and a dedicated FAQ.
Pokersoftware.com has an additional review on this product.
Poker Sidekick
Like Batman and Robyn SideKick by PokerStrategy.com is an exceptional application that has your back and helps you take down pots and pats you on the back when you have done a great job.
Poker Sidekick tracks your poker hands with the distinctive feature of awarding badges or 'kicks' every time you hit a milestone or play an impressive hand.
It keeps track of your hand history and records data like the length of play time, played hands, Daily Rake and a few other useful statistics.
And it does all this for free. The "My Hands" section keeps track of your played hands so that it can convert and export them. This allows you to discuss your hands with ease with fellow poker players and share your progress and performance.
As this is freeware there is not much in terms of updates and support, however there is a fairly large following that could offer assistance via a forum.
MacroPoker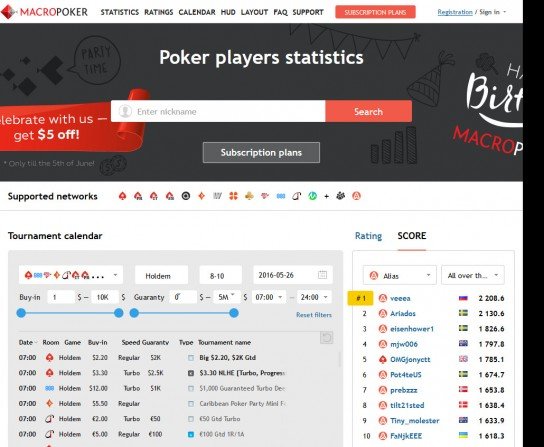 Most statistics gathering sights are not known for being easy to use. Macropoker changes that with its user friendly statistics and the way in which even a beginner can understand.
The site has two views which are basic and pro so no matter what your status is you will be able to understand the software.
It has surpassed other sites too by not only showing the usual stats like amount of games played, profits, prizes and ROI but sports some additional stats as well like the average buy in, Heads up ELO and with the newest member being added which is the "score" stat that shows the strength of a tournament player.
With the paid for subscription which only costs $4.99 per month, you also get a useful HUD which pulls all the above information to your table.
Not only is this one of the cheapest but also one of the best poker tools available. The developers at MacroPoker have been developing since 2012. They offer support in the form of email support.
Pokernews.com has an additional review on this product.
CoffeCalcs
Have you ever wanted a best friend sitting next to you that happens to be the next Phil Hellmuth? Well with CoffeeCalcs you can. CoffeeCalcs is a poker calculator that calculates the preflop, river and turn. With CoffeeCalcs you can calculate your play both before and during a hand.
It's Easy to use interface makes it simpler for just about anyone to use. Its Pre-Flop strategy planner lets you look at all possible outcomes with the hand you have.
You are able to build your strategy in a planner and then know how to play against your opponents. The interface is fairly strait forward and simple to use.
The software was developed by CoffeeYay who developed the well-known HUD for HUSNG's. As such he releases regular updates. However support and bug reports may take some time to get back to due to limited developers.
The software is free to download and demo however you will be required to purchase the software after your trial period has expired for $99.95.
Here is an additional review from informer.com
NoteCaddy
If you own Holdem Manager 2, a great app to look at adding to it is NoteCaddy.
Notecaddy is an add on that helps you find week spots in your opponent and will show you how to exploit those week spots without them ever finding out.
It allows you to assign badges based on your playing style and comes in a vast array of packages.
It supports many different games. If you are a holdem player you would need to look at the package that suits you best. It is strongly recommended that you start at the bottom of the scale and should you wish to upgrade, the process is simple and quick.
The lower package is still loaded with more than enough definitions and will help you improve your daily profit.
The software doesn't just cater for holdem players however. It has packages that suit sit and go players and Multi-table tournaments.
The software is simple to install and price for the software is $74.77. They have a full range of support via the contact us page and they will even remote into your PC via Teamviewer to assist you.
Poker Copilot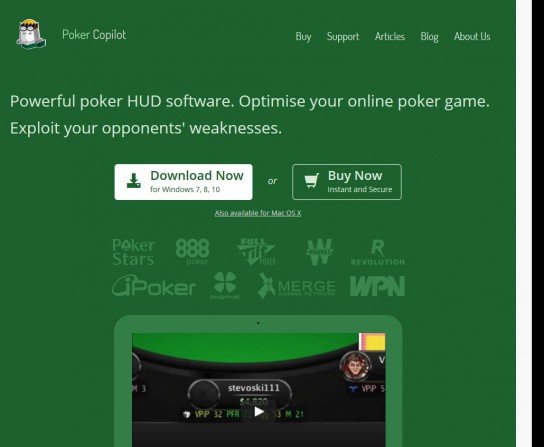 In 2008 when Poker Copilot was released to fill the gap in the Mac industry where there was limited applications that could help you hone your poker skills. Up to date, Mac users would either have to run a virtual pc off the mac and install windows or convert to a windows platform all together.
Poker Copilot is a Mac OS app that tracks databases and gives you statistics in a custom HUD.
The app supports PokerStars and Full Tilt. After a quick installation, the application will automatically find your hand history folder for your poker client and instantly have access to an array of statistics and in-game assistance based off of those previous hands with the easy to setup HUD.
The HUD comes with some default layouts that as a standard will have you up and running within minutes. The HUD displays information like VPIP, PFR, AF and other useful information to get the upper hand on your opponents.
They offer regular updates and now support both Windows and Mac OS. The support is easy to access and the application has a once off fee of $79.
Pokersoftware.com has an additional review on this application.
PLO Ranger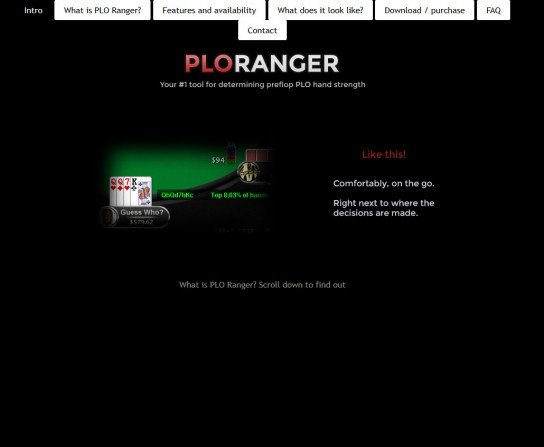 If you enjoy playing pot limit Omaha and require a tool that will give you the advantage PLO Ranger is a good choice provided you play on PokerStars. PLO Ranger is an easy to use HUD that shows your hand strength while in game.
It has a mathematical calculation that works out your hand strength as your cards are dealt. It will allow you to decide whether or not you should play or fold your hand. So the next time you are about to bet preflop you can make an informed decision as to your standing with your current hand.
Now for some users all these tools can slow down your machine as they can take up quite a lot of CPU power.
With PLO Ranger you are able to customize your game refresh rate to adjust the amount of CPU power it requires to refresh recent plays and also to calculate your odds.
This software is available as a trail for 3 days. If this software suits your needs, it can be purchased for only $14.99.
They also have great support with email support and also a forum that can explain most things. They even welcome your suggestions.
SimpleNash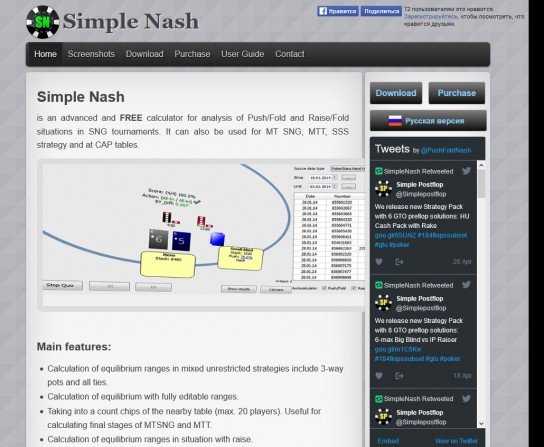 This is a simple, easy to use calculator for Push or fold and raise and fold analysis. It is versatile to as is supports Sit and goes, Multi table tournaments and Cash games.
With its effective preflop analysis you can edit and customize your ranges and build different data graphs tracking your performance.
Once you have complied your statistics you can even share your progress online. As with most ICM calculators you are able to import your previous hands in seconds. Not only that you can import player notes from PokerStars!
The app is completely free and is well supported with online support forums and support emails. For a detailed review please check out this link.
Poker Pro Labs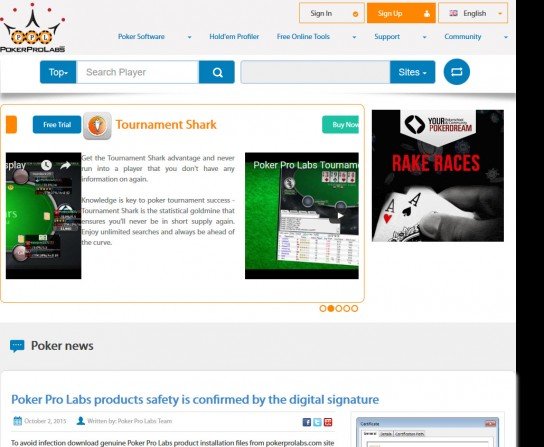 Poker Calculator Pro is one of the most advanced pieces of software in its category, keeping with the reputation of Poker Pro Labs which have been developing high-tech software for many years.
Poker Calculator Pro reads the cards from the table and then presents you with mathematically sound advice about your chances of winning, the pot odd, the long term expected value of each move and much more.
One of the most advanced features is that it has the ability to determine the style and betting penchants of the other players at the table, look for patterns in the way they play and then give you the best course of action to follow in order to win.
This program is idea for both beginners and intermediate players who would like to improve their skills and increase their winnings.
This program offers full support and regular updates.
It costs $49 for a 12 month contract.
For more information, please click here.
Poker Analytics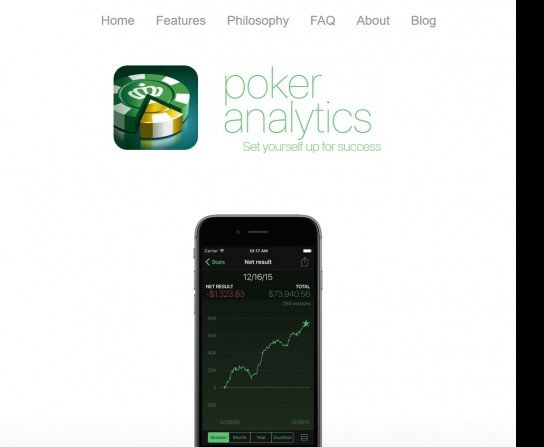 Poker Analytics is your personal assistant and helps you keep track of your results and hands, analysis that information and also helps you manage your bankroll and currencies.
The program boasts the best interface and support structure. It has perfect multi-table tracking and it has constant feature updates that have been recommended by users.
It shows the evolution of your game and uses comparison charts. It has the first Health App which analyses how your sleep and physical activity affects your game playing ability.
It records your hands, has a hand history keyboard available in all your apps, provides player notes, gives you custom fields and there is iCloud support.
The subscription is yearly and allows you unlimited session tracking. The free version is limited to 15 sessions but still gives you access to all the features.
In existence since 2003, this program offers full support and FAQ.
Poker Office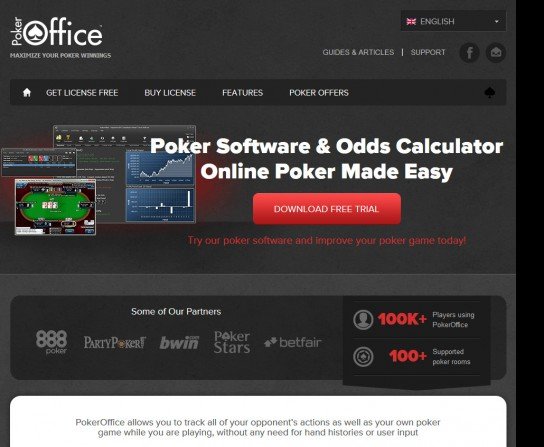 Poker Office is a real-time poker odds calculator. This will help beginner players to see if they should continue playing their current hand, based on the odds of improving their hand as well as the pot odds.
Should you be a more advanced player, Poker Office will ensure you have a top-notch poker tracking and analysis database with a highly advanced HUD.
All of this information is stored on a chart that is simple to use, right underneath your poker table. Some of the more pertinent information is displayed on the table itself. An example of this type of information is where your hand ranks out of all possible hands, what your current hand is on all of the streets and what your best possible hand is.
Poker Office has gone from strength to strength and in Poker Office 6, the volume of data available to analyze your fame and track your results competes with industry giants such as PokerTracker4 and Holdem Manager2.
The HUD has almost any statistic you may need on any street you can think of. Using this, you can learn to understand how your opponents work and use this to your advantage. The HUD can be set to show information relating to just the current session or it can display your entire history with that particular opponent, with useful player icons that summarize your opponent's style of playing. Another added feature is that you are able to keep notes on your opponents.
This application is free to play for the first 300 hands. Thereafter it is 129.99 euros for a lifetime license.
Poker Office offers brilliant support and was established in 2003.
For more information, please follow this link.
POKERobot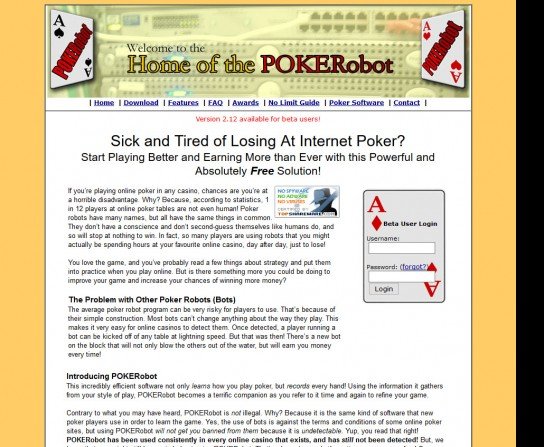 Pokerobot is a free software that has some amazing capabilities.
Apart from learning your own style of play, it also looks at the amount of money that is being entered into the pot, the hand that everyone is playing, the odds of seeing certain cards land on the table and even the styles and hand history of other players.
When does it do this? Before you even make your first play.
Most players use the poker bots to play no-limit tables in semi-auto mode. This means that the bot will not allow you to play a losing hand and will just fold automatically if this is the case.
However, if you are dealt a good hand, it will notify you and allow you to play from there on. Therefore it is not like most other bots out there but more of a teaching bot.
The software is completely free and has been active online since 2006. There is only an FAQ section, no email support unfortunately.
Poker Wizard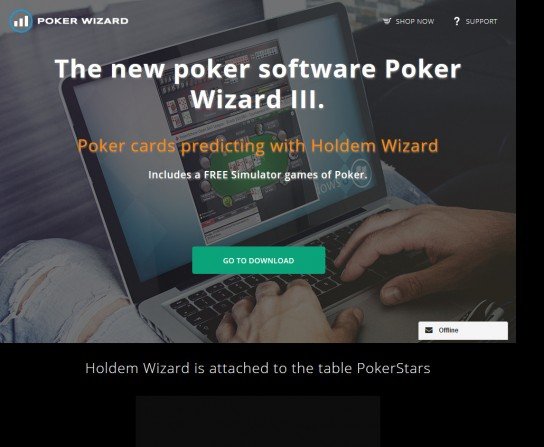 Poker Wizard works in conjunction with PokerStars.
It allows you to take your current database of Predictor for PokerStars from the Application Wizzard and transfer the Holdem in Poker Wizzard 3.
To do this, open the Wizard support, go to the page of the Wizard data support. Then in the combo box select room and then a game room in PokerStars.
The program will then create an empty database. It then automatically detects open tables and the types of games that are being played on them. Each table will have the Wizard Window open for that particular game.
Things such as the information about the players and the state of the game will be displayed in this window.
This allows the player to focus on their game. Should you play a mixed game such as HORSE, the Wizard will automatically detect this change and will adjust the type of window opened.
There is no limit to the amount of security windows available. The user can play as many poker games at the same time as they are able to.
A single month license costs 4.90 euros and a lifetime license costs 44.90 euros.
The program boasts great support via the website.
Poker-Spy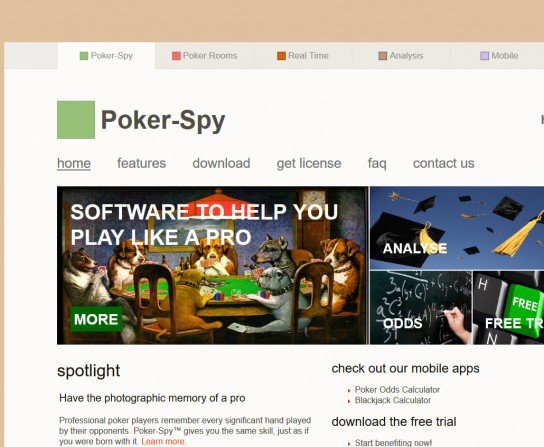 Poker Spy, which has been around since 2003, is a program that tracks and records previous hands and how your opponents played their cards.
It also comes with an odds calculator to help you work out the odds of winning the pot. It doesn't just look at how many cards are left in the deck but it also calculates the odds of a player limping in or calling a raise with an off-suit pair for example.
The application also alerts you when you should have raised or when you should have folded so that you are able to learn from each game. It has a similar type of alert position for the other players, such as letting you know when a player raises out of position.
You can try Poker Spy for free or purchase a license for $79.95. It comes with excellent updates and support.
For more information, you can click here.
PokerSnowie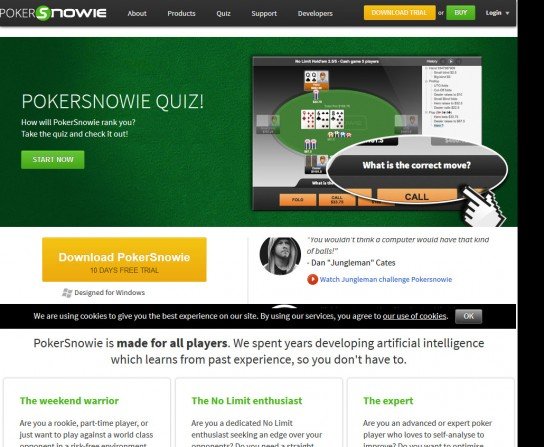 In much the same way as a human brain makes fast decisions, PokerSnowie is a neural network program analyses a hand for you and then evaluates that hand against all previous knowledge it has collected. It then categorizes it with others according to board textures, bet sizes and other elements of the hand which allows it to make the best decision.
However, it does this far more accurately than any human brain.
One of the features is the 'Balance' section. This gives you a snapshot of your bluff/value ratios in several different betting/raising scenarios as well as how often you are optimally calling overall on all 3 streets. Using this feature can help you figure out where your leaks lie.
It is also a simple program that is relatively self-explanatory. On the evaluation section, it gives you the three options you have. You can fold, call/check and raise. It then tells you the expected value of each of these moves and also the percentage breakdown of how often you should make each play.
PokerSnowie was developed 13 years ago with the first 10 years just spent on collecting data on different plays. It has a full range of support to assist users.
It costs $34.99 for the basic version and $229.95 for the full version.
For more information, you can go to this link.
ProPokerTool's Odds Oracle
Next we are looking at one of the more serious Poker tools that we briefly touched on earlier.
Odds Oracle is developed by ProPoker Tools that has been around since 2005. The software was developed to cover all your needs for basic and advanced ICM. Odds Oracle has a long list of tools at its disposal depending on which licence you acquire.
Not only does it have a vast array of tools it also supports Holdem, all variations of Omaha and all variations of Stud.
With OO you can improve your game performance even if you have never used and ICM calculator before. The All-In equity calculator is simple to use and allows you to import your hand history to review previous plays.
With OO you are able to start as a beginner and practice on sit & Go's and in no time be playing larger MTT's.
Support wise the developers at ProPokerTools are easy to access. They also have support forums. The pricing structure is fairly simple once you have expired your free trail licence with the basic package at only $19. If you would like access to all of Odds Oracle's functionality you can purchase the Pro licence for $89.
PokerSoftware.com has an additional review on Odds Oracle here.
Jennifear's Multi Table Tournament Push/Fold Chart
If you are sitting with a short stack more often than you would like and don't want to fork out money on a Poker Calculator to tell you when to shove all in you can look at Jennifear's Multi Table Tournament Push/Fold Chart. It is very simple and easy to understand.
Its web/excel based and best of all its free. With the chart, you can determine what are good hands preflop to go all in with depending on your position and how many blinds you have left. The chart also has different tabs depending on the antes.
The chart has been around for quite some time and is based on an ICM calculator. There is no support aside from a FAQ on the last tab. As mentioned this is completely free and as it can be opened on your mobile device can be a handy tool for online and live games.
PlaceMint
If you play in a multi-table environment you want to be able to stay in control of all the tables without having to run 10 displays so that you can keep an eye on each open game.
Furthermore when it is your turn to make a decision at a table but you have your attention on another hand, you could lose track of what needs to be done and end up sitting out.
Placemint is a small, easy to use app that can assist in managing your desktop area better. This tool allows you to set up multiple window groups and then save it to the program panel. This can be edited, cloned or removed per poker client.
You are able to choose tile size and location and even choose when to swap out windows by defining hotkeys. Sizes of the windows can be customised depending on your preferences and can vary from window to window.
This handy tool was made by ThePlan and is completely free. However support is difficult but assistance can be found in generic forums.
Softpedia.com has additional reviews on this product.
Tilt Breaker
Every poker player has gone on tilt at some point in their poker history.
It's part of our human nature to get upset and irrational when we are losing.
More often than not we have lost large stacks of chips due to anger and being on tilt.
Tilt Breaker is like the voice of reason that can stop you from wasting bank.
It has a list of bankroll management tools that are designed to protect your bankroll when you need it most.
It has two main tools.
The first is a "Rage Quit" button. The name implies the meaning. When the online game of poker gets too much, you can hit the button and you will be removed from your table and all buy-in and register options will be disabled till you have cooled off.
The second tool is the built in bankroll manager allows you to create custom rules for game types, betting types and max big blinds to stop you over spending and buying into games that you can't afford.
This useful tool only costs $49. It comes with a full range of support and is well worth the couple of bucks to save you the heartache of losing your bankroll to going on tilt.
For additional information check out a video review of Tilt Breaker from from PokerSoftware.com.
Short Stacking Strategy Calculator
Here is another offering from iTunes on the form of a short stack calculator. It works for no limit holdem and helps beginners gain that extra edge that they need when playing against more experienced players.
It has a card graph and a slider for the opponents steal and call range along with BB and Players left to act. The tool is simple yet effective.
It was developed by a lone developer by the name of Aaron Peelle and has undergone a few updates since its initial release. It is supported by iTunes and comes with a low price tag of only $2.99.
PS Hand Watcher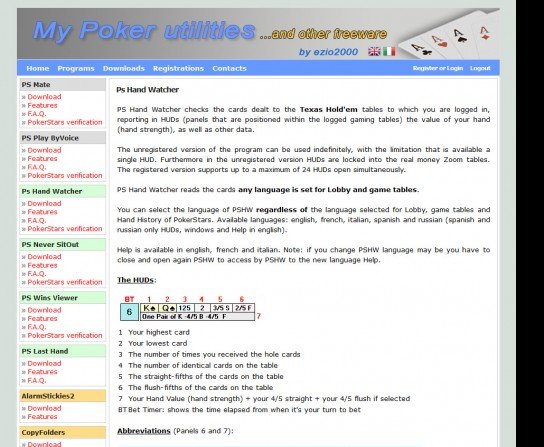 In use since 2011, PS Hand Watcher checks the cards that are dealt to the Texas Hold'em tables that you are currently logged into playing. It then reports the value of your hand as well as other data in HUDs. It can do this in any language that is set for Lobby and game tables.
You can also select the language of the PS Hand Watcher despite the language that was selected for the Lobby and game tables and also the Hand History of PokerStars. It is available in English, French, Italian, Russian and Spanish, however Spanish and Russian only have HUDs. Windows and the Help function are in English.
Other help is available in English, French and Italian. However, if you change the PS Hand Watcher language, you may have to close the program and open it again to access it in the new language.
The application also comes with a log file that reports data from your game sessions.
The unlicensed version of this application has no time limit of use, but you are restricted to using only one HUD and you cannot use a HUD on real money Zoom tables.
Should you purchase the registered version, you can have up to 24 HUDs open at the same time. The registered version costs 3.90 euros.
It has FAQ and email support as well as constant updates.
PS Mate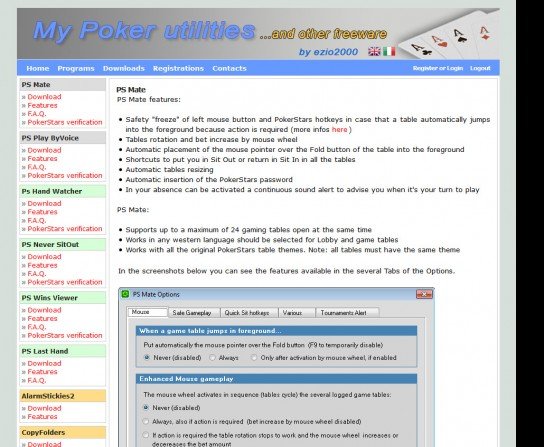 PS Mate, which has been around since 2011, takes your current PokerStars hotkeys and adds additional functions. It is suited to the original PokerStars table themes (although all of the tables must have the same theme). Some of these functions include a safety 'freeze' of the left mouse button as well as the PokerStars hotkeys for when a table automatically jumps into the foreground of your screen due to action needed on your part. It also allows you to rotate tables and increase your bet by using the mouse wheel. It automatically places your mouse pointer over the fold button of the table that is in the foreground.
The application provides you with shortcuts to put in in Sit Out or return to Sit In in all of the available tables and supports up to a maximum of 24 gaming tables at the same time. Should you need to step away from your computer, it will sound an alert to let you know when it is your turn to play. It allows for automatic table resizing and the automatic insertion of the PokerStars password.
PS Mate works in any Western language and should be selected for lobby and game tables.
It is a trialware program that you can try for free for 30 days. Thereafter, you will receive a password within 24 hours of receipt of payment of 3.5 euros.
Selektor
For sit and go players knowing how your opponents playing style is just as important as the quality of your cards. Selektor is another poker tool that plugs into SharkScope and allows you to automatically make notes based off a predefined set of rules that would have been set when installing this tool.
It has two ways in which it can function. You can set the tool to automatically scan the Lobby of Poker Stars and it will pull through all the information from SharkScope and apply the rules that you setup. Once this is complete Pokerstars needs to be restarted to see all the notes the tool has made.
This process can be done manually by copy and pasting the player name into the program clipboard. This is tedious and the automatic way is far quicker and takes up less time.
As mentioned this piggy backs off of SharkScope and you require an active license. Selektor costs $50 for the licence and you have a full range of support that comes with it.
PS Last Hand
PS Last hand is a PokerStars-based application that displays itself in panels inside the chat window of the game tables and has been in existence since 2011. It contains an 'extract' of the previous hand played. This extract contains your cards, the cards on the table and your opponents shown cards.
For PS Last Hand to function correctly, you need to enable the Save my Hands History in the Options section of PokerStars. This can be done in any language. Then the chat window has to be inside the table itself and selected.
PS Last Hand is available as an unlicensed version which can be used indefinitely, however you can only dieplay the last hand panel on one open table. If you would like the full 24 panels that are available, you would need to pay a fee of 1.60 euros. On receipt of payment, you will be sent a password which will give you full access. Constant updates are available for this application.
SessionLord SngAutoColoring
Many apps today work with other apps and piggy back off each other. SnGAutoColoring works with SharkScope to identify and mark opponents. Installing this tool is simple and once the initial setup is completed it is fairly automated.
Setup includes a range of rules that define a player into a category. Once you have set your rules, building your database is as simple as loading a table. Once the table loads the tool syncs with SharkScope and fetches any information available for that player and applies the predefined rule and categorises them by colour and a brief overview with a detailed option should you expand your view.
It is important to note that SnGAutoColoring will not work if you do not have SharkScope installed and a minimum of a silver subscription plan. If you have SharkScope and would like to give this tool a try, it has a 30 Day trail period. If this tool works for you, pricing starts from $9.99 per month and goes up to $29.99 per month for unrestricted access.
Pokerstratagy.com has an additional review on the tool here.
SAGE Decision Calculator
We have all at some point been at final table with a heads up situation where we have a set of cards and don't know if we should push or fold. If you are looking for a small app that doesn't require any installation and that is free SAGE Decision Calculator is a good choice.
The app is very simple and easy to work. All you need to do is input your hand, smallest stack and what the big blind is. The calculator will indicate if a push is suggested or not.
This tool was developed by a lone player/developer and is available for Mac and Windows OS. There however is no support aside from a single thread on this forum should you wish to try and contact the owner.
Tournament Indicator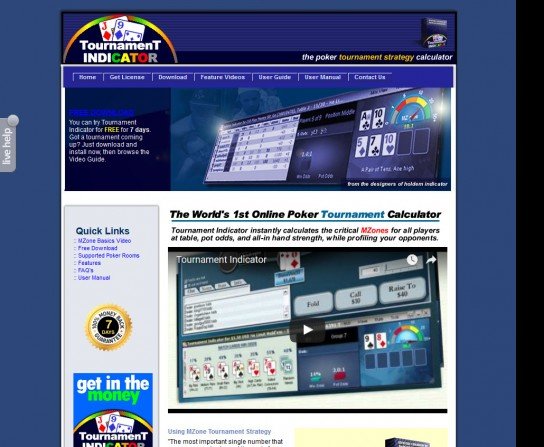 If you use many different poker tools you will know that a good MTT tool is hard to find. If you are unaware, MTT are difficult as you have to change your playing style as the game progresses. Therefore the tool that doesn't calculate moves based on the stage of MTT is useless as early game you want to see as many flops as possible without losing to much of your ship stack so you can possible double up.
TI assist with this by looking at the early deep stack cycle and helps you maintain a decent size stack pre-break and will even be able to help you with the ever difficult all in or fold scenario. It works on a sliding scale that factors in your stack size in correlation to the blind size, antes if applicable and all opponents stack sizes too.
It even has a handy Tilt factor that analyses a player and can give you a warning when they are about to go on tilt. It also has a powerful odds calculator that can help you in the beginning of the MTT and help grow your stack size.
The software has a 7 day free trail after which it will cost you $99.99.
The software was designed in 2007 so it has had ample time to grow and have all the early stage bugs worked out. The development team offer full email support and even have a handy site consultant during office hours.
Sitandgoplant.com has an additional review.
PioSolver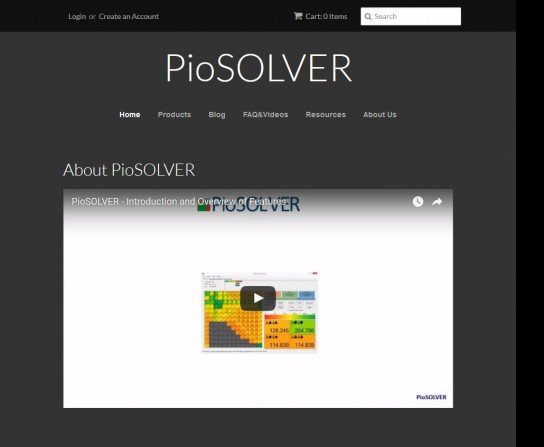 PioSolver is a new kid on the block. While it currently only supports PokerStars, it is still a great tool to use. What this app does is change the way we play poker. Before, poker was a game of intuition and skill. With all the modern tools it has become about analysis of data and math.
It's about who can get to the answer the fastest based on the speed of their tools. What PioSolver does is optimizes stratagies and gives you the exact value of every play in every scenario. But even this is not enough by todays standards. However PioSolver also gives you this information in a user friendly way and also makes it easy for beginners to understand.
PioSolver unfortunately cannot run with the poker client and can only be used for reviewing your performance. As mentioned this is a fairly new tool that was developed in 2015. This tool is available as a free version with limited functions however can be bought if you are satisfied with the results. Pricing starts from $249 and scales up to $1099 for the license. They have full support and an easy to navigate to contact page.
YouTube has a review on this tool that can be accessed from here.
Poker Push Bot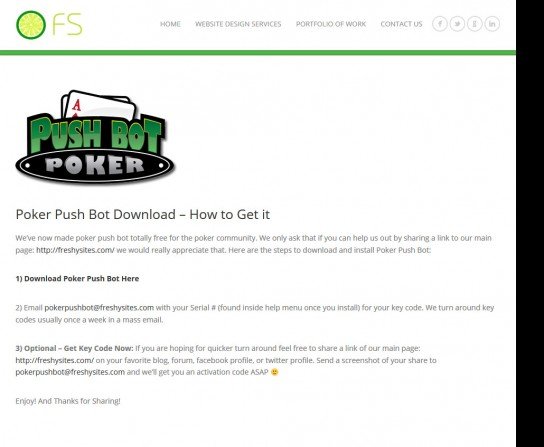 With ample choice in push/fold scenario tools we are looking at Push Bot Poker. This handy app is used for reviewing hands and plays and teaches you a proper all-in or fold strategy in tournaments. You can select specific hands and input them during your reviewing time to learn proper inflection point strategy. You can add a hand range for your opponents and see what kinds of hands play well in the all-in or fold scenario.
The tool was developed by FreshySites and as mentioned it is completely free. The support is easy to access through their website and they have a full list of contact details.
The company is a web design company that has built this app and made it free with the idea that you will share the link on your social media in order to get the free license key. Free tools like these are great if you are learning the ropes of poker and would like a situational tool to show you the way.
Should you wish to view additional reviews mypokersoft has one here.
SimplePostflop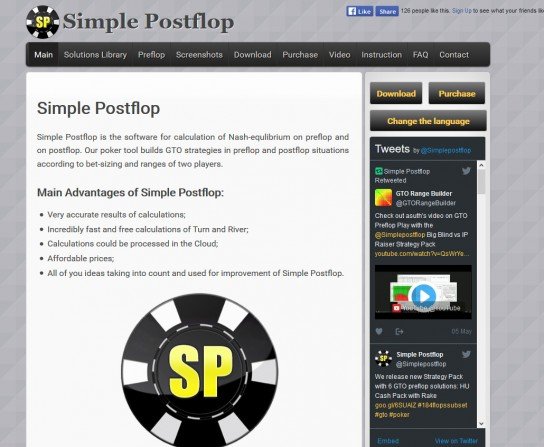 Poker is full of complicated algorithms and mathematical reasons why a call or fold is a good idea. For the average player this can get to be a bit much. That is why there is so many poker tools out there. One that is very useful is SimplePostflop.
This tool implements the Nash-Equilibrium on pre and post flops. This tool is predominately used for heads-up scenario. Even the free version which only calculates the turn and river does it in just a few seconds. This tool can be used as a postflop calculator in a non-heads-up situation too.
Generally these powerful calculators tend to suck the resources out of your pc however the developers have solved this for the less powerful pc by creating a cloud based version of the software so that you don't need to process all that information.
It stands to reason that you should be able to run the calculator on your phone however this has not been confirmed.
As stated earlier there is a free version which can calculate the turn and river for you. Should you need the calculator for the flop too pricing starts from $69.99 per month and $699.99 for a lifetime license. They also release regular updates and have a full range of support with Forums, FAQ and support email.
PSHandler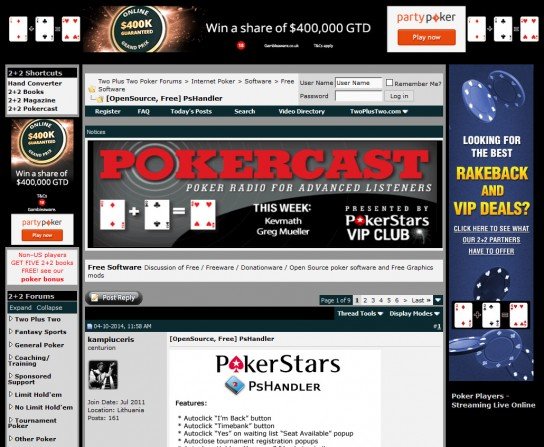 Created in 2014, PSHandler is a one-man operation, free and open-source. Despite this, it is a great program that handles PokerStars. It has a combination of a multi-tabling tool and creating a better user experience on Stars.
It's main focus is on table tiling and arranging to help you with your multi-tabling adventure. Making sure your tables are displayed correctly, it starts with cascading or tiling templates, which you can then edit. You can also create custom layouts should you wish to do so.
When PSHandler opens, it looks like a small rectangle with various menus that are controlled by tabs. Under the 'edit' window for your tables, you will see the 'generate layout' menu which has several options that will prove useful to many users. You can chose how many columns and rows of tables you want and you can get very specific and even specify the number of pixels occupied by each one. It then provides you with a preview to make sure you are happy with your selection.
The program also contains a HUD, a 'controller' menu that handles the autoclicking for the time bank and 'I'm back' and many others.
It provides support to the users via a forum.
For further information, please click here.
WarBot
Warbot is supposed to be a retake on the open Holdem Bot. The developers have attempted to stip down the free Holdem Bot and make it more user friendly.
At this point the question is, has it worked? In short, no. Installation is very technical and even though it comes with predefined profiles, they are very hard to setup correctly.
The interface can become rather confusing and getting clear instructions on what do can be tedious and difficult. After going through all of the above the tool does work like a poker bot should. It allows for multitable play and
They do have decent support methods in the form of skype and email support.
The cost of the originally free bot is $94.89 per year and allows you to install it on up to 3 machines.
Pokerbot-review.com has an additional review on this tool.
SmartBuddy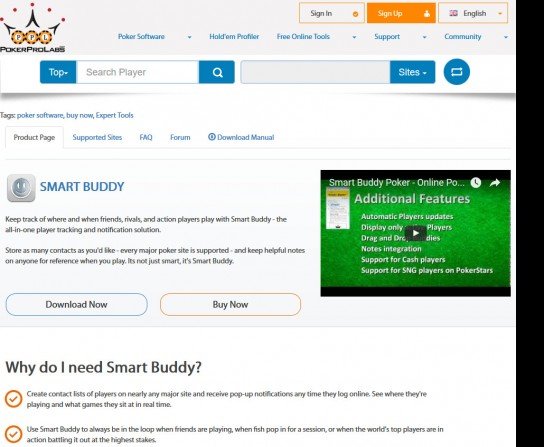 Most poker players have people they play better with. You have a circle of poker fiends. Keeping track of them can be tedious especially if you have to open every poker client you play on just to see who is online and who is playing.
SmartBuddy developed by PokerPro Labs helps you keep track of your friends. More importantly is that you can mark newbies and have pop up notifications of when they are online. This is great if you are looking to play against someone that has deep pockets and little to no skill.
If you like to follow the big boys, you can tag them and know when they are online and you can spectate the big tables or if you have the bankroll join them. The tool is very easy to use and is compatible with most of the bigger poker clients.
They have a full support Forum and FAQ. The pricing is also reasonable starting at $12.99 per month and can scale up to $79.99 for two years saving you some money to put back into your bank roll.
Pokersoftware.com has an additional review.
PS Wins Viewer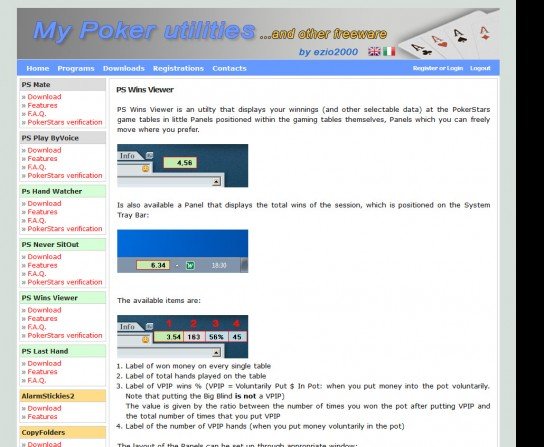 Used in conjunction with the PokerStars game tables, PS Wins Viewer displays your winnings and other data you may select in panels positions within the gaming tables. The panels can be moved around to suit you. PS Wins Viewer also features a panel that displays the total wins of a particular session and this is displayed in the system tray bar.
Other features are things like labels of money won on every single table, the total amount of hands played on the table, the percentage of VPIP wins, the number of VPIP hands.
The unregistered version of PS Wins Viewer can be used for as long as you like. But it does limit you to only one panel and there are no panels available for zoom tables.
Should you pay for the pro version, it costs 2.90 Euros. Within 24 hours of receipt of payment, you will receive a password. This will then give you access to up to 18 panels as well as panels on Zoom tables.
PS Wins Viewer has constant updates and was created in 2011.
SessionLord Multitabling
Sit and Goes are a great source of income. They can happen really fast and you can play loose in the beginning and tighten up as blinds get bigger. However looking for other tables while you already have 3 or 4 tables open can distract you from your current objective.
SessionLords Multitabling is a great tool as it allows you to have a predefined target table amount. You can also set the parameters and conditions for it to be considered a good table. Then once the initial setup is complete it will scan the lobby and find tables that meet the predefined rules.
You can set the maximum amount of tables and split the conditions over them. If you are looking for soft seats with deep stacks but only want two tables like that it is just a few clicks away. It also has a table tile tool that allows you to attach hotkeys to tables for different shortcuts.
This tool has a 30 day Trail with a full list of support and updates. If this tool is for you, it only costs $5.99 per month.
StarsHelper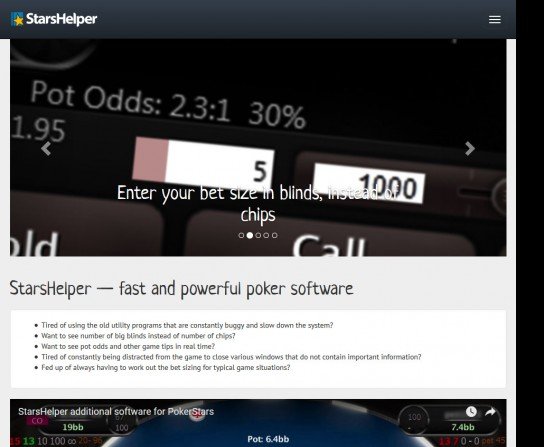 If you are a regular online player and are looking for a useful HUD that doesn't clutter up your screen with information you may not need during gameplay StarsHelper might be able to find that perfect balance you have been looking for.
For starters in MTT knowing how many BB you have left is more important than having a precise chip count. Stars helper can change chip count to BB count and thus help you decide how much of your stack you are putting at stake.
It also has a useful label that is applied to the players at the table so you always know where Button is and BB, SB, UTG etc is. This is a great tool for beginners. It also has a handy Pot Odds calculator and you have useful information like your bluff equity and stack breakdown right on your betting panel. Even though all this information is being displayed it doesn't clutter up the table and doesn't make you feel like you are drowning in information.
StarsHelper was developed in 2013 and comes packed with features and the support to back it up. The website is easy to navigate. The software is also relatively cheap at only $35 so it is definitely something to look at if real time stats are something you crave.
Unfortunately there are no other reviews on this tool however you can read about it in this forum thread.
PokerStrategy ICM Trainer
This is another free trainer by PokerStratagy but focuses on as a Push/Fold trainer. It presents different push/fold scenarios to you and helps you to develop a good understanding of when to play your hand or fold. Unfortunitly it doesn't go into any mathematical reasons why it is a good play to fold or push your hand with and all in but it does help you remember what are good hands to play or toss.
You are graded as you work through the trainer and you are able to track your progress. It also comes with a ICM calculator that will automatically calculate recommended ranges. You can also customise the range based on your position over your opponents. The ICM calculator is limited but one must remember this is a free tool so functionality will be limited.
As with PokerStratagy's Equilab they have been around for the past 8 years. This Tool is also completely free and they rely on forums and other poker players for support.
PokerVIP has a review on this tool here.
PS Play ByVoice
PS Play by Voice allows you to perform certain actions using a voice command as opposed to using your hotkeys. It has 55 languages available and you can even build your own set of words for each command by going to the 'set voice commands' window which could help make commands easier for your microphone to pick up. This program works with the original PokerStars table themes.
Ensure that your microphone is working properly. You can do this by going to your Control Panel and then click on audio or via external programs (this works similarly to Skype, where you have a default user called 'Echo' which is a sound test service).
This program is a TrialWare program which allows you free access for 45 days. Once this period is over, you will need to pay a fee of 7.5 euros. You will then receive a password within 24 hours of payment which you will enter in order to gain full access.
PS Play ByVoice has been on the market since 2011 and it receives constant updates.
PS Never SitOut
PS Never Sitout is a program that helps ensure you do not go into Sit Out while you are playing on multiple tables. It is specific to the table themes of PokerStars and supports up to a maximum of 24 game tables at once. It is suited to lobby and game tables and it works in any language.
The application will automatically put you in Sit In in case you go in forced Sit Out and automatically press the Time Bank button which gives you more time for your gaming decisions.
PS Never SitOut is a trialware program that has been in existence since 2011. It is free for 30 days. After that, you need to pay a fee of 3.90 euros. You will receive a password which will give you full access 24 hours after payment. The program provides the users with constant updates.
Stud Indicator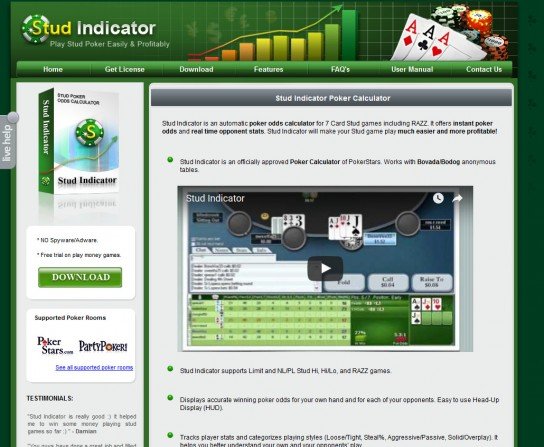 If you play Stud Poker you are extremely limited to tools that can help you develop your game. For a long time Stud was the biggest poker game played.
Not NL holdem has taken the stage and all poker tools are generally made for Holdem. However with the release of Stud Indicator you can improve your stud game and have all the tools that Holdem and Omaha have.
Stud indicator is easy to install. However it is only available on the Windows OS at the moment with talk of it being released for Mac too. Stud indicator attaches itself to your table and then all the fun things start to happen. The Tool start to gather useful information about your opponents and analyses there playing style.
This is useful not only for when you want to review your game but it also gives you useful information in the player stats at the bottom of your table. It works almost like a HUD.
Stud Indicator was developed in 2010 and the development team have a standard support structure in place. The tool comes with a 30 day trail. If you like the tool you are able to purchase it for $69 for a year license or $149 for a lifetime license which initials you to all future updates.
Pokersoftware.com has an additional review.
Table Optimizer
When playing multiply tables at once, one can often lose track of which table is waiting on us to act. This can result in an auto fold and sit out which could cost us blinds.
Table Optimizer is a tool for PokerStars that helps you manage multiple tables at once. The tool also looks for tables that have large pots and will prioritize those tables. It also removes the unnecessary windows and boarders surrounding the table and allows you to allocate shortcut keys for different actions.
The software has been optimised so it doesn't use up all your system resources. The software is easy to use and easy to setup. Once installed you have 30 days to test out the software. If you like what it can do for you, you can purchase a one year license for $30.00.
The site makes use of a forum for support. It is easy to navigate and they answer you fairly efficiently.
Unfortunately there are no reviews on this tool however we do have a YouTube video on this product.
WinHoldem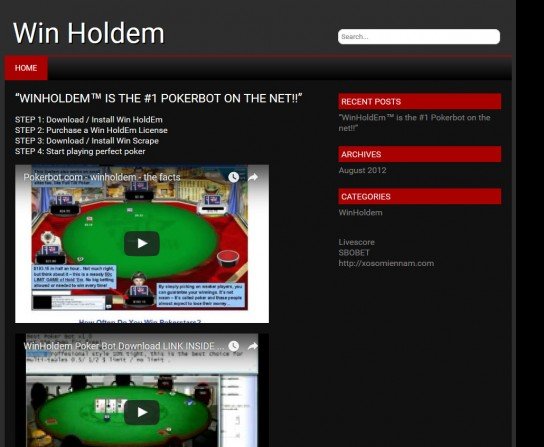 Another bot we are reviewing is WinHoldem. What the bot does is identifies game status through the game feed status window on the side of the table. It then identifies probable outcomes and relays that back to either the player or the decision making engine.
After a slightly tricky installation, the bot comes with a predefined profile that can start playing immediately. All you would need to do is log onto your poker client and be seated at a table. The onscreen scraping software takes over from there and begins to process information and play. This can be assisted or completely autonomous.
The developers claim that multi-table play is possible, however after a brief time, the poker bot becomes confused and starts costing you money. Thus it is suggested that if you are going to use this tool, stick to one table at a time.
Unfortunately the site is not very user friendly and the download is not available. Support for this Bot is also not available.
Additional reviews on this bot can be found at archives2.twoplustwo.com/
TableDroid
Time well spent is money earned. This couldn't be any truer in the world of online poker. TableDroid is a tool that helps streamline your gameplay with utilities that assign shortcut keys to predefined actions.
In other words when you want to open a $1/$2 NL table with your favourite online poker site you can assign a shortcut key to open that table. You can also predefine a buy-in amount and assign that to a shortcut key to.
The shortcut list is fairly easy to assign and you can create shortcuts for just about anything from folding to min raise to all in. This tool can even assign theses keys to a USB controller. In no time at all you could be playing poker with a comfy xbox controller for instance.
With all the time you will save, you can spend more time on the table making decisions that are making you money.
The Developers at TableDroid have been saving people time since 2011. Their software is free to test out for 14 days. After that, the license is only $59.95. This includes all future updates and you have a full line of support that includes FAQ, Email support, Skype Support and a full list of tutorials and training material.
Table of Interest
Poker players that make a living off of online poker will play on multiple tables at once. This maximizes the amount of cards they see and the chance of being able to profit off of a hand. Table of interest was developed by This and originated as a suggestion in a poker forum.
This Tool allows you to play with all your tables stacked and only have the tables that require action open. In other words you will have a compressed stack of tables on top of each other and when a table requires action it will sepperate from the stack automatically and move to a predefined area. This is useful if you cannot run a multi-screen setup.
The program is quick and easy to setup with little to no experience needed. Once you have selected the areas you want the main stack to sit and the area where all the action is happening you are ready to start playing. You can go into further options and predefine hot keys like auto fold. This is accessible from the options tab.
Unfortunately this tool has been discontinued. It is no longer available and is not possible to obtain a full version of the tool.
An additional review is still available at pokersoftware.com.
PokerStove
If you are looking for a free hand calculator that has ranges built in PokerStove is perfect. It allows you to calculate your equity preflop against a set hand or a range of hands. Simply put if you can work out how much you are in for you will be able to make an informed decision on how to maximize profit vs risk in each hand.
You can also use PokerStove to select the rest of the board and it will give you your equity chance of winning in a percentage format.
With this tool being completely free it is the one must have if you are looking for a equity calculator. The tool is only available for Windows. The software has not received any updates for the past 3 years and the owner's website has expired. Chances for support are non existent from the developers but as this is a well-used tool there are many forums where fellow players can assist you with any issues.
An additional review can be viewed at Poker Bank.
Poker Prophecy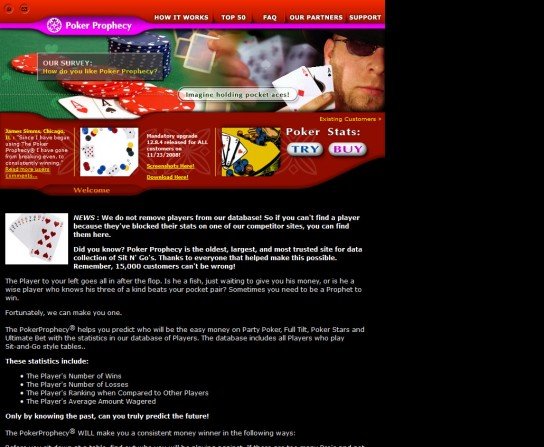 Taking over 6 months to develop, this database uses high speed computer to record countless tables and over 9,000 players every hour for Party Poker, approximately 1,000 tables and 8,000 players at PokerStars, and other resources from Full Tilt Poker, and on Ultimate Bet, depending on the activity on the website, 24/7. It then tracks the names of the winners and losers of each table, including information such as the player's number of wins and losses, the average amount the player bet as well as the players ranking. Using the information captured on 60-90% of the available Sit and Go games on various sites, it helps predict the outcome of the game, giving you the upper hand.
Sites such as Party Poker, FullTilt Poker and a few other smaller sites (which joined in 2005), are all monitored.
Unfortunately, this software is no longer available, despite claiming the free trial is operational when it is not.
Universal Poker Table Organizer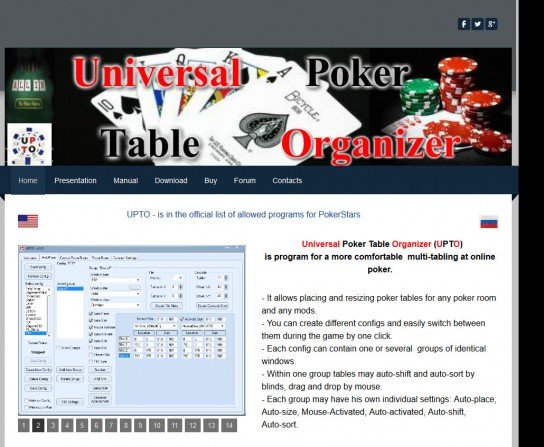 If you play multiple tables at once you will know that trying to keep them organised and trying to keep track of which table is your turn to act can be difficult.
With Universal Poker Table Organiser you are able to place and resize the tables to fit on selected screens. Not only can you resize them but you can configure different settings to switch between the tables seamlessly and easily. You are able to configure that tool to arrange the tables by blinds or drag and drop the table where you deem fit.
Not only does the tool do all of this it will also notify you when it is your turn to act by moving the table to the first slot so you always know where to look if it is your turn. It does this by assigning a normal state to tables where it is not your turn and tables that are active waiting for your action.
You can also assign hot-keys for fold, call, Raise and all in.
You have can try out the tool for 30 days after which it is only $30 per year. They offer full support via email and skype.
Unfortunately there are no additional reviews but you can read on user opinions on this thread.
FreePokerDB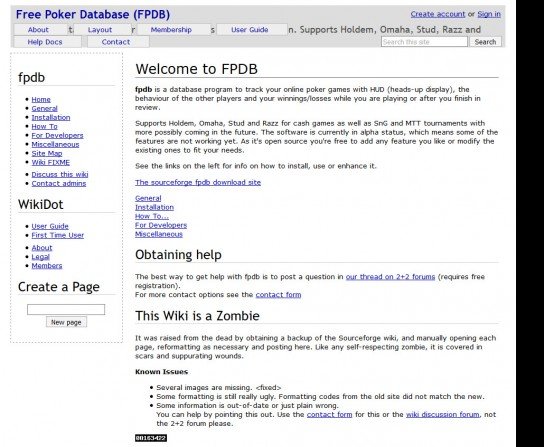 When something is opensource it normally comes with a few strings attached. This can be said with FreePokerDB. Firstly without MySQL you will not be able to run this tool. Then you will need to add the FreePokerDB to the MySQL database manually. After all of this and sever pc reboots, you will need to create the custom tables and then the stats and HUD will function.
All that being said, once you have jumped through a few hoops to get to this point, this tool works really well. The mass import system works well and you will have your entire had history and player statistics in moments.
The HUD appears at your poker table, however it does require you to move them to the corresponding player. All this being said, if you are new to online poker and want to have a free database of hand histories that is compatible with other HUD systems and tools then this might work for you. And one thing to remember is this is completely free.
There is limited support but quite a few support threads on different poker forums.
Pokersoftware.com has an additional review on this tool.