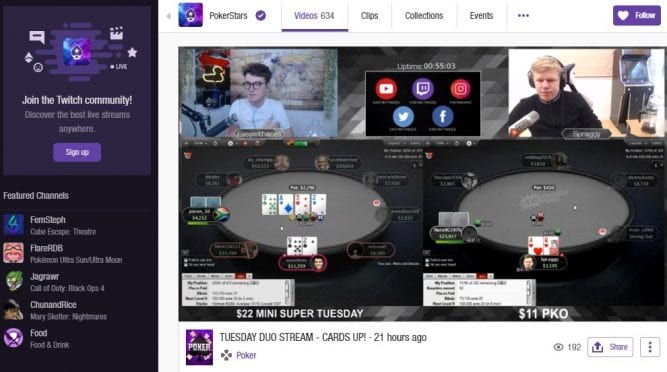 First on this list is PokerStars' Twitch channel, and rightfully so.
The channel boasts of countless hours of poker content, ranging from streams of major online tournaments to educational content from famous poker pros.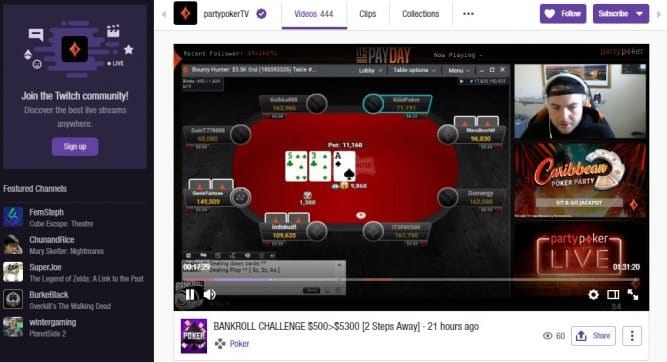 partypokertv is one of the most favorite Twitch streams for poker players and is known for its nostalgic feelings of stacking fish.
Their channel recently got a huge boost of subs and viewers when Moldran of WoW and Diablo fame started to play poker on their channel.
Their channel includes online poker, cash games, MTTs, and interviews.
BellagioPOTS streams live poker straight from the Bellagio Poker Room.
Their streams also feature professional poker players like Dan O'Brien and Mike Del Vecchio, along with commentary.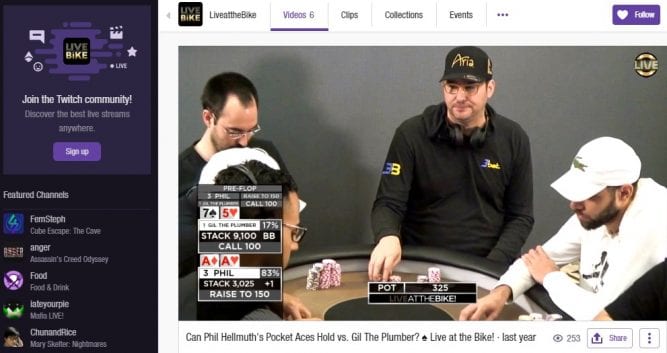 Live at the Bike streams twice a week with poker personalities like Bart Hanson and David Tuchman headlining these streams.
As the name implies, they stream live poker and $5/$10 NLHE.
If you subscribe to their channel, you get access to their older videos.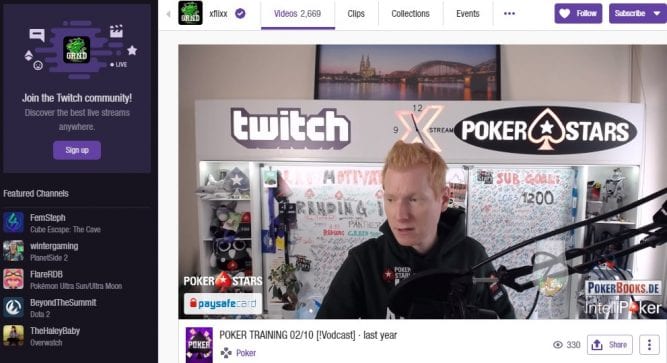 If you want a Twitch channel that aims to help you get better at poker, then Felix Schneider's channel is worth subscribing to.
He gives solid poker advice on his streams, making him one of the best poker teachers on Twitch.
If you want a very entertaining poker channel filled with high profile guests and poker shenanin, then the Thirst Lounge is perfect for you.
Hosted and owned by billionaire Bill Perkins, the Thirst Channel is one of the most unique poker streams to ever hit Twitch.
Known as the "Professional Best Friend", Jeff Gross finds it easy to bring in people like Michael Phelps to be on his twitch channel.
Apart from streaming entertaining poker games, he also provides great educational content for both new and experienced players.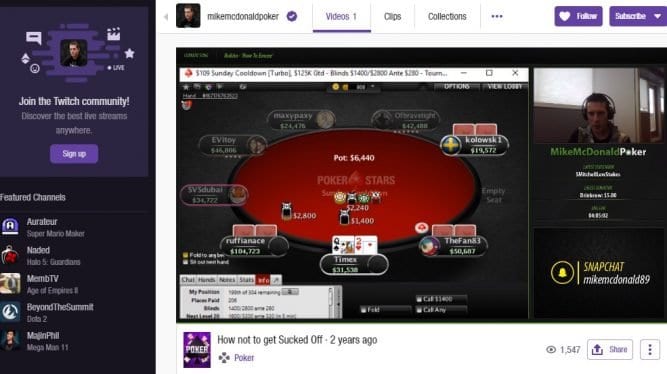 Mike McDonald is one of poker's brightest players ever since he debuted (and won) at EPT Berlin when he was only 18 years old.
Now, you'll find him streaming some MTT's, Hold'Ems, and some poker playing advice for his viewers.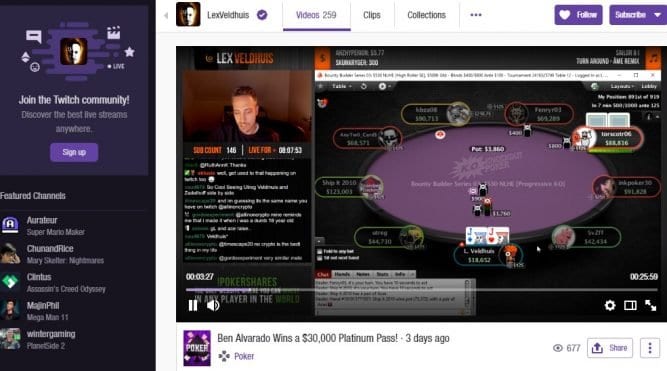 Known for being a dynamic poker player, Lex Veldhuis brings his entertaining TV personality to Twitch.
This Dutch pro regularly streams MTTs with a little bit of video games as well.
Whether it's a game of poker or a round of H1Z1, his commentaries are witty and entertaining.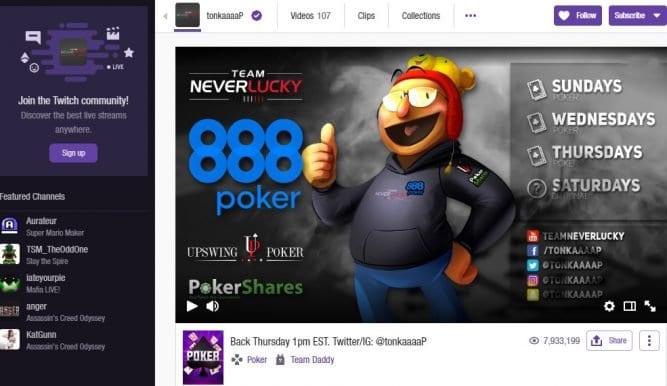 We've never seen a more energetic player than Parker "TonkaaaP" Talbot.
He streams MTTs most of the time, but he also streams card games like BlackJack if he or his viewers need a little bit more gambling action.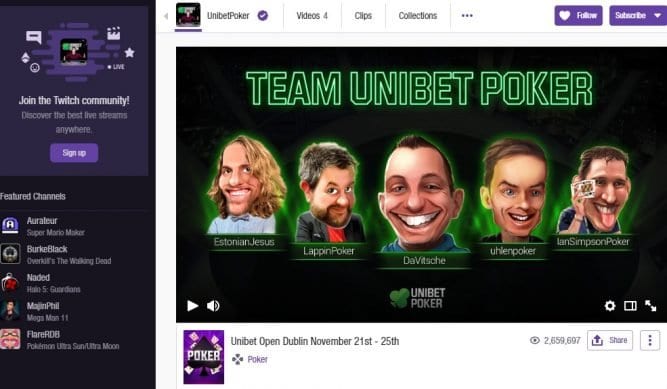 Unibet Poker's channel streams a lot of games and brings in notable poker personalities like Viktor "Isildur" Blom and Charlotte van Brabander.
They stream a lot of MTTs, cash games, special events, live poker, and Hearthstone, Blizzard's very own card game.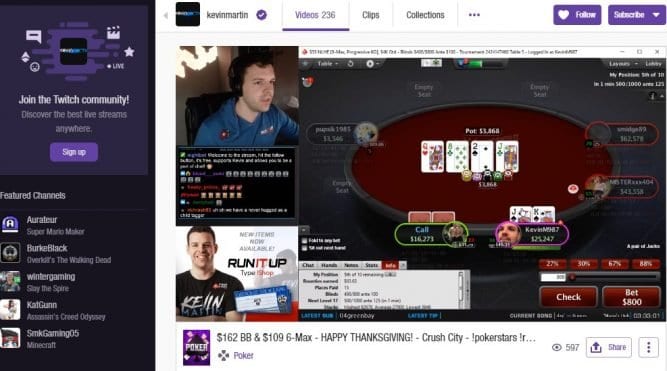 Kevin Martin plays a lot of mixed games and NLHE tournaments, and is known for playing all the stakes.
He's gained a huge following for his poker skills and his appearance and victory on Big Brother Canada.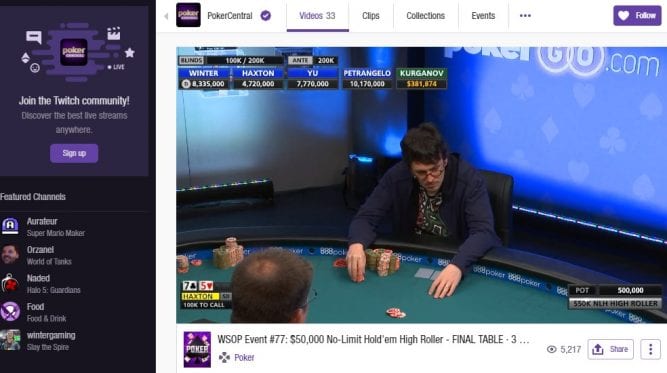 Poker Central is TV's first 24/7 poker only network but it doesn't stop them from crossing over to Twitch and making sure that everyone has access to everything related to poker on TV or online.
You'll mostly find interviews and casual games in their channel, so don't expect too much high-stakes gaming.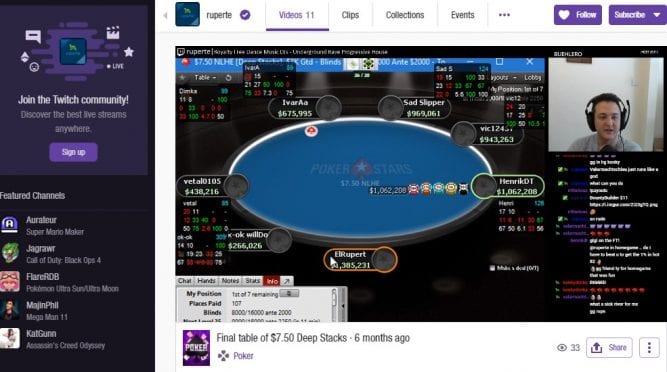 Watch Biggest Ever win on Twitch Ruperte wins Winner $540 for $125k from ruperte on www.twitch.tv
Known for his consistency, Rupert Elder earned close to $2 million in live tournament winnings and another $2 million in online tournament winnings.
Elder plays high level poker and is perfect for anyone who wants to know how to play like a pro.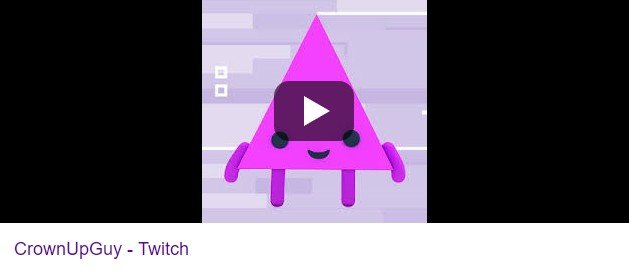 Poker fans and players rejoiced when Fedor Holz started streaming and you should follow him for one reason: he's very good.
His streams are very insightful and analytical, so pay attention to everything he says.
If that's not enough, he donates his earnings from Twitch to charity. Talk about a class act.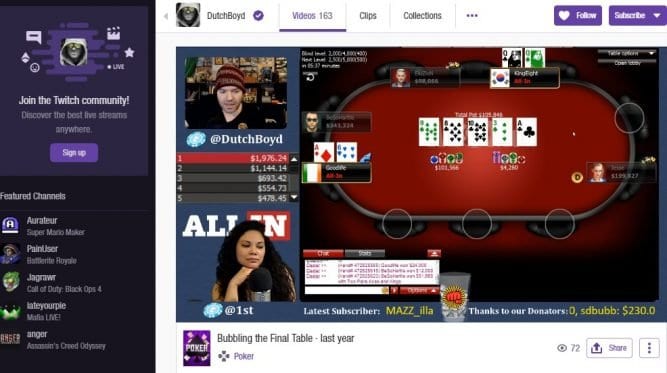 Author of Poker Tilt, Dutch Boyd produces one of the best educational poker streams on Twitch.
His unique high-level approach of playing poker has earned him numerous subscribers and you can actually learn a thing or two just by watching him play.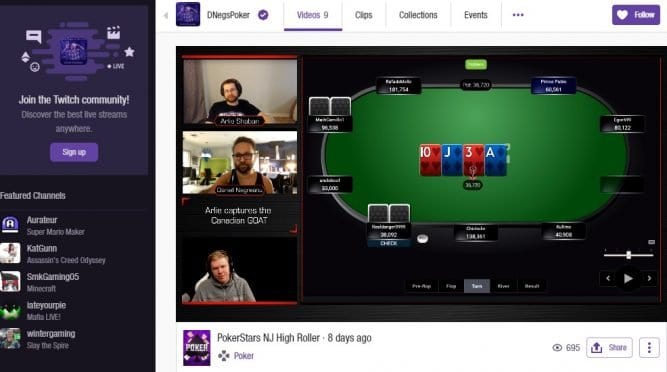 Daniel Negreanu is probably the most popular player in the world (right alongside Hellmuth and Ivey).
His streams are entertaining and his non-poker dialogues are unregulated, so he'll talk about anything.
Of course, he still produces great poker content.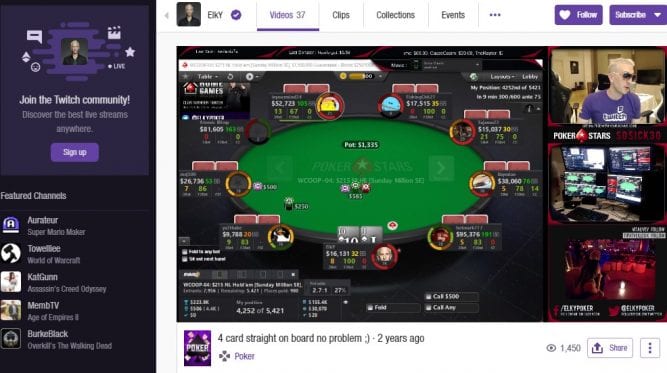 You probably recognize ElkY from the time he played Starcraft, which was also his claim to fame.
But these days, his channel is all about poker (and some Hearthstone in between). But don't let his video game background fool you.
He's a PokerStars pro who plays the game at a very high level.
If you want educational content through gameplay, ElkY is your guy.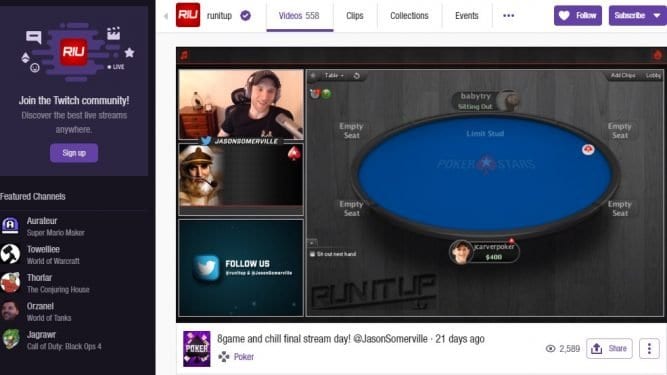 Jason "Jcarver" Somerville is a former Ultimate Poker pro and is known for being one of the best poker streamers.
He generates close to a million views each stream and offers the most polished and most informative poker content on Twitch, making his $4.99 subscription worth every penny.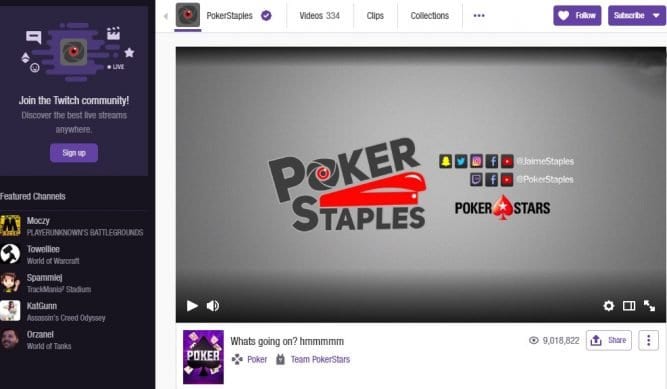 Jaime Staples is one of the most promising up-and-comers who streams MTTs on PokerStars.
He's a consistent streamer, so you'll find him streaming every day (except Fridays).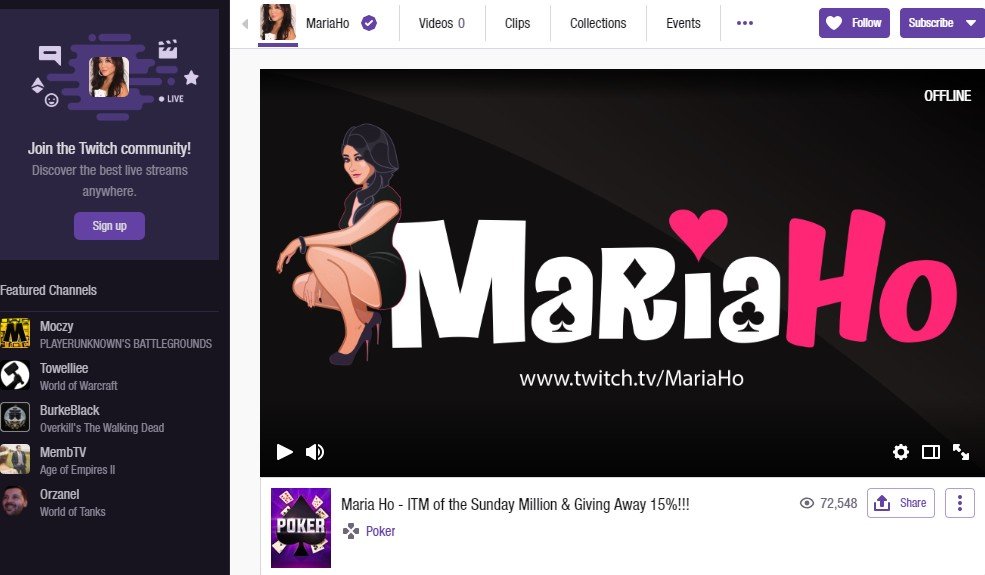 Maria Ho may be a busy poker player, but she still finds time to produce quality and entertaining Twitch streams.
She plays NLHE cash games and tournaments, but she's mostly popular on her stream because of how she interacts with her fans.
Her fanbase call themselves the "Ho-mies".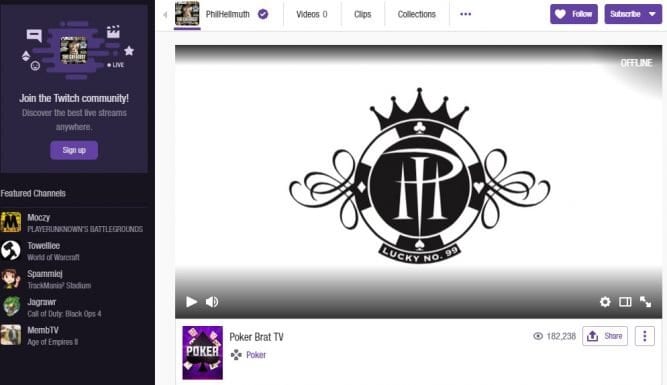 Much like Daniel Negreanu, Hellmuth is a man who needs no introduction.
Being one of the top poker players in the world, it's no surprise that he is still able to produce quality poker streams even though he's not exactly technologically adept.
If you want to build a solid network of poker content on Twitch, Hellmuth should be on your list.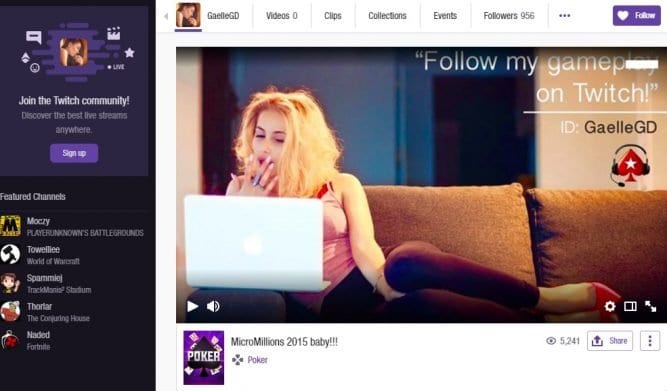 Gaëlle Garcia Diaz is a Belgian/Spanish model but don't let her looks fool you.
She's known for hosting various poker tournaments and is rather good at small-stakes MTTs.
Her Twitch channel mostly covers a lot of MTTs, and on occasions, she plays Magic The Gathering on her streams.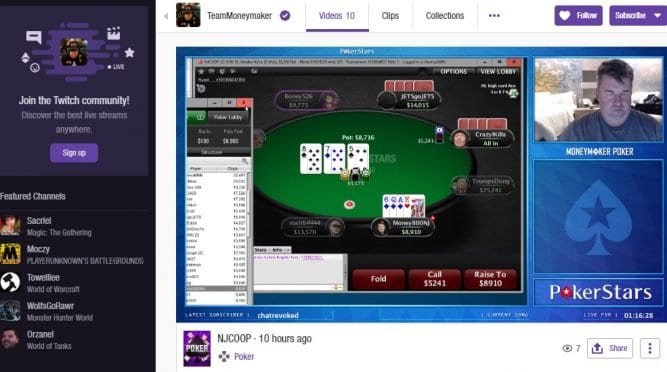 Chris Moneymaker etched his name in poker history by winning the Main Event through an $86 satellite on PokerStars.
His streams are most of his home games on PokerStars, and while he's not as sophisticated as the others, he's still very entertaining.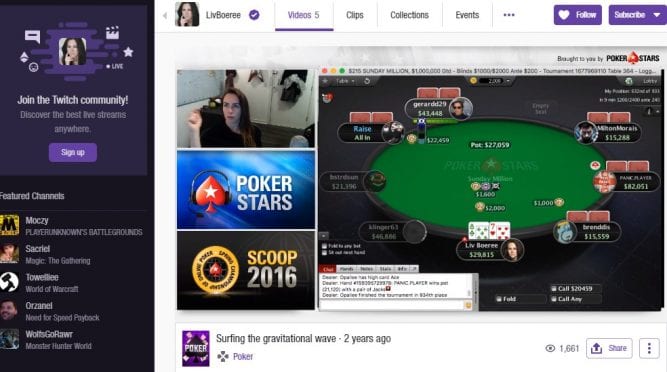 Liv Boeree is a UK streamer who plays mostly tournaments on her Twitch channel as well as sharing some insights about the poker industry, a little bit of Igor Kurganov cameos, and her personal life.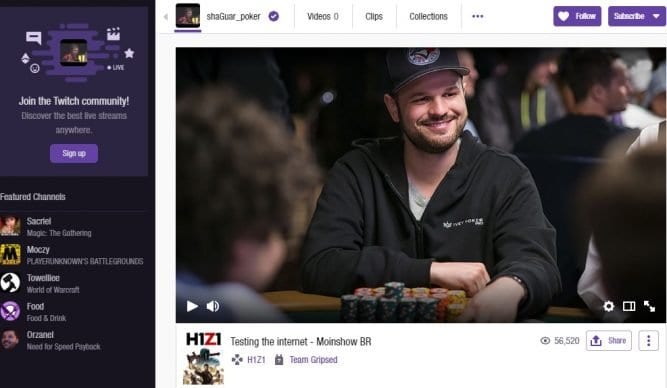 Bearing the name of ShaGuar, Benger used to be a famous Counter-Strike player on Twitch before he started to showcase poker.
Just like ElkY, his streams are mostly big tournaments on Full Tilt Poker, partypoker, and even Poker Stars, with a little bit of Counter-Strike on the side.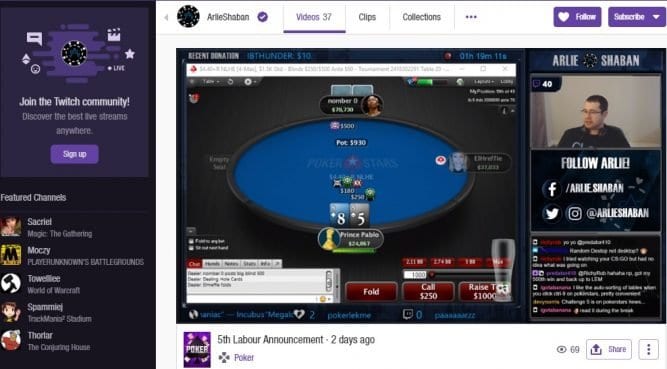 Shaban lived the dream of quitting his day job to become a fulltime poker streamer and player, and he hasn't looked back.
Since then, he's got over 9000 followers because of his upbeat and fun approach to playing poker.
Make no mistake, he's passionate about what he does and his passion is reflective of his skill in playing poker.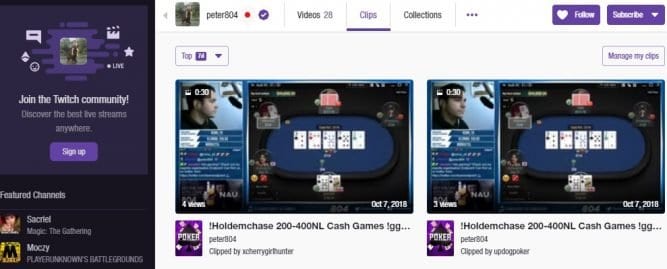 Thompson has been playing poker for 10 years, so he's totally legit when it comes to sharing his knowledge.
He's good at mid-high stakes cash games and Zoom.
His streams are very casual, but the contents of every stream are valuable to every cash player looking to enhance their skill.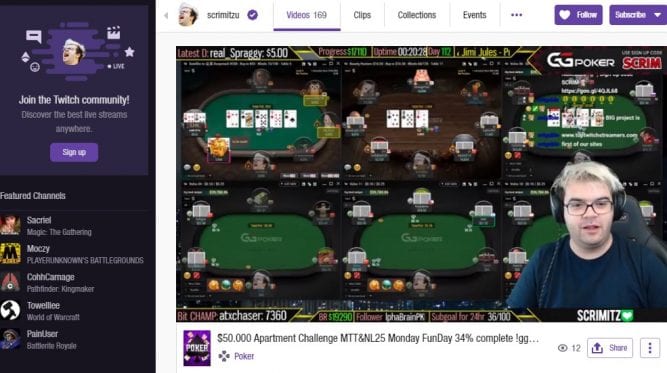 Stefan's Twitch channel is a beautiful mix of education and entertainment (and some Counter-Strike), and the hilarity often makes it difficult for some to take him seriously.
He provides in-depth hand analysis and goes deep into his thought processes and playstyle.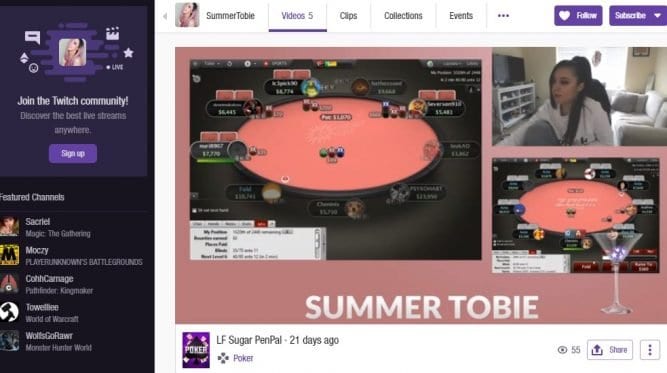 If you ever wonder if there's a channel that shows a player's progression in poker, we can only think of one person: Summer Harald or SummerTobie.
Harald streams micro-stakes games on her channel, but she makes it feel like she's still learning the game and she makes it possible for her viewers to learn alongside her as well.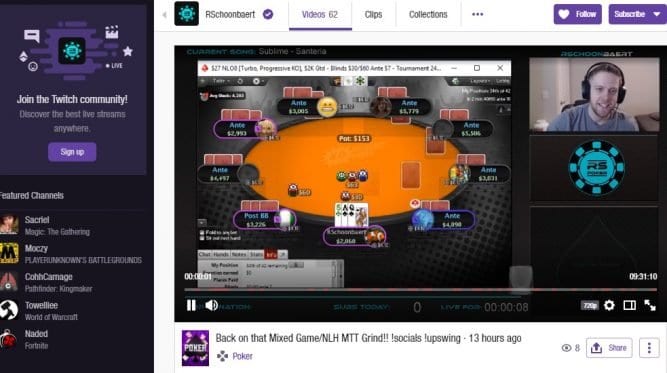 This Canadian poker player has proven himself on the live game scene by earning over $80,000 in tournament winnings.
But now he's transitioning into online tournaments and he streams it for everyone's entertainment.
His channel consists of mid-high stakes mixed games, so one day he'll stream MTTs and Pot Limit Omaha on the next one.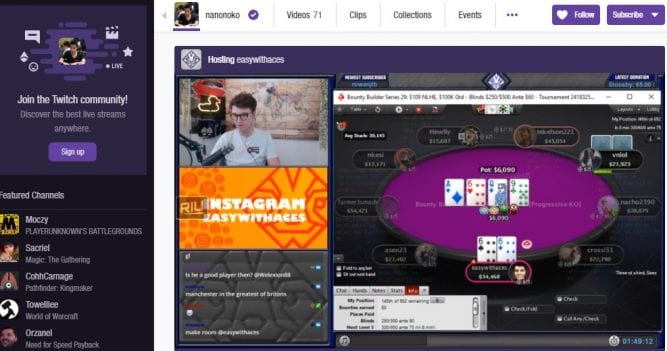 Randy Lew is a member ofTeam PokerStars Online and has been streaming his online grind for many years.
He also set the Guinness World Record during the 2012 PokerStars Caribbean Adventure where he played a total of 23,493 hands in 8 hours with a profit of $7.65.
But his streams are not as adventurous as that.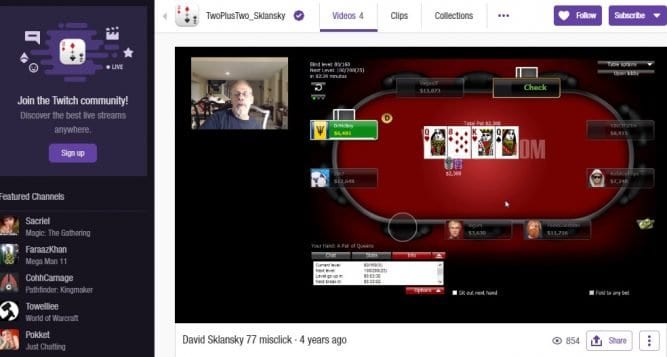 Author of the Theory of Poker, David Sklanskly took to Twitch to provide in-depth discussion about the world of poker while playing online poker games.
He doesn't charge any subscription fee, but the takeaways from his streams are very valuable, so watch his stream every chance you get.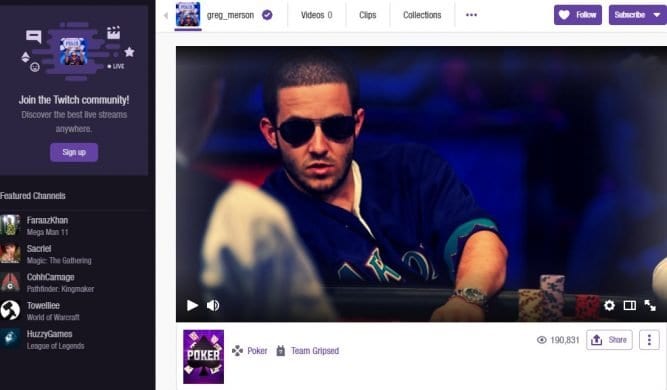 WSOP Main Event champion Greg Merson shares his secrets to poker success on Twitch.
He's a little tricky to catch though because he streams on either his official Twitch profile or on the Team Gripsed Twitch channel.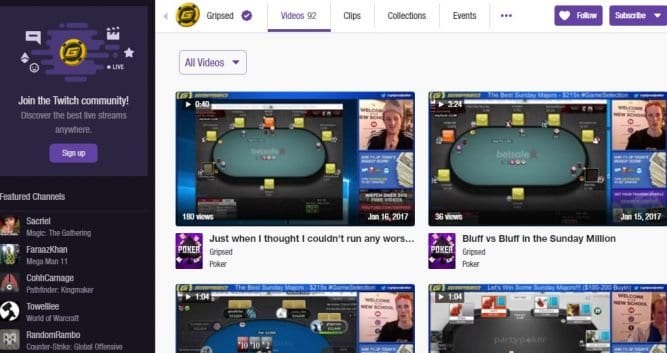 Much like their YouTube account, Gripsed's Twitch channel is a rich diaspora of poker content.
The channel is run and hosted by Evan Jarvis and Greg Merson, and they go above just hosting online poker sessions.
On top of their games, they also stream interviews and Q&A sessions with other professional players.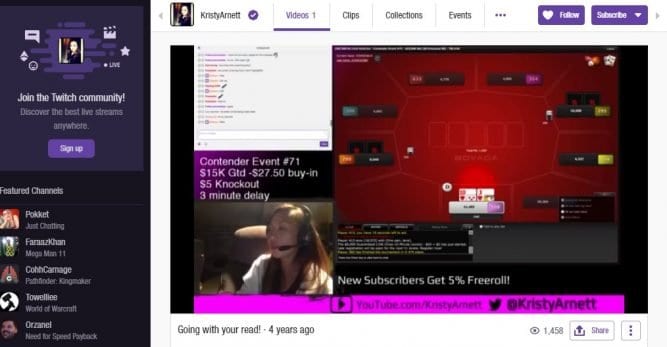 Arnett may no longer be a part of PokerNews anymore, but she's now on Twitch.
With her newly opened account, she streams her online poker games mixed casually with advices on how to improve your poker game and how to live a healthier lifestyle.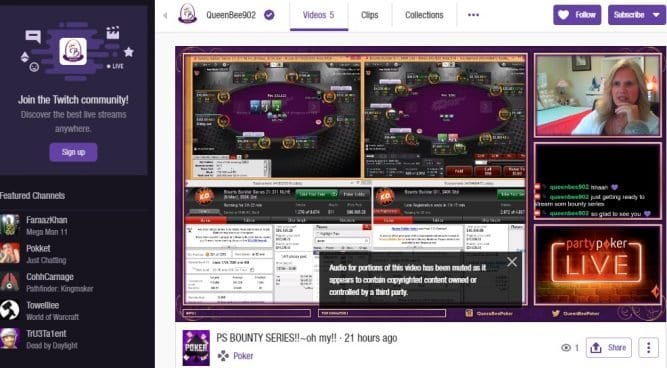 Known as QueenBee902 on Partypokertv stream, Deborah Vanneste is a former Canadian Navy reservist turned poker player.
She started out on partypokertv's stream, but then she set out to make her own channel.
Much like SummerTobie, her streams are educational and mostly focused on how she's constantly improving herself.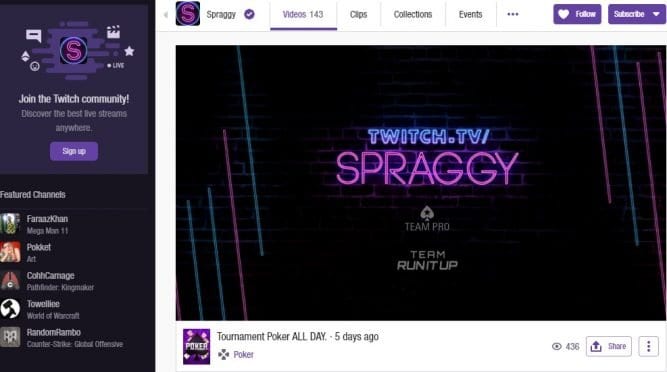 Spragg is one of the brightest up-and-comers to poker streaming.
This young lad has been in the industry for quite some time now and is turning into one of the premier poker players (and channel) today.
Because of his skills, he was offered the chance to join Team PokerStars Online, playing alongside Fintan Hand and Jeff Gross.
Don't ever forget that your goal on Twitch is to have fun and to learn.
The streamers that we've listed so loquaciously here will help you become a better poker player while making the learning experience as fun and interactive as possible.