How does PokerTracker work?

A clever program, but how does it work?
It needs to be installed like any other software that you do on your laptop or computer, you would need a license to make the best use of all its features.
You can upgrade to a better version or license if you need to, so do not worry if you want to try out the lesser features first before deciding to buy the full version with all the features.
After installing the software you would need to create a database.
The database contains all your hands, results; cards etc. will be stored so that you can have all the information available to you at any time.
The final step would be to decide which currency you would be using and the software would be using when you are playing your poker games. You would also need to choose the sites and networks where you play your games.
PokerTracker will then create a database of hand and histories which are part of the original database if the software cannot do something like this for a website, and then you can manually create hands and save them.
The next step is to provide names for all the websites and networks where you play the game; this is done so that you get information about hand histories and games being played.
PokerTracker provides a lot of other information which is related to your playing style as well.
Setting up the HUD to show only information that you want is the final step before you can enjoy playing your game with this magnificent software. PokerTracker does provide a basic setting, which in itself is quite amazing but with the ability to tinker the HUD, you may be able to get a better experience than the default HUD display.
Once all this is done, you just need to start playing poker on any site or network and presto! The software runs and the HUD will start displaying all hands and stats from your current game.
PokerTracker for your help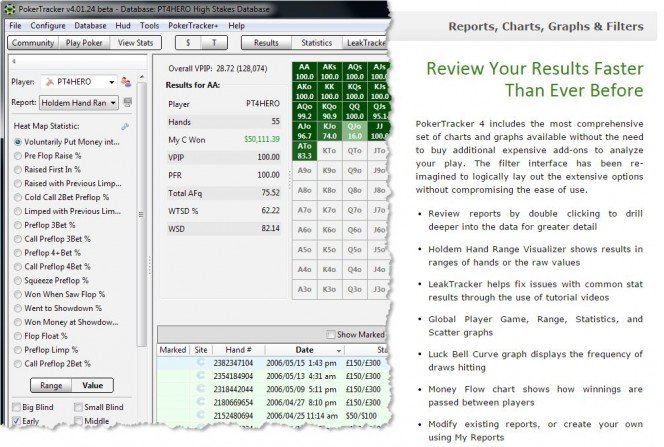 PokerTracker is like your best friend.
With almost everyone using some sort of online help while playing the game, PokerTracker is one such tool which should not be missed. Apart from making life easier when playing poker, it augments your skill and can make your poker earnings and life much better.
The software can help you conceal some of your shortcomings and make you a better player all around, some of the features in PokerTracker which can help you out include:
Graphs: The software comes with a set of graphs which can provide you information about how much your winnings have been, expected value, your rake backs and of course your win rate.
Reports: One major aspect of PokerTracker is it shows tournament statistics, depending on how long the tournament goes.
The HUD: This HUD is customizable, which is something you do not get in most software. It provides a lot of stats on the fly and keeps you updated throughout the game.
Session reports: Another great feature of PokerTracker is the ability to go deeper into your games with a slew of interactive reports on your poker playing sessions which can help you find out various things about how you have done over the games.
Playing a few games with this software can help you learn a lot about your game and how good the other players are. The software also has a nice note feature which keeps a tab on the opponent players and writes down valuable information about their playing style which you can check up later.
You can also buy another add-on to your software which is called TableTracker. This helps you find the best tables on various poker sites; the tables are filtered out to match what you like based on your playing style. In short, the software finds the best tables which can help you win more.
Try before you buy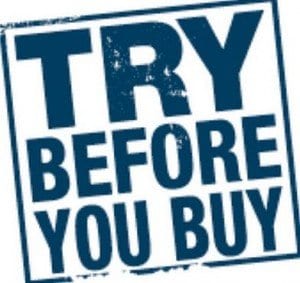 No risks for me, thank you very much!
PokerTracker does have a 30 day trial period where you can see how well the software works for you.
Of course, once the 30 days are up you would have to either stop using the software or purchase the complete software to continue your poker games.
PokerTracker should not be considered as something which only the professionals use, this is something which should be taken up by poker players who want to learn a lot more about not only their playing style but also are looking to win more games.