How I did this Unibet Poker Review
Deposited USD 50 with NETELLER
Played 20,707 micro cash games
Used the poker strategy tough by Jonathan Little
Played all the game variants
About Unibet Poker
Let's take a closer look at Unibet poker and the people behind.
Unibet poker is considered to be one of the major players in the online poker market. They are owned by Kindred Group, founded by Anders Ström in 1997.
The Unibet brand came into existence in 1999 and now operates in more than 100 countries across the globe.
Their customer base has expanded rapidly over the past five years and, their reputation, compared to some of the other poker companies is excellent.
They have approximately 11 million users across the globe who are registered to play poker with Unibet.
That sheer amount of players is of course very good for us, which means lots of new amateur poker players to benefit from.
Are they trustworthy?
Due to their long history and size, you should have no worries about the legitimacy and trustworthiness of Unibet poker. I never experience any trouble with them.
Deposits and Withdrawals at Unibet
Deposit options are limited to PaySafeCard, electronic checks, Skrill, Neteller, Visa and MasterCard while the withdrawal options are PaySafeCard, electronic check, Skrill and Neteller. The deposits are not accepted between 10 PM to 10 AM.
I made a deposit of €50 using Neteller. The deposit was instant and very easy. I highly recommend getting a Neteller account if you haven't already.
Bonuses
Unibet poker offers a top-notch welcome package for new poker players upon their first deposit. If you do a minimum deposit of €10 you will receive the following:
€20 worth of Poker tickets
€200 Play-through Bonus
Both come with some restrictions and how much you need to play to receive and withdraw bonuses. But, that is standard for online poker bonuses.
Here is what I received after making my deposit of €50.
1 x €8 cash game ticket
3 x €4 Unibet Open tournament tickets.
€200 Play-through Bonus
4 x €500 Welcome Free-roll Tickets
Gameplay
There is no shortage off playing options for Unibet players. You can play on any device, if you are on a computer you can play directly in your browser, or download the poker software for PC or Mac.

Your option if you want to play on a computer.
Your options for mobile play.
Since I almost always do multi-table poker play I use the PC desktop app.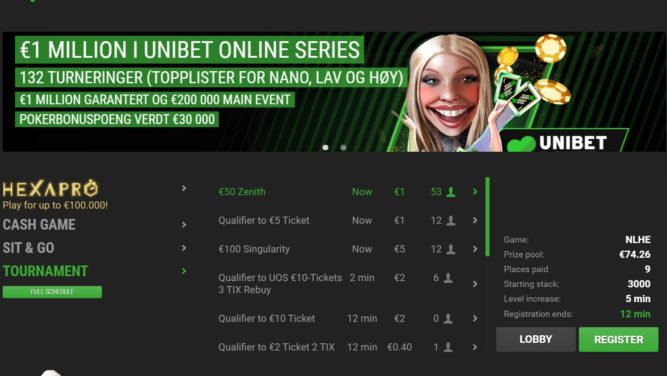 One thing I really like is that the desktop and instant-play browser app is very similar. This means you don't have to get familiar with two interfaces if you want to use both options.
Tournaments
There are different tournaments that Unibet offer, and it gives you a great selection to pick from. There is Freeroll, Multi-buy, Freezeout, Bounty Tournaments, Guaranteed Tournaments, Satellites and Pot Limit Omaha Tournament types to try your hand at.
Free-Rolls
Although they have a small prize pool and highly populated games, they still offer some freerolls of $100 which run on a daily basis. Moreover, there are some promotional freerolls which offer larger prize pools. The process is pretty simple, the player has just to log-in to the portal, and they are entitled to freerolls at Unibet. It is a site which offers nice rewards, and one which acts as a motivation for those who are new at the site.
My Case Study
Now, we will look into how easy/hard it is to make money playing poker on Unibet. Since they have millions of player accounts and not all play poker, one would assume a lot of those low skilled poker players are easy targets. Well, if you also believed that I would say you were right.
I played 20,707 cash games at No Limit Hold'em $0.02/0.05, 6 player max. I did this by multi-tabling four tables and this made me average around 300 hands per hour. The strategy I used is the one tough by Jonathan Little in his book "Strategies for Beating Small Stakes Poker Cash Games." I am by no means a professional poker player. I am an amateur player, playing mostly for fun and thus that is my benchmark.
So, how did it go? Unfortunately, Unibet doesn't allow hand history tracking, at least not with the aid of PokerTracker. So, I had to do some manual work and some other magic to record my hands. In the end, I played 20,707 hands and turned my initial deposit of $50 into $515!
It is not the best results I have had on poker sites, but it is still very good and shows that with a sound strategy Unibet players are exploitable.
Support
The telephone service is not 24 hours but limited to a time frame of 09:00a.m to 9:00p.m. This can cause some customers challenges and will often depend on where about in the world you are located as to whether or not you are going to be able to get someone on the phone at the time you choose to play. While on the other hand, their live chat facility is available around the clock for queries and questions and generally the feedback is that they are responsive and knowledgeable, resolving things quickly and with very little hassle at all.
US Players not accepted at Unibet
Their major player base is located in Europe, and the website interface has been designed in a way that it will support the European client needs specifically. There are many regional events and different languages supported, but their target market has never been clients in the USA. After the UIGEA, they have announced it officially that they are no longer able to accept US clients on their website. For US players check the top 10 us online poker sites.
Other critics
There are a ton of reviews out there for Unibet poker. I usually then check TrustPilot for their score. For a poker site, they get a decent score of 2.9/5 from 1,033 reviews. That is actually not bad at all, considering poker sites usually get a low score due to frustrated people who lost money while playing.