Game Selection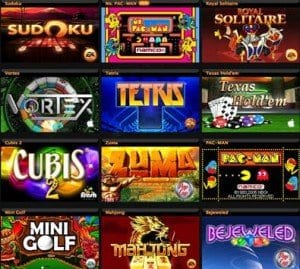 A very nice game selection of none poker games.
Your primary goal is to play a game where you can get the best advantage.
It is easier to achieve this through online poker.
While becoming good in one game can be enough, it also does not hurt to excel or try out other opportunities.
You never know if you can get a jackpot with other types of poker as well.
This tops the list for why you should play online poker instead of a live one.
Even if the poker area is just a street from where you live, chances are you can only play some games on it.
The internet offers just about every type of poker game imaginable.
Limited game selection meant limited money-making opportunities. The opposite goes for as many game selections as possible.
Instead of choosing to play a game and not playing at all, online poker gives you all the opportunities you can get. You can go through game selections and also check which ones should give you an advantage or more chances of winning.
You can search until you drop.
Related article: Online Versus Live Games: Which Is Your Game?
ONLINE POKER MEANS Easy Access

This is related to game selection.
Online poker is extremely easy to access. You can play even in the comfort of your own home.
No need to get out and travel far. So long as you have a computer and internet connection, you should be good to go.
You can choose to concentrate on one game until you get the hang of it. You can also choose to play a variety to test which ones suit you best.
Regardless, they are all accessible with just a few clicks.
Lower Rake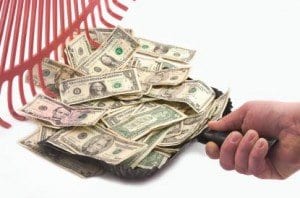 Rakes in internet casinos are usually lower compared to rakes in casinos.
The usual poker rakes in casinos range around 10% with a $4 of the pot.
This can be even higher at $5 for every hand. Online poker rooms range around 5% with a maximum of $3. There are also rooms with even fewer rakes.
You can find micro-stakes rooms offering betting limits as little as $0.10 for every bet. If you are lucky, you can find a game with no rake at all.
Players do not pay as much attention to the rake.
However, it can still have as much impact.
Online poker rooms do not spend as much as live poker areas.
They do not have to pay for dealers, purchase tables, and chairs or even rent a space. This allows online games to charge less than their live or physical counterparts.
Even with fewer expenses, it does not mean the games make good money. Lower rakes and faster transactions make online poker platforms good money making machines.
Online poker platforms manage extra hands per rake.
This should not be a problem for you. If you always win, then you should be earning more per hour as well. Ideally, if you are up against similar players in live poker, you should have higher win rate considering the rake will have a lower percentage in relation to your winnings.
Cool stuff: Live Poker: Does Your Hand Tremble?
Convenience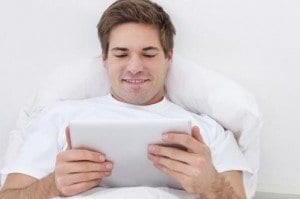 This is similar to easy access.
Just as easily as you can find an online game, you can also transact or play instantly.
You do not need to go to the bank to get money or drive to a place to find other players.
Everything is within your reach online. Transactions take a few minutes and there is no waiting.
If one online game is full, you can always find another in a few minutes.
No Extra Effort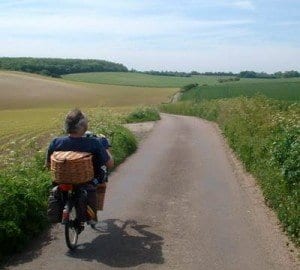 The convenience of playing online poker extends beyond game proximity.
If you go to a casino, you need to dress up and work with the public.
At home, you do not have to dress up and worry about how you will appear to other people.
Accomplish Many Things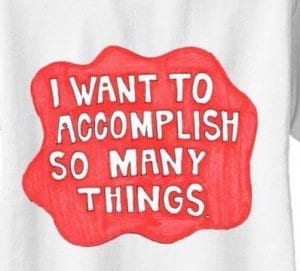 You cannot do other things when in the casino usually.
Unlike when playing online, you can cook dinner, talk to the phone or email people while playing poker over the internet.
You can even write an article and do online poker as an icebreaker.
You can carry on with your life and still play the game.
There is no better deal than this.
Ability to "Multi-table"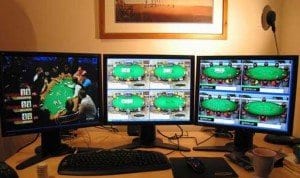 Online poker lets you do what live poker will never be able to do: multi-table.
This means playing with more than one table.
Live poker will never allow you to play two poker games at once. It is not feasible.
Online poker lets you.
So long as you have a computer and net connection. You can always open multiple windows for multiple games.
This can be a massive upside for you.
Although your chances of "playing the players" diminish, you can increase your win rate by playing as many games simultaneously as possible.
Many of today's poker players take advantage of the internet. It can be as lucrative as you can imagine.
Take Opponent Notes Instantly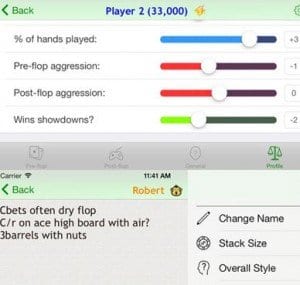 Excellent poker players know how their opponent's mind or play works.
Online poker gives you a great chance to take notes on how players do for every kind of game.
Live poker does not allow you to record player impressions quickly.
Online poker lets you open a pad and jot down all plays just as they are happening.
No Tells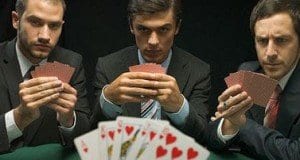 Poker player tries to figure out their opponent's hand through his or her tells.
It is impossible to see how a person reacts online.
You usually play with cards showing and not your opponent's face.
This makes it harder for opponents to predict your move or analyze your hand through your gestures.
Anonymity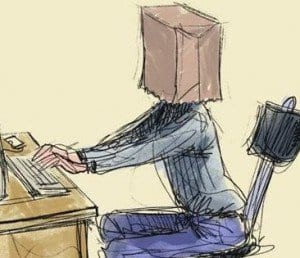 You can choose to remain anonymous and protect your identity while playing.
It is easy to create an account and participate in online poker rooms without disclosing your identity.
Conclusion
So there you have it.
Top 10 reasons why you should stay at your computer and playing it out.
But of course, there could be as many reasons to play offline also.
But hey, isn't there a list for everything these days?